Is there any better breakfast than a freshly toasted bagel slathered with cream cheese?!  Nope… not in my book.  And from the parking garage to my office there is a Noah's Bagel and there are many days when I pop in for one.
I go through spurts of what bagel I'm feeling that week… a couple weeks back it was a asiago bagel with veggie cream cheese, when I'm feeling crazy I get a jalapeno cheese bagel with onion and chive cream cheese.  But lately I've been totally feeling just a good, old fashioned cinnamon and raisin bagel with good coat of plain cream cheese.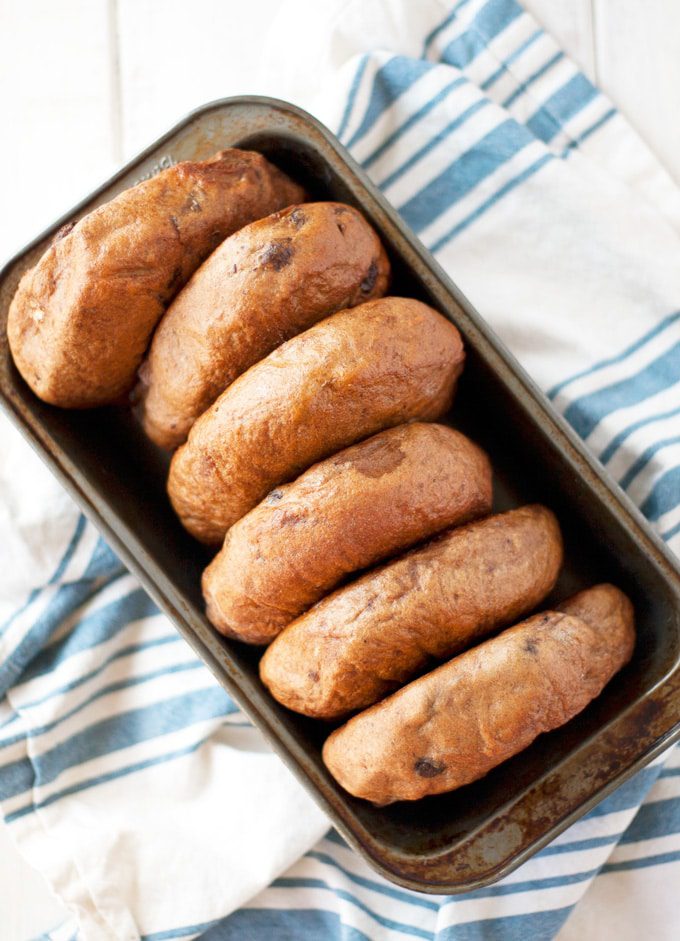 I think it reminds me of when I was a kid and my mom would make me Sun-Maid raisin bread for breakfast before school, the one in the bright red bag.  I could seriously put down half a loaf and not even be phased.  It still is one of my favorite things in the world, not only is it a little nostalgic for me, it's quality has remain consistent through the years.  And no they have not paid me for this ringing endorsement, I really just love it.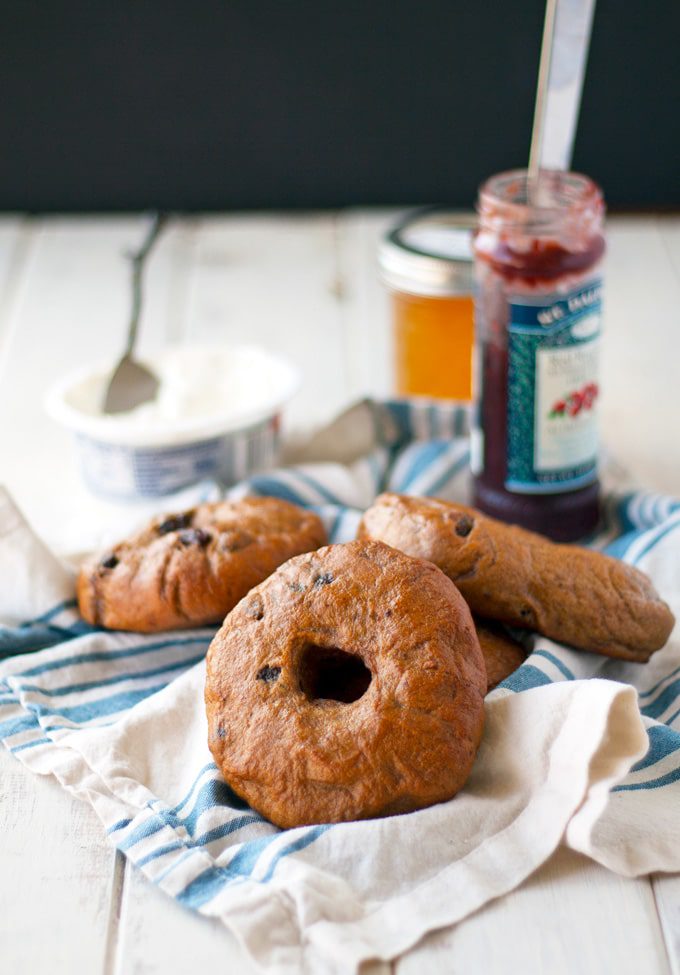 And while I love the cinnamon and raisin bagels, they never quite have enough cinnamon or raisins for me.  I wanted SUPER cinnamon and raisin bagels, so that's just what I've made.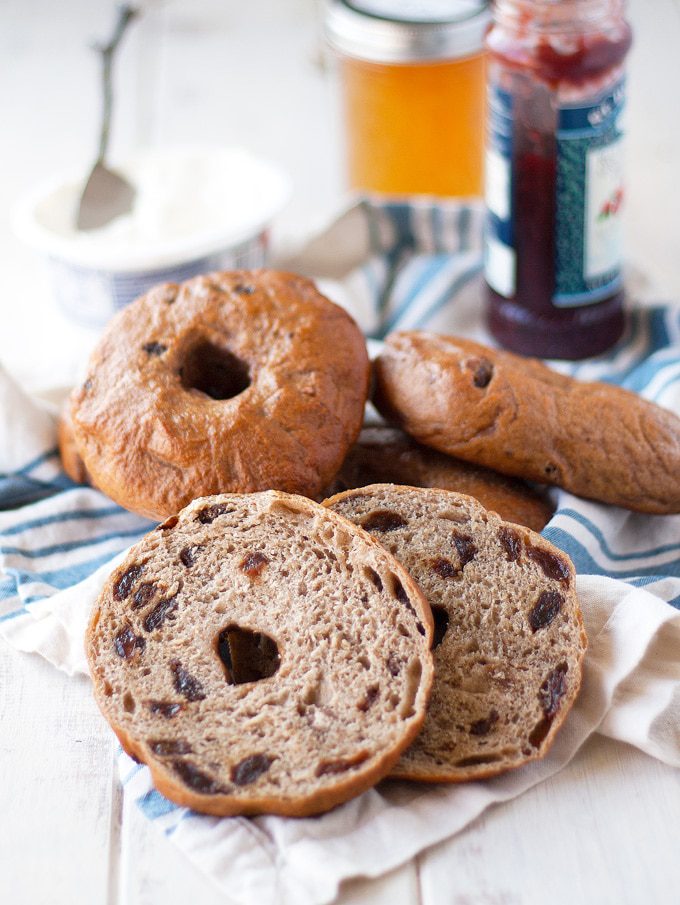 Bagels that had been pumped with korintje cinnamon, which is an Indonesian cinnamon that is a tad bit spicier and has a little bit stronger smell than your traditional cinnamon and tons and tons of raisins.  Like more raisins than you know what to do with.  Like if someone took a machine gun, filled it with raisins, and pointed it at your bagel.  That many raisins.
And you know what that makes…with just a quick toast and a bit of cream cheese… the best breakfast ever!
super cinnamon and raisin bagels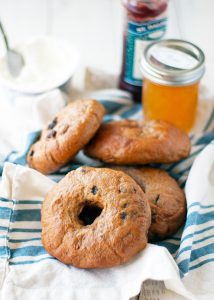 Author: Jessica
Instructions
Ingredients
poolish
¾ cup cool water
1 cup bread flour
¼ teaspoon active dry yeast
dough
2 cups raisins
1 cup + 6 tablespoons cool water
1¼ teaspoons active dry yeast
6 tablespoons honey
4 cups bread flour + more for dusting
¾ cup + 1½ tablespoons whole-wheat flour
1½ tablespoons korintje cinnamon
1 tablespoon kosher salt
1 tablespoon baking soda
day one
To make the poolish, combine the cool water, bread flour, and yeast in a medium bowl and stir with a spoon until incorporated. Cover with plastic wrap and let sit at room temperature overnight. In the morning you should find mixture to be bubbly and almost double in size.
day two
Plump the raisins in 3½ cups warm water for 10 minutes. Then drain and dry on paper towels until ready to use.
To make the dough, in the bowl of a stand mixer fitted with the dough hook, whisk the cool water and yeast by hand and let sit one minute.
Add the honey, poolish, bread flour, whole-wheat flour, cinnamon and salt. Mix on low speed for about 2 minutes, until it comes together in a tight ball. You made need to stop the mixer and push down the dough occasionally.
Increase the mixer speed to medium and work the dough 3 to 4 minutes. This is a dry dough so your mixer might jump around, just keep an eye on it.
At the last minute, add the raisins to the dough and mix until they are evenly distributed. If the dough because a little wet from the raisins, just add a tablespoon or two of bread flour.
Dump the dough onto a clean work surface and knead into a smooth ball. Place in a greased mixing bowl, wrap with plastic wrap, and allow to rest at room temperature for 1 hour,
Once the dough has rested, drop the dough onto a clean, unfloured surface and knead a little to form a smooth ball.
Cut dough into twelve even pieces and shape the bagels into balls, pinching the bottoms together.
Place each dough ball with the pinched side of the dough down and the smooth side facing up, cover with plastic wrap, and allow to rise in a warm place until soft, sticky and slightly puffed. About 1 to 1½ hours depending on how warm your kitchen is. Make sure you leave enough room for each bagel to rise without touching the other bagels.
Once it has risen, bring four quarts of water and the baking soda to a boil.
Preheat your oven to 425 degrees F and prepare two greased baking sheets.
Gently puncture a middle hole in each bagel, creating a hole and stretching it to about ¾" wide. I used the back of a frosting tip to puncture my bagels.
Gently lift each bagel into the boiling water in batches, cooking on each side 2 minutes, and then using a slotted spoon, transfer it to the prepared baking sheets.
If your bagel sinks, it has not risen enough. Remove from the water and let it rise longer then start the water bath again.
Once all the bagels have been boiled, immediately bake in the oven for 15 to 20 minutes or until the tops are golden brown.
Once finished, transfer to a cooling rack.
Serve immediately or store in an airtight container or ziploc bag in the refrigerator for up to 10 days.