My husband used to believe that cauliflower is the flower of cabbage. I spent a lot of efforts to convince him that it was in fact a different kind of vegetable. Cauliflower is an all-season vegetable which is very cheap and easy to find in the market. It is easy to cook and especially great for stir fry in the hot oil. I never really preferred cauliflower until I moved to India where my other Thai and Chinese greens were unavailable. Cooking with these plain white chunky flowerets was a challenge until I found the technique to bring this juicy crunchy vegetable to life.
The trick to get the wonderful crunch and juicy texture of cauliflowers is to deep fry it in very hot oil for few minutes before proceeding to the stir fry process. This may not be the healthiest way to cook vegetable, but I guarantee the indulging outcome of this dish. When you use new vegetable oil and deep fry vegetable quickly in the proper temperature, it does not become greasing and oily… it would actually turns really crisp and crunch, in fact.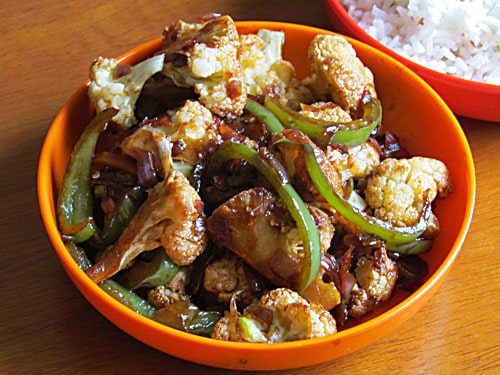 Stir Fried Cauliflower with Capsicum

Ingredients: (2 servings)

250 gm cauliflower- sliced into medium chunks

1 tbsp corn flour

1 tbsp flour

A pinch of salt

1 green bell peppers (capsicum)- sliced

1/2 onion- diced

4 cloves garlic- minced

1 tbsp minced ginger

1 tbsp soy sauce

1/2 tsp sugar

2 tsp tomato sauce

Oil for deep fry + 1 tbsp for stir fry

Preparation

Mix flour, corn flour and a pinch of salt in the large bowl. Add cauliflower and toss together until the flour mixture slightly coated cauliflower.
Heat oil in the fryer over the medium- high heat and add cauliflower. Deep fry cauliflower for few minutes or until crispy and golden brown. Remove from the heat and keep aside.
Heat oil in another pan and sauté onion until soft and translucent.
Add garlic, ginger, and capsicum and stir fry for few minutes or until fragrant.
Add soy sauce, sugar and tomato sauce and stir until combined.
Add deep fried cauliflower and toss well together.
Serve hot with rice or noodle.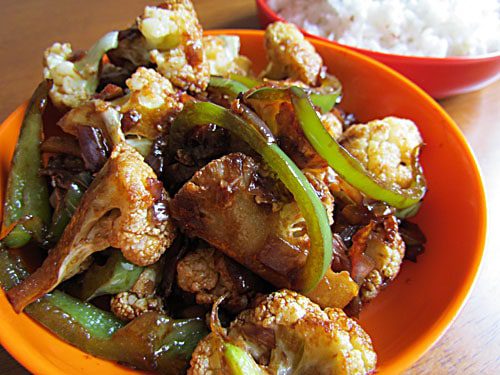 Our quick stir fried cauliflower with capsicum was flavourful and juicy. Deep fried cauliflower had a wonderful texture and beautiful crunch from the outside. It was aromatic and fresh. The modest heat from capsicum was perfectly appropriate for this simple stir fry.
Take care,