Many people believe Christmas is the season for love, kindness, compassion, to give and to forgive. I also believe the following quote–"Christmas is forever, not for just one day, for loving, sharing, giving, are not to put away like bells and lights and tinsel, in some box upon a shelf. The good you do for others is good you do yourself…" (Norman Wesley Brooks)

There are many ways to express the love we have for ourselves and for others. I love to try new recipes and cooking puts my mindset in a very calm place that I find immense peace that's hardly achievable when I do other mundane things. The feeling transforms into happiness and sheer pleasure when my family enjoys the fruits of my harvest. The excitement and the pride my kids have for me is something I'm truly blessed with and I am very thankful for having them.
I was browsing the web to get my hand on a candy recipe to try for this Christmas. I stumbled upon this recipe at foodiecrush and was immediately drawn to it because of its vibrant colors. The combination of chocolate, chilli powder, almonds, and peppermint were so intriguing I needed to try them. I was so happy with the results and the best part of this recipe is that they can be easily made in big batches if needed especially for giving during the upcoming holiday season. Enjoy!!!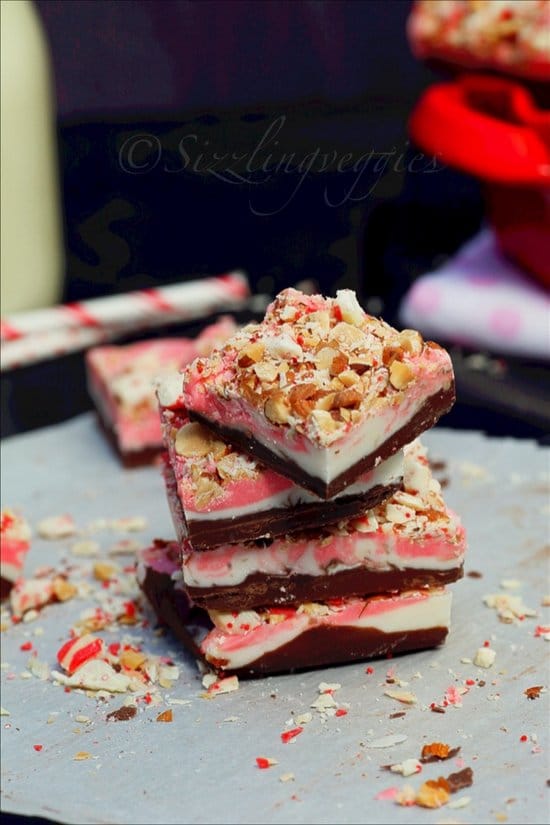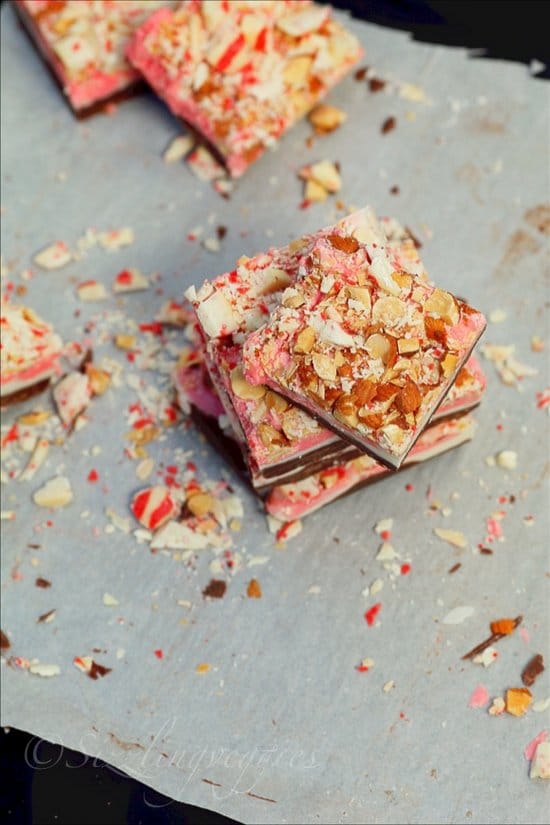 Spicy Nuts and Chocolate Brittle
Ingredients
Candiquik melting chocolate (chocolate flavor) — 12 ounces (each bar is about 1 ounce)
Chilli Powder — 3/4 tsp
Candiquik melting chocolate (vanilla flavor) –12 ounces + 4 ounces (to mix red coloring to get the pink color)
Chopped Almonds — 1/2 cup
Candy cane white chocolate kisses (Hersheys) — about 10 to 12 (optional)
Sea Salt – for sprinkling
Red food coloring — as needed
Instructions
Line a 8×8 baking pan or heatproof pan with parchment paper.
On medium heat place melting chocolate (chocolate flavor) in a heat proof bowl placed on a small sauce pan filled with water in such a way that the water in the saucepan should not touch the bowl. Let the chocolate melt in the bowl and keep stirring. Add chilli powder and stir well. Pour the melted chocolate on to the prepared baking pan. Level the chocolate and gently tap to even out the chocolate. Place the pan in the refrigerator for 20 minutes.
In a separate bowl melt 4 ounces of the white chocolate (vanilla). Add few drops of red food coloring and stir. Add few more drops if needed to get the right coloring needed.
In another bowl melt the remaining 12 ounces of the white chocolate (vanilla). Check to see if the chocolate in the baking pan (the one in the refrigerator) is completely set. Remove the pan from the refrigerator and add the melted white chocolate (12 ounces) over the set dark chocolate. Add the melted and colored pink chocolate on top of the white chocolate. Using a tooth pick make a swirl mixing the two white and pink chocolates to mix together.
Sprinkle chopped almonds, candy cane white chocolate kisses, sea salt, and little chilli powder (if more spice is preferred). Return the pan to the refrigerator until it hardens about another 20 minutes. Break into uneven pieces or cut using a sharp kitchen knife. Enjoy at least few pieces before storing them in an airtight container. Enjoy!!!