Have I mentioned I love desserts, especially single serving ones. I love when I don't have to spend more than few minutes in putting together the dish from start to finish. I've been wanting to make snickerdoodle cookies for a very long time but when it comes to cookies my kids almost always prefer mint, chocolate, and/or caramel in them and that's just not snickerdoodle anymore. When I was searching extensively on other varieties of mug cakes I came across foodiewithfamily and one look at snickerdoodle mug cake recipe I was sold.
All I can say about this recipe is that you must give it a try. The original recipe called for buttermilk since I didn't have it handy I used Greek yogurt instead. The resulting cake was unbelievably soft in texture and the taste was so good that it will be fair assessment to say I'm hooked. The brown sugar topping on the cake which is a classic for snickerdoodle gave the perfect caramelized taste to the cake which will make you say yum!!! Try it and let me know….Enjoy!!!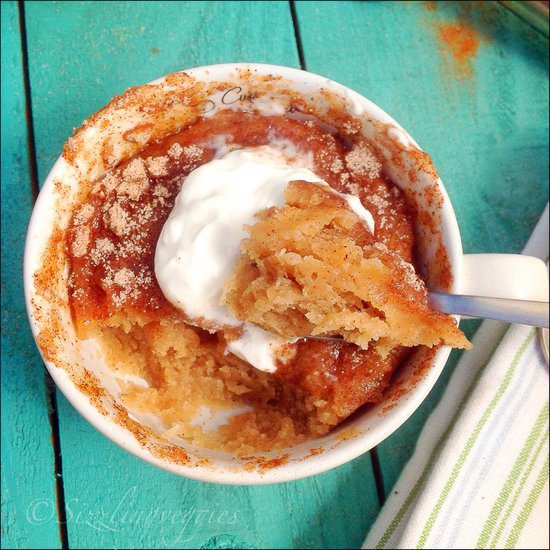 Snickerdoodle Mug Cake
Ingredients
All Purpose Flour — 6 Tbsp
Raw Sugar — 2 Tbsp
Butter (room temperature) — 2 Tbsp
Greek Yogurt — 1/4 cup (can be substituted with buttermilk)
Cinnamon — 1/4 tsp
Baking Powder — 1/4 tsp
Salt — 1/8 tsp
Vanilla Extract — 1 Tbsp
Cinnamon Sugar — 1 tsp ( I just mixed sugar with sprinkles of cinnamon powder)
Instructions
In a microwave safe bowl measure buttermilk/greek yogurt, add butter and microwave on high until the butter is melted. Add vanilla extract and set aside.
In a separate bowl mix flour, sugar, cinnamon, baking powder, and salt until well combined. Add the buttermilk mixture to the flour mixture and mix well. Transfer the batter to a tall mug with straight rim, sprinkle cinnamon sugar until it covers the top of the batter and microwave on high for 2 minutes and 10 seconds. Remove from microwave and let it set for about a minute. Serve immediately when warm. Enjoy!!!