Even though Christmas is over, the weather outside is completely frightful. It's actually terrifying. These s'mores cookies will help you cope.
Here's why I came up with this recipe. When I came back to the city after my vacation, I decided to redo my apartment a little. So I bought a pot rack because I needed some organization and decoration in my kitchen (AKA my office). The box said the rack was "easy to assemble" but then I opened it and it said I needed a POWER drill. Like what 21 year old woman who lives alone has a power drill just laying around? Not this one. So anyway, I asked maintenance in my building for some tips, which turned into the maintenance man going out of his way to mount the rack for me. This is not in his job description and was so nice of him to do, so I decided he deserved some cookies. Then I realized s'mores are perfect when it is painfully cold out. And after lots of experimentation and taste testing, these s'mores cookies were born.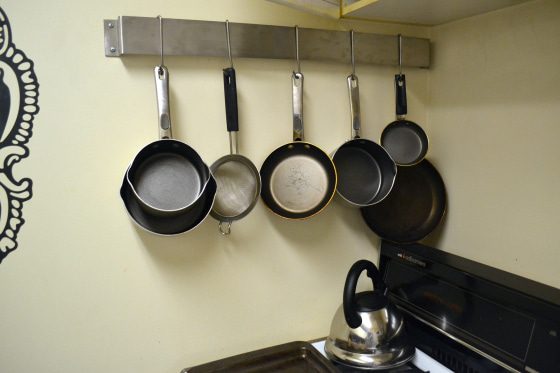 I originally followed a recipe I found online, but since I have been failed by random online sources before, I only made one to test the recipe out. Unfortunately for me, they were too dense with mixed in Golden Grahams and the marshmallows burned too much due to the high temperature. So then I played around a little more and finally came up with a good method.
Ingredients:
¾ cup granulated sugar
¾ cup brown sugar, firmly packed
1 cup butter, softened
2 eggs
1 tsp vanilla extract
2¼ cups flour
⅔ cup unsweetened cocoa
1 tsp baking powder
½ tsp salt
1 cup Golden Grahams, ground
approx. 1 cup mini marshmallows
1 cup chocolate chips
Directions:
1) Preheat oven 325º. Grease a baking sheet with non-stick spray, oil or butter.
2)  In a medium bowl, whisk flour, unsweetened cocoa, baking powder and salt.
3) In a large bowl, combine butter, granulated sugar and brown sugar. Beat until creamy.
4) Add eggs one at a time. Mix thoroughly. Then add the vanilla and mix thoroughly.
5) Slowly add flour mixture (I divided it into fourths and mixed each in, one after the other).
6) Add the chocolate chips to the dough. Mix into the dough and then roll into balls.
7) Take your Golden Grahams and blend them in a food processor so that they are now crumbs. Set them aside.
8) Place the balls onto the baking sheet. Then take 2-3 marshmallows and stick them onto the top of each ball, flattening it a bit (kind of like a thumbprint cookie).
9) Sprinkle your Golden Graham crumbs around the marshmallows.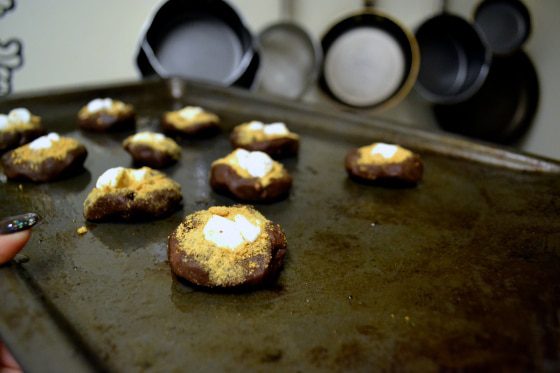 10) Put the cookies in the oven for 11 minutes until the marshmallows have expanded and appear golden brown.
11) Allow to cool for 10 minutes.
12) Maybe light a fire in your fire place (if you have one) while you are waiting. If you don't have one maybe light some candles.
13) Enjoy.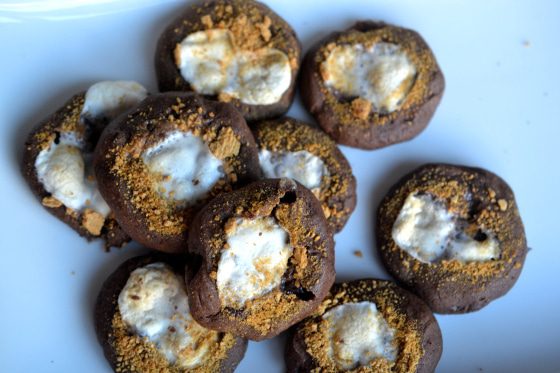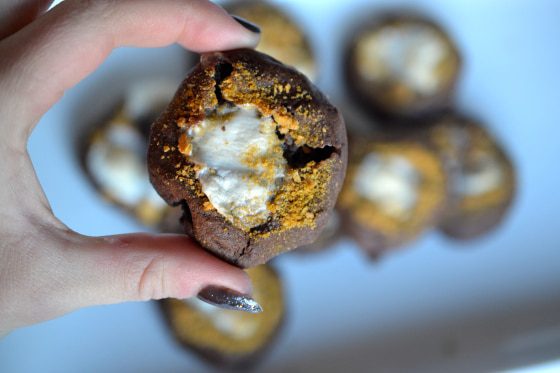 Happy hibernation.