I will admit that this is a pretty time-intensive slow cooker recipe; but, I split it up by making the onions on Sunday in the afternoon and then preparing the soup for Monday's dinner.  That isn't to say, of course, that people, ahem, JOHN, were poking their fingers in to grab a taste of the delicious caramelizing onions. This soup's greatness will rise or fall based on how well the onions are cooked, so planning to do these ahead of time (or making this soup on a Saturday when you have time to really cook down these onions) are a key part of the recipe.

Last week John and I went shopping for the last of my Christmas gifts (what can I say?  I'm an early bird).  And we found these mugs (see the picture below) on clearance for $5.  Soup mugs.  On clearance.  I love me a good deal so I knew then and there I had to have them.  We bought a red and a white one.  And I set about making a soup that would be worthy of these new mugs.  Again, the only downside here are the onions.
That being said, this soup is a must make this winter season.  In fact, I really recommend it when company is coming over.  It smells divine; in fact, even our neighbors could smell it!   While you're at it, make a double batch of onions and make ourFrench Onion Soup Pizza later that week – you won't regret it; it is by far the best pizza we've ever made!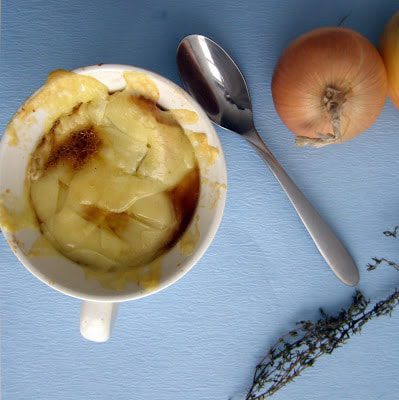 French Onion Soup (loosely adapted from here and here)
Serves:  8 (about 1 cup per person)
3 tablespoons canola oil
5 large onions, sliced
2 tablespoons Worcestershire sauce
1/2 cup red wine
2 bay leafs
4 sprigs fresh thyme
2 teaspoons freshly ground black pepper
8 cups low-sodium beef broth
8 slices of french bread
2 cups Gruyere cheese, grated
Place oil in the crockpot on low heat.  Add the onions.  Let cook for about 45 – 60 minutes, stirring often, until the onions are brown and have soaked up all of the oil.  Add the Worcestershire sauce, red wine, bay leafs, thyme, pepper, and beef broth.  Stir well to combine.  Let the mixture cook for 4-6 hours.  Before serving, preheat the oven to 450 degrees F.  Spoon the soup into 8 crocks.  Float a slice of bread on the top of each and then cover with 1/4 cup of grated Gruyere cheese.  Bake for 6-8 minutes, until the cheese is melted and starting to bubble.  Carefully remove from the oven and serve immediately.
If you don't have the time this holiday season, try Rachael Ray's quickFrench Onion soup which I made last year!  Less than an hour and a hot soup is ready for devouring.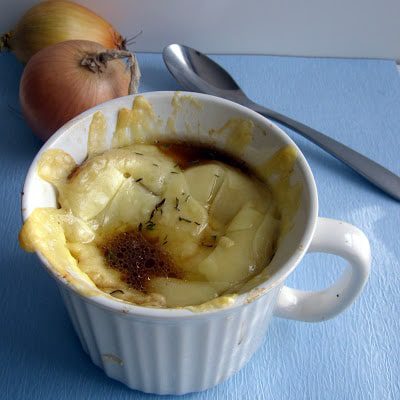 Until the next time my oven is on…