When I was 8 we moved half way round the world from Belgium to Hong Kong. I have memories of that time but they are very much the memories of a child. I remember the colours of the curtains in the plane for example. I remember how cool I thought it was that all the kids in my new, British school got crisps in their lunchbox. And how uncool I thought it was that my mum refused to take on that habit. I have fond memories of a very unorganised stationary shop in Shatin Plaza shopping centre where I would carefully pick out the nicest smelling letter paper (this was the era of smelly letter paper and stickers, even erasers!).
I personally hold British Airways and Cathay Pacific responsible for introducing me to small blocks of orange coloured cheddar cheese and Walker's shortbread fingers in their distinctive red wrapper. I have loved them ever since that very first flight half way around the globe. Sometimes I prefer the convenient, factory made versions. Other times, I prefer to go to the cheesemongers at our local farmer's market for a good piece of cheddar. In the same way, I sometimes prefer to make our own shortbread.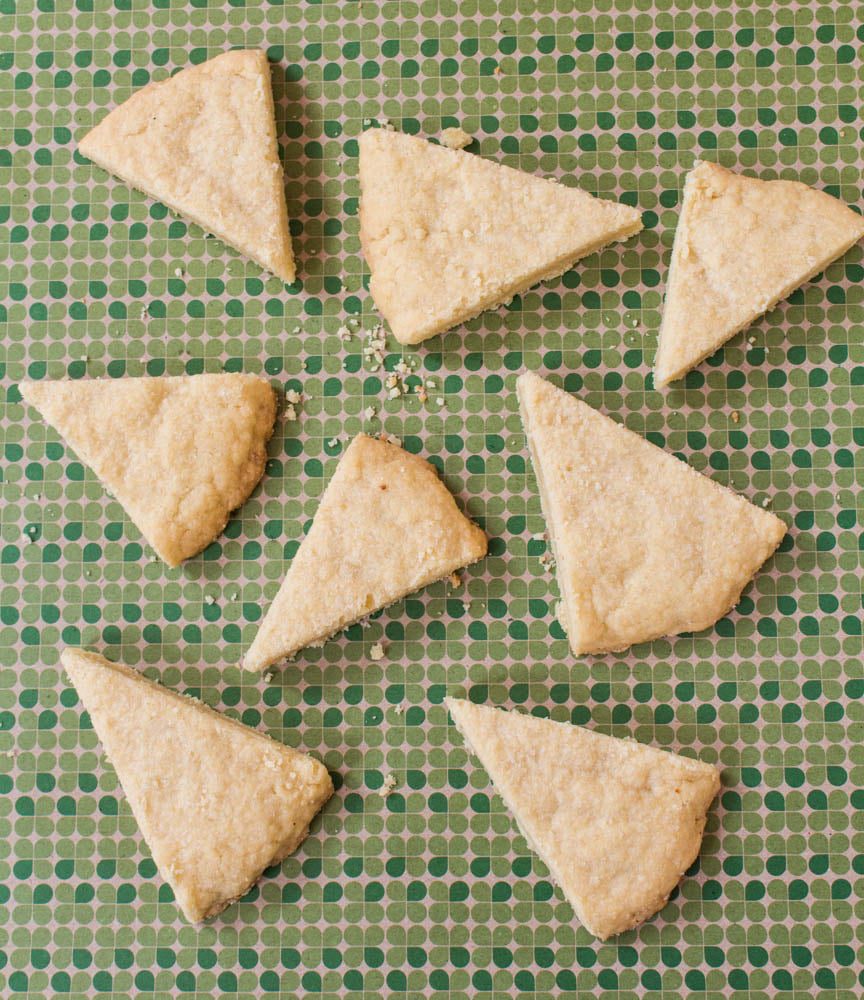 Shortbread is quick and easy to make. For the basic version you only need 3 ingredients: sugar, flour and butter. That's it! And mixing it couldn't be easier. A bowl and a set of hands will get you the perfect shortbread dough in minutes. No overworking the dough though. It needs to be crumbly. The crumblier the better the finished result will be. It will look gorgeously rustic and smell buttery and sweet. I think that after speculoos, this is my favourite childhood cookie.
Shortbread
(recipe from "Jamie's Great Britain", Jamie Oliver)
Makes 8 big cookies or 16 smaller cookies
Ingredients:
200g flour
50g sugar
125g butter (unsalted), cubed
Method:
1. Preheat the oven to 170 degrees C and line a baking tray with baking paper.
2. In a bowl, mix the flour and sugar. Add the butter cubes.
3. Using your fingers, rub the butter, flour and sugar together. When you start to get crumbs, use your hands to press it all together into a ball and transfer onto the lined baking tray.
4. Using your hands, press the shortbread dough down into a circle, square or rectangle about 1 cm thick. It it rips or crumbles, just press it all together again. The shape doesn't have to be perfect.
5. Use a knife to score lines where you plan to cut the shortbread after it has been baked. Then sprinkle it with about 1 tablespoon on sugar.
6. Bake for 25-30 minutes until it starts to lose its pale colour.
7. Take the shortbread out of the oven and let it sit to cool for 5 minutes. Then take a sharp knife and cut along the scored lines. Let cool a further 10-15 minutes before transferring to a wire rack to cool completely.
ENJOY!!