Let's just get to the point, shall we? These are little cups of heaven, and you need to make them asap. I'm sad to say that the lone mushroom you see in the pictures is the only one I got to eat! Yes, my mushroom hating boyfriend* ate the remaining FIVE mushrooms, within 24 hours of them coming out of the oven. That is how wonderful they were. Full of sausage, cheese, and veggies, these are the epitome of comfort food. With fall hopefully approaching soon (90 degrees?…c'mon!), this is exactly the kind of meal I want to come home to every day.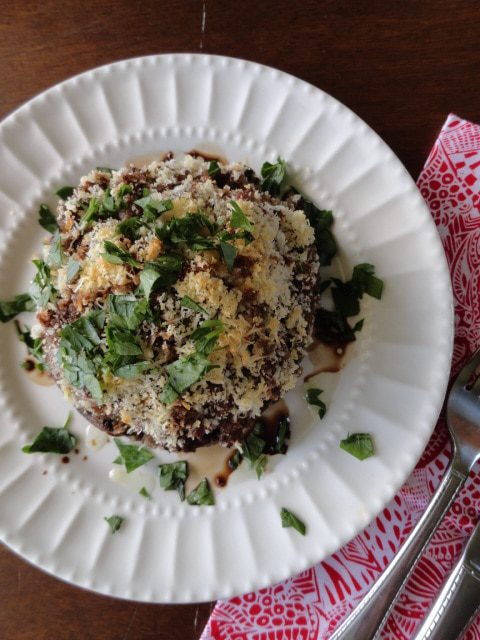 Sausage-Stuffed Portobello Mushrooms
Instructions
6 portobello mushrooms, stemmed (reserve 1 cup minced stems)
3 tablespoons extra-virgin olive oil, plus more for drizzling
12 ounces hot Italian sausage
1/2 cup finely chopped onion
1/4 cup finely chopped green bell pepper
1/4 cup finely chopped celery
2 teaspoons minced garlic
1/2 cup panko bread crumbs
1/2 cup freshly grated Parmesan
1/4 cup plus 1 tablespoon minced fresh parsley leaves
2 teaspoonsEssence seasoning
1 egg, lightly beaten
Balsamic vinegar, for drizzling
Directions
Preheat the oven to 400F.
Using your hands, lightly rub each portobello mushroom with the olive oil, and place on a baking sheet.
Cook the sausage in a medium skillet until browned, breaking it into bits, about 4 minutes.
Add the onion, bell pepper, celery, and mushroom stems and cook until
softened, about 3 minutes. Add the garlic and cook until fragrant, about
30 seconds.
Remove from heat, and transfer mixture to a bowl. Add 1/4 cup of the bread crumbs, 1/4 cup of Parmesan, 1/4 cup of
parsley, Essence seasoning, and egg, stirring until
well combined.
Divide the filling among the mushroom caps, about 1/3-1/2 cup for each
mushroom. Combine
remaining 1/4 cup of bread crumbs and 1/4 cup of Parmesan in a small
mixing bowl. Divide the bread crumb mixture evenly among the tops of the
mushrooms. Bake until golden brown on top and the mushrooms are tender,
about 15 to 18 minutes. Remove from oven and let cool slightly. Garnish
with remaining tablespoon of parsley, drizzle with olive oil and
vinegar and serve warm or at room temperature.