Yaseen is a little foodie. He loves eating, and he loves food. He's not very picky. I know some parents have a tough time feeding their kids. Yaseen loves trying new things, and I am always grateful for that.
After school, he usually comes home hungry. His school is until noon, so he expects hot lunch when he's at the door. I know what he likes for lunch, something simple but meaty. He loves slightly sweet meat sauce in homemade pumpkin pasta, he likes chicken meat ball noodle soup, and he will always enjoy a really big glass of fresh fruit milkshake afterward.
Yesterday, I told him we could make sausage fried rice if he liked. The idea excited him, and he begged me if he could do the stirring. I let him. It's so simple that I would allow him to cook by himself.
Sausage Fried Rice

Ingredients: (2 servings)

4 sausages (about 200 gm)- cut into bite sizes

2 cups cooked rice

2 tsp oyster sauce

1 tsp soy sauce

2 tsp ketchup

1/2 tsp sugar

1/2 onion- sliced

1/2 tomato- sliced

2 cloves garlic- minced

Ground white pepper to taste

1 tbsp oil

Fresh basil for garnishing

Preparation

Heat oil in the pan and sauté garlic until it is aromatic.
Add sausages and stir until golden brown.
Add onion and tomato, stir for a few seconds, and add rice.
Add soy sauce, oyster sauce, sugar, ketchup, and ground white pepper. Stir fry for 30 seconds or so. Check the seasoning and serve with some fresh basil and sliced fresh cucumber.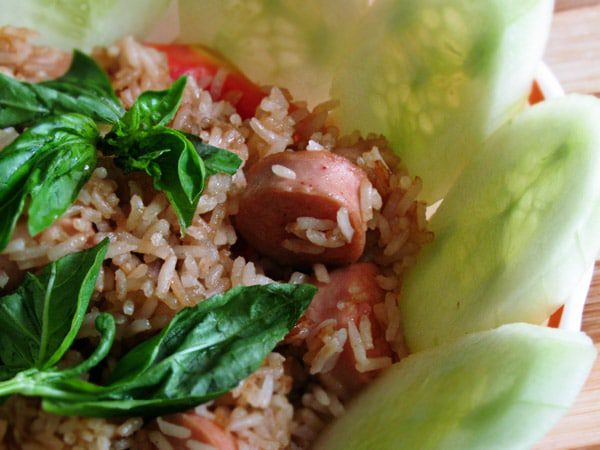 It is a little humble dish with a big bold flavor. I love the smoky flavor of the fried sausages in the rice. The rice was fluffy soft and was glossed with delicious flavors. Every bite was so comforting and perfect. This will definitely be a regular lunch dish from now on
Love,