K is on a fitness program through her work that rewards you for staying healthy.  This week's nutritional fact was that you shouldn't have caffeine after 2 p.m. (and that includes chocolate – so sad!).  Anyway, to get fit myself, plus to help K and our family stay on track, we decided to cut all chocolate out of this week's Sunday dessert.  I immediately began hunting for a way to incorporate the leftover lemoncello from my wonderful lemon scones into a dessert that everyone would love.
Which left me with two lemons, and little else.  Then, I was struck by inspiration; at work (odd in and of itself) by listening to the guy who sits next to me talk to his girlfriend.  I wasn't eavesdropping (much)—it's a pretty open work environment and you can't really have personal calls without everyone listening.  Plus, I'm just nosy.  His girlfriend is leaving for a new job across the ocean this weekend.  Knowing how hard I find the distance for John and I (and he is still on THIS side of the Atlantic), I knew that he would need a pick-me-up.
This guy is one of the few at work I have entrusted with my blog and I know he's rifled through some recipes over the past two weeks.  Mostly, I just hear about him drooling over the cupcakes or exclaiming about how much he loves cake.  It couldn't be a coincidence that Brown Eyed Baker's Limoncello Cupcakes popped up when I was on her site Friday.  No, I took it as a sign.  And I made them.  Not only did my family love them but I got to bring a little sweetness to a co-workers sour situation!
And can I just tell you how much BETTER Limoncello made these?  We all know I love my alcohol but it brought a burst of lemon flavor through the cake that zest and juice just couldn't.  Don't skimp—you bake it out anyway.  If you DO want to skimp on the alcoholic icing (for the kids or yourself), add a few tablespoons of lemon juice instead.  You'll still get the lemon flavor, without the alcohol.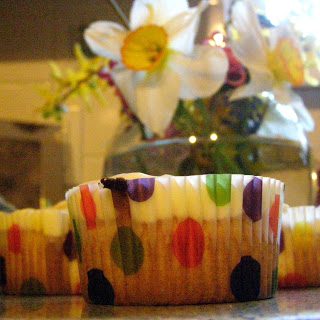 Limoncello Cupcakes (adapted from here)
Serves:  12
Cupcakes:
1 1/2 cups flour
1 teaspoon baking powder
2 ounces (1/2 stick) butter, room temperature
2 ounces cream cheese, room temperature
1 cup sugar
3 eggs
1/3 cup limoncello
1/2 cup buttermilk
2 lemons
Frosting: 2 ounces butter, at room temperature
4 ounces cream cheese, room temperature
1/4 cup limoncello
2 1/2 cups powdered sugar, sifted
Preheat the oven to 350 degrees F. In a medium bowl, combine flour and baking powder; set aside. In a separate bowl, beat the butter, cream cheese and sugar on medium speed until light and creamy, 2-3 minutes. Add the eggs, one at a time, beating well after each addition. Add the limoncello and beat an additional minute. Add flour mixture and buttermilk alternatively, beginning and ending with the flour mixture. Zest and juice the lemons and add both to the mixture.  Mix on low speed until just incorporated. Divide the batter between 12 muffin tins. Bake for 20 minutes or until a toothpick inserted near the middle comes out clean. Let cool completely.
In the bowl of an electric mixer fitted with the paddle attachment, beat the butter and cream cheese on medium speed until light and creamy, about 2-3 minutes. Add the limoncello and beat for an additional minute. Reduce the speed to low and gradually add the sifted powdered sugar and beat until fully incorporated and smooth.  Refrigerate until ready to use or, frost cupcakes immediately and serve.
Until the next time my oven is on…