My favorite day of the week is FINALLY here again.  I've missed you Friday and I just want to hug you.
This week I've had something weighing on my mind – nothing crazy or anything – but something that just makes you think twice about decisions that you've made.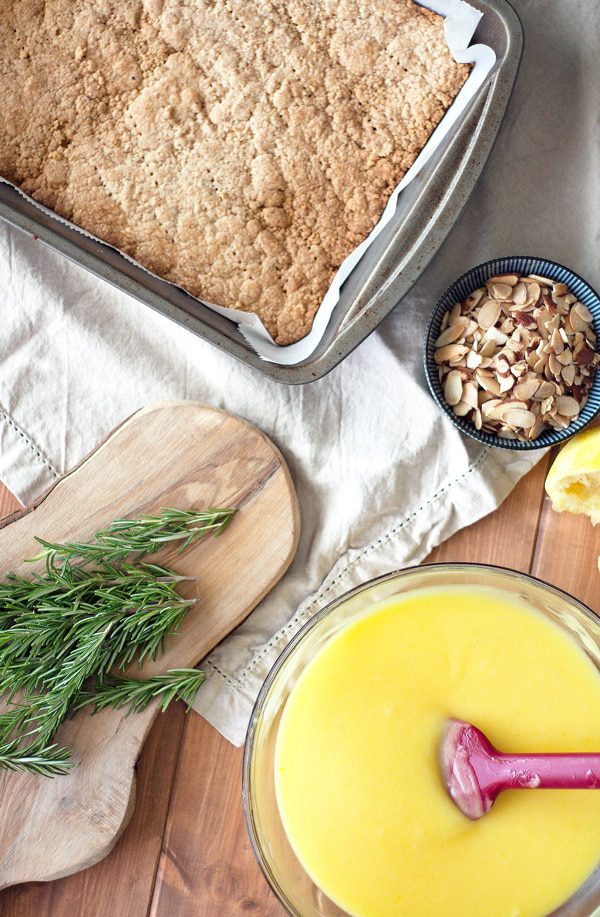 I had been working with a company that kind of left a sour taste in my mouth (perfect time for lemon bars, right?!).  At moments I was angry and frustrated, other times I just wanted it to be over so I could move past it.  I've never had this experience before, feeling that I haven't been treated fairly, at least while blogging.  I've worked with some incredible companies – like a small tequila and whiskey distributor with a kickass girl running the show, sending me booze and letting me whip up recipes.  I heart her!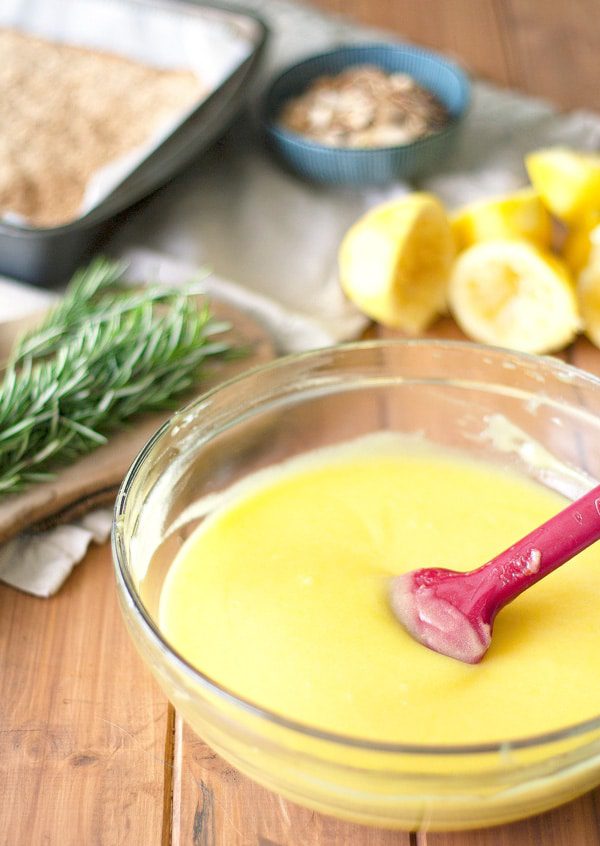 But this time was different and it almost makes me questions whether or not to work with large companies on my blog.  This is such a fun space and I don't want anyone or any company to take that away.
Okay, deep breath… And we're moving on…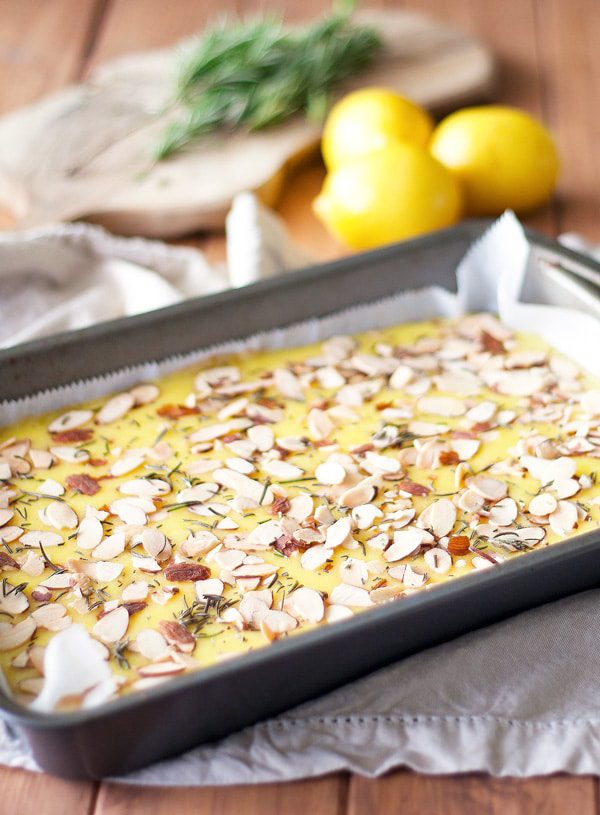 And switching gears completely…. I've started to get into wedding planning mode.  If you didn't know my hand-model-taste-tester-happy-food-dancer and reluctant-dish-do-er asked me to marry him a month ago (yeyy!) and I'm considering whether or not to include some of that fun/tedious wedding planning stuff on the blog.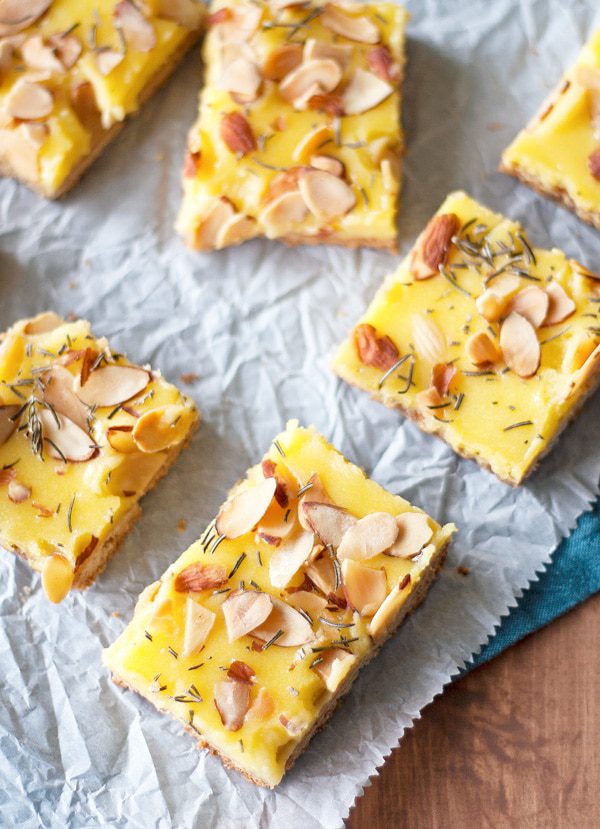 Up until now my blog has been 100% about food – so what are your thoughts?  More food or the occasional wedding dress/venue/food update aka just-looking-for-ideas-and-feedback posts?  I'm still on the fence… help!?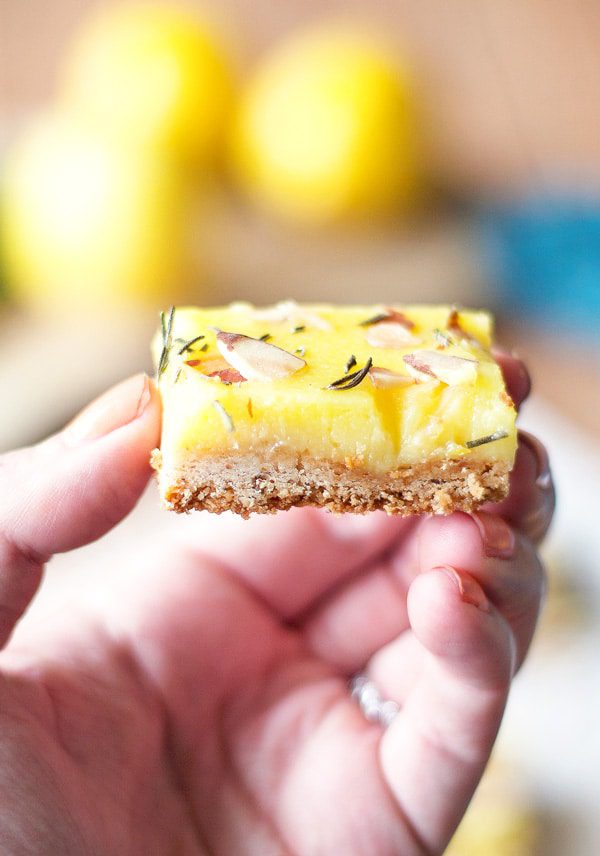 Finally, make these rosemary lemon bars with almond shortbread crust!  They are one of my all time favorite treats, mostly because lemons and lemon curd make my heart beat.  The rosemary gives just a hint of spice to cut some of the sweetness and the toasted slivered almonds on top give such a wonderful crunch.  Plus there's a delicious shortbread crust that beats any other crust, I'll hear no arguments on that, thank you.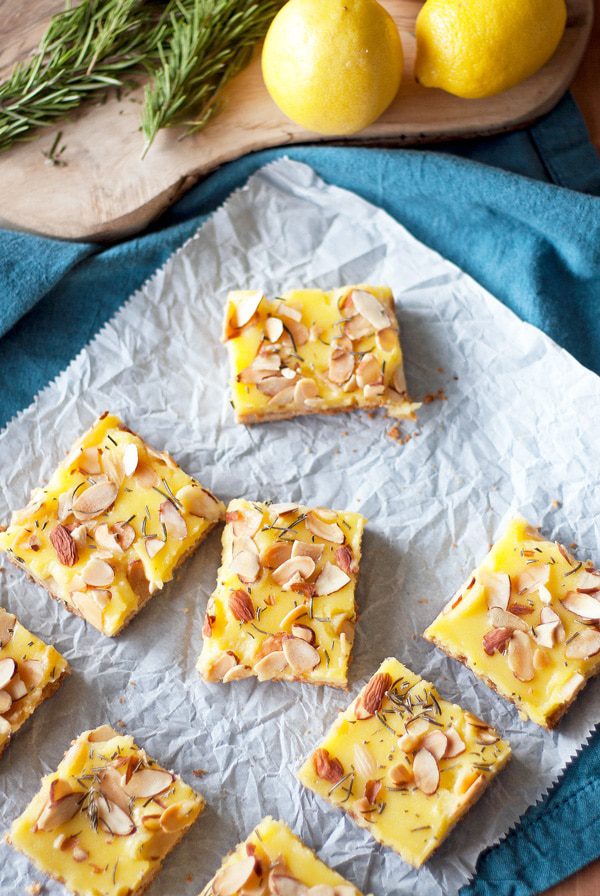 And after this week, this is really the only sour taste I want in my mouth.  Have a great weekend internet friends!
rosemary lemon bars with almond shortbread crust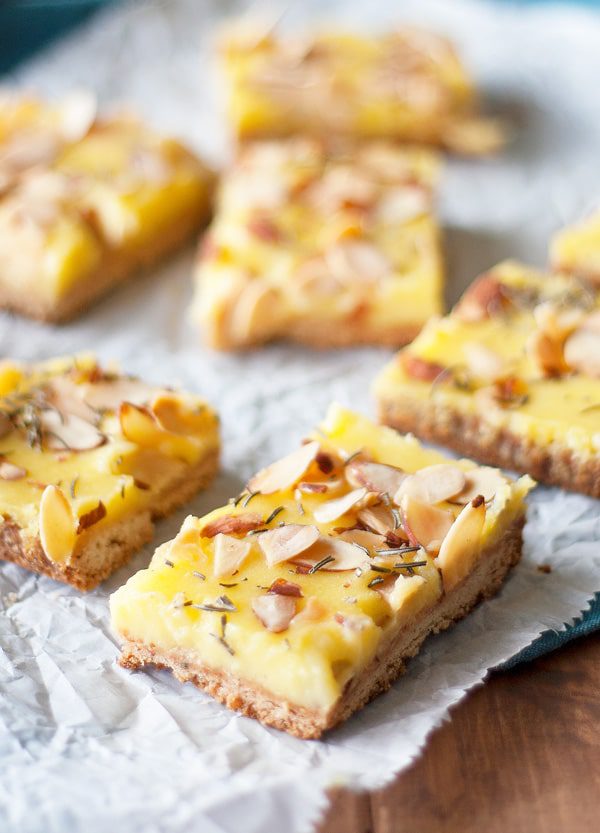 Almond Shortbread Crust
½ cup (1 stick) unsalted butter, softened and cut into cubes
½ cup powdered sugar, sifted
1 cup all-purpose flour
¾ cup almond meal
½ teaspoon salt
Lemon Curd with Rosemary and Almonds
4 large eggs
4 large egg yolks
1 cup granulated sugar
Zest from 6-7 lemons
¾ cup fresh lemon juice (from about 6-7 lemons)
½ teaspoon salt
½ cup (1 stick) unsalted butter, softened and cut into cubes
1 tablespoon fresh rosemary, roughly chopped
½ cup toasted almond slivers
Almond Shortbread Crust
Preheat the oven to 350 degrees F with rack in the middle position. Line a 9×13 inch baking dish with parchment.
In a stand mixer. beat together the butter and powdered sugar on medium-high speed. Beat until completely combine and the mixture has turned a pale yellow, scraping down the sides as necessary.
Add the all-purpose flour, almond meal, and salt. Beat on low speed until just starting to come together. The dough may seem crumbly, but when pressed with your fingers it should hold together.
Press the dough into the prepared baking dish, making is as compact and even as possible. Prick with a fork all over and bake for 20 to 25 minutes, until the edges start to turn a golden-brown, Remove from oven and let cool.
Lemon Curd with Rosemary and Almonds
While the crust is baking, Whisk together the egg, yolks, and sugar in a medium glass bowl and set it over a small saucepan with boil water to create a double boiler.
Whisk in the lemon zest, lemon juice and salt until smooth.
Continually stir this mixture until it is thick enough to coat the back of a spoon. You can also test to see if it has reached 165 degrees on a digital thermometer, but I found just cooking till thick worked. This takes 10-15 minutes, so be patient.
Once the curd has thickened, strain with a fine mesh sieve into an additional bowl. This is easiest if you use a rubber spatula to push the curd through the sieve. You want to remove any clumps and zest from the mixture..
When the curd is still warm, stir in the butter and mix together until butter has completely melted.
to assemble
Pour curd over shortbread crust, smoothing top to ensure that it's even. Sprinkle with toasted almond slivers and chopped rosemary.
Put back into the 350 degrees F oven until the edges are set, but the middle is still a little jiggly,, about 10-15 minutes.
Once finished, remove from oven and cool completely. Then refrigerate for about 30 minutes (this makes it easier to cut).
To cut, slide a knife around the edges and use the flaps of the parchment paper to pull out.
Cut into square, cleaning the knife between each cut.