Do you ever have one of those days where you just do not want to do ANYTHING?
Yeahhhh, that's been this week for me.
I only have a few days before school starts again, which means all my motivation = dead. Somehow my credit hours got mixed up, and so I've been emailing back-and-forth with my advisor like four
ty bajillion
times each day. But it seems like we are making progress, so yay!
So to get to the point of this post (which really shouldn't be about me ranting but hey, that's life): I didn't feel like making dinner. So I looked into the fridge and what did I see? A can of tomato sauce, a red pepper, some cheese, and very on-edge (as if I-will-rot-in-1-day-so-use-me-damn-it!) basil. And on the top shelf, voila, leftover plain pasta (we keep our sauce and pasta separate at my house).
So thats how this dish came into being.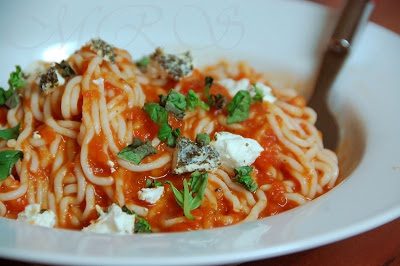 Steaming pasta is coated in a rich, decadent tomato and red
pepper sauce, then topped with creamy herbed goat cheese and fresh, bold basil.
This slightly sweet, slightly smoky, and totally decadent (but guilt-free!)
pasta is simple, succulent, and oh so good! Whether it is a quick weeknight
dinner or dinner for guests, this pasta dish is a sure-fire hit!
Roasted Red Pepper-Tomato Pasta
with Basil and Goat Cheese

Serves 4          Calories/Serving: 339
Ingredients:
8 oz dry pasta
2c. no salt added plain tomato sauce
1/8tsp nutmeg
1/4tsp garlic powder
1/2tsp salt
1/4tsp pepper
1tsp dry Italian Seasoning (oregano, basil, etc)
1 or 2tsp balsamic vinegar
2 roasted red bell peppers, skins removed, diced
3oz fresh goat cheese, herb coat preferred
1/4c. basil leaves, sliced thin
Instructions:
In a medium saucepan, heat tomato sauce and spices until
bubbling. Reduce the heat to low, add in vinegar, and simmer for 10 minutes.
Meanwhile, cook pasta according to directions. Drain. 
In a food processor, combine the sauce and red bell peppers until smooth.
Combine the pasta and sauce in a large bowl. To serve,
divide pasta mixture evenly among 4 plates. Top each plate with 3/4oz goat
cheese and 2tbl basil. Enjoy!