So as many of you know, one of my new favorite foods is beets. I never used to be a huge fan, but lately I'm loving them. Twice, in the past month, I ordered Beet Salads while dining out, once atMarco and once at Petit Robert Bistro, and both times I absolutely loved it!
Tonight I made a Roasted Beet Salad. Roasting beets intensifies their flavors, something I learned tonight after cooking beets for the first time. Beets are earthy and sweet at the same time. Something else I learned tonight is that beets come in a variety of colors – deep crimson, golden yellow and even candy-striped red and white roots – and all have a slightly different taste. I will have to try the golden yellow ones sometime.
Ingredients: (serves 4)
¼ cup balsamic vinegar
¼ orange juice
I teaspoon orange zest
1 teaspoon brown sugar
1 (15 ounce) can of Sliced Beets, no salt added OR fresh beets if you have them available
4 cups baby spinach
½ cup goat cheese
1. Preheat oven to 400 F.
2. In a small bowl, combine balsamic vinegar, orange juice, zest and brown sugar.
3. Toss beets with half the dressing and save the other half to toss again after cooking.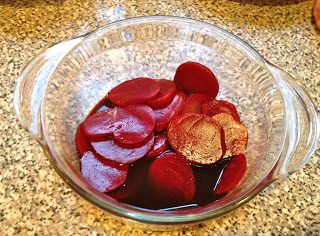 4. Place the beets on a baking sheet and bake for 15 minutes, or until tops begin to brown.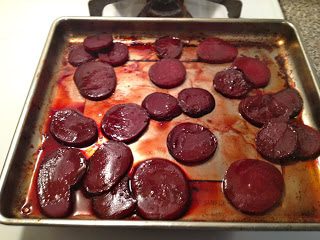 5. When the beets are done cooking you have two options: 1. toss the beets in the remaining dressing then add to salad OR 2. use the remaining dressing as salad dressing for the entire salad. (I chose option 2)
6. Top salad with beets and goat cheese, add remaining dress and enjoy