This maybe a really last minute but before we're boarding the plane to Kerala, my husband hometown, I just want to add a quick post for you my wonderful friends.
I couldn't wait to tell you another minute since I've just tried an amazing dish I found recently when we visit a newly become mother, Deepti. She's my husband colleague and a lovely friend of mine. We met her beautiful little girl who has the most sparkling eyes and a tiny little cutest face. She's a doll, so gentle and calm.
Deepti's mom prepared an amazing afternoon snack for us which I instantly fell in love with. It was a simple rice flake tossed with chopped onion, tomato, fresh coriander and mint with a little bit of chili powder which I barely tasted. It was light, balance, healthy and delicious.
Have you ever seen this kind of rice flake?
Flattened light rice flake is a common and popular ingredient in India. It can be eaten raw or cook by adding hot water, milk or yoghurt. It's one of my favorite street food in India.
I tried to recreate the lovely dish Deepti'mom cooked for us that day. I could still remember how crunchy and fresh it was. This rice flake is really amazing, though I chose to deep fry the rice flake, it turned out to be so light, crispy and not oily at all. Wonderful!
Rice Flake Salad
Ingredients: (4 servings)
3/4 cup flatten rice flake
1/2 onion- finely chopped
1/2 tomato- diced
Few fresh mint- chopped
A handful of raw cashew nuts
1/2 tsp salt or to taste
1 tsp lime juice
A pinch of chili powder or paprika
Oil for deep frying
How to cook:
Heat oil in the fryer over the medium heat.
Add cashew nuts and fry until golden brown. Remove from the oil and keep aside.
Divide rice flake into 3 equal portions and deep fry each portion until the rice is puffed and crisped. I don't deep fry all of it at the same time because it is going to puff out to the surface and not equally fry.
Transfer the deep fired rice flake to the large mixing bowl.
Add cashew nut, onion, tomato, mint, salt, chili powder, and lime juice. Mix well.
Serve immediately.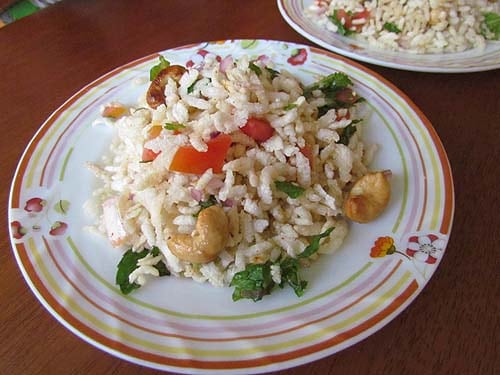 In the rice flake salad I had that day it was without cashew nut. But we are such a cashew nut-nut family and I know yaseen will just love digging his fingers in this salad when he notices some gold brown cashew nuts sitting on top. The salad was so amazing, fresh and light.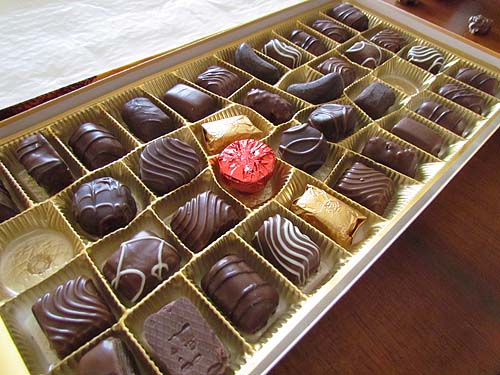 Yaseen also got these chocolates from Deepti family that day. Yummmm! We need to get back there and learn more recipe!
So we are ready to take off now to the coconut land, Kerala. I'll be sharing more fresh and delicious recipes and our adventures there everyday. There will be a lot of interesting dishes and ingredients I know you all are going to love.
Take care,
Tes