So, I'm home for the holidays. The days of the teeny-tiny-kitchen are behind me, and I'm reunited with my cookbook supply, standing mixer and cookie cutter collection, just in time for Thanksgiving.
I was invited to a 'Friendsgiving' over the weekend, a perfect kick start to my Thanksgiving week baking… except that when I got home with all of my ingredients, and was quite literally, ready to roll, the oven wouldn't turn on. 48 hours and 1 very long hissy fit later, I have an oven that can reach 350 degrees and a pumpkin tart, topped with cinnamon pie crust leaves and candied cranberries.
If you need a thanksgiving day dessert addition, this one won't disappoint. Don't be daunted by the long instructions below – you can always buy store-bought pie crust and pumpkin pie spice for shortcuts.
You'll need:

For the dough:
250 g pastry flour
1/2 t salt
1/2 t ground cinnamon
1/2 t sugar
125 g butter, cold and cut into cubes
85 g cold water
1 egg + 1 yolk, for egg wash
For the filling:
1 15 oz can pumpkin puree
3 eggs
1/2 cup granulated sugar
1/2 cup light brown sugar
1 tbsp cornstarch
1/2 tsp salt
1/2 tsp ground ginger
1 tsp ground cinnamon
1/4 tsp ground cloves
3/4 cup heavy cream
4 tbsp whole milk
For the cranberries:
1/2 cup cranberries
1/2 cup water
1 cup sugar, divided
For the dough:
1. Pulse dry ingredients in food processor. Add the butter, and pulse until the butter is the size of peas.
2. Add in the water and pulse just until the dough comes together.
3. Separate into two discs, cover in plastic wrap, and refrigerate for at least 1 hour, or overnight.
4. When chilled, roll 1 disc into a 1/4 inch thick circle. Place into tart shell (or pie pan) and chill.
5. Once dough has chilled in tart shell or pie pan, trim the edges. Preheat the oven to 350 degrees.
6. Cover dough with parchment paper and fill with pie weights or baking beans. Bake for 15-20 minutes with the beans inside, or until the edges begin to firm, then remove the parchment paper and pie weights and continue to bake until dough is cooked, about 10 more minutes.
7. Meanwhile, roll the other disc to the same thickness, and cut leaf shapes. Chill in refrigerator on parchment lined sheet pan until ready to bake at 350 degrees for 5-10 minutes, until golden brown. Brush lightly with egg wash prior to baking.
For the filling:
1. Mix together the canned pumpkin, sugars, eggs and spices.
2. In a separate bowl, whisk the cornstarch into the milk and cream.
3. Combine mixtures and pour into prepared shell, just below the rim.
4. Bake for 45 minutes, or until filling is set. Let chill completely.
For the cranberries:
1. Boil water and 1/2 cup sugar until sugar is completely dissolved. Pour over 1/2 cup cranberries. Refrigerate overnight.
2. Drain cranberries, and toss with 1/2 cup sugar. Let harden on silpat, or parchment lined sheet pan until ready to serve.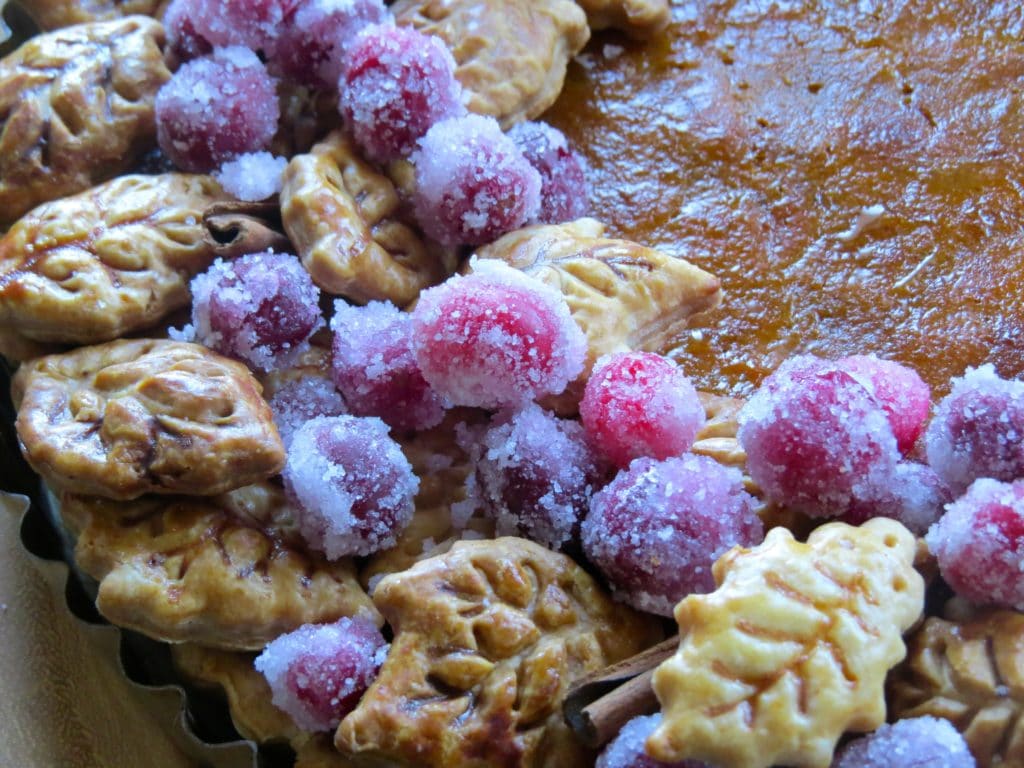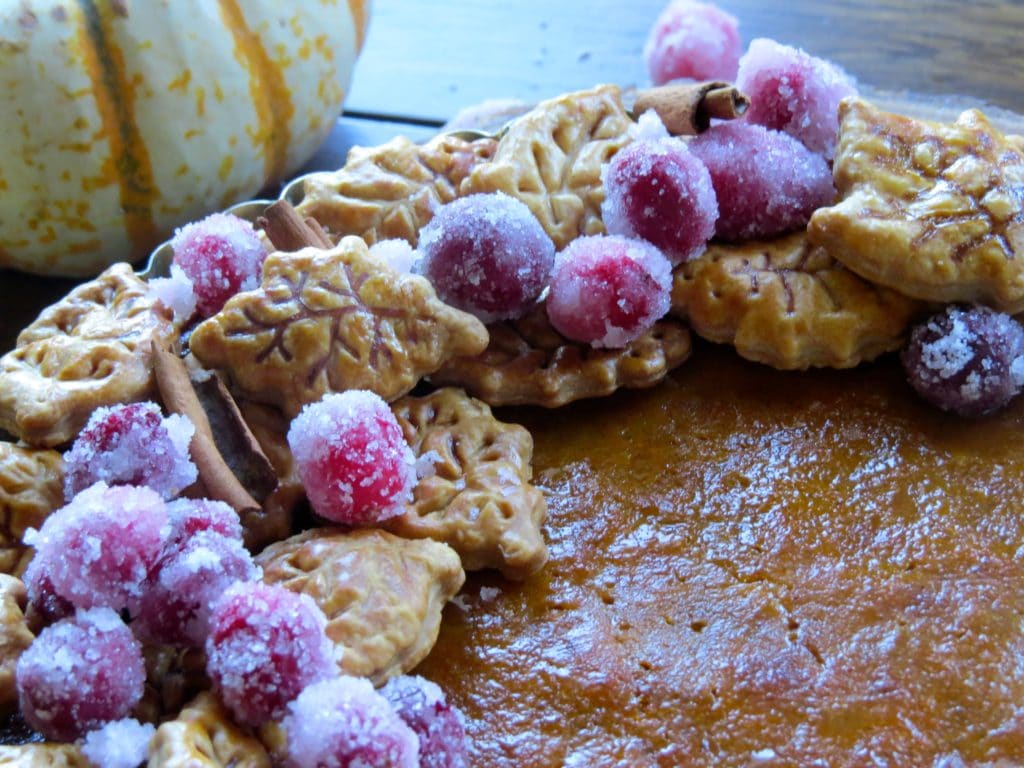 Feeling very thankful my oven works – big week ahead!
Happy Thanksgiving week,