I know, it's October and I'm still making popsicles!  I can explain.  It's been crazy, uncomfortably hot in LA – 90s every day, no breeze and no air conditioning.  And while I love to make soups, breads and super cozy, comfort food this time of year, the thought of turning my stove on makes me want to cry.  I've only done it once this week, and that was for the most delicious chicken pot pie with puff pastry that I'm sharing tomorrow – so come back!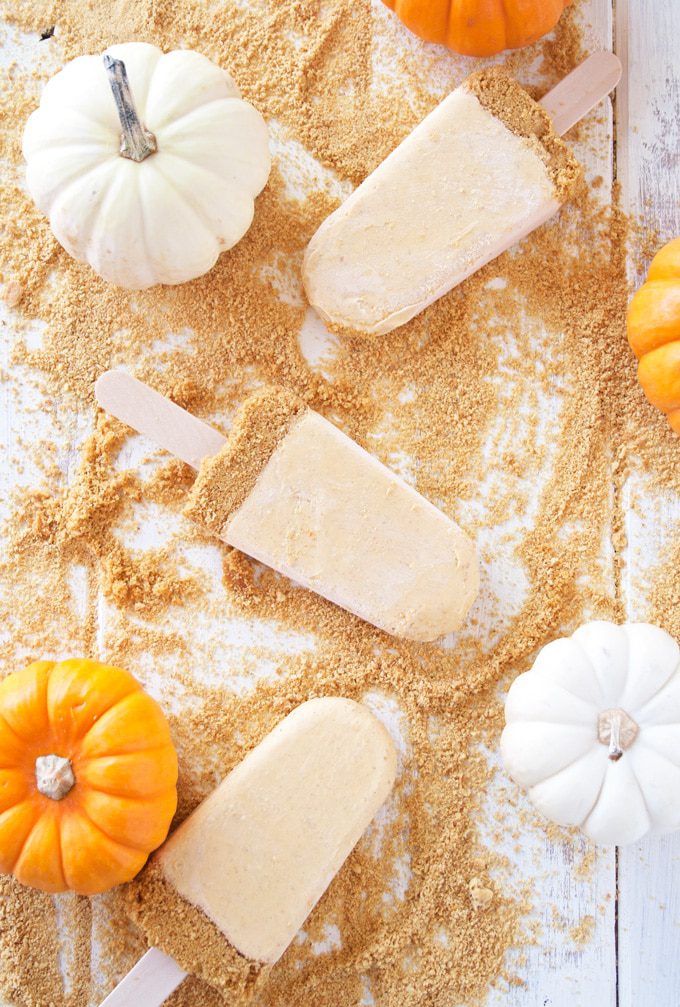 These popsicles are creamy and rich like cheesecake, but with the delicious flavor of pumpkin!  And the graham cracker crust – my favorite part!  It's super sweet and crumbly; I'm usually taking a bite of the popsicle and then biting the graham cracker crust.
These are super easy to whip up – just mix all the popsicle ingredients and then crush your graham cracker and stuff them in your molds.  The hardest part is waiting while they firm up!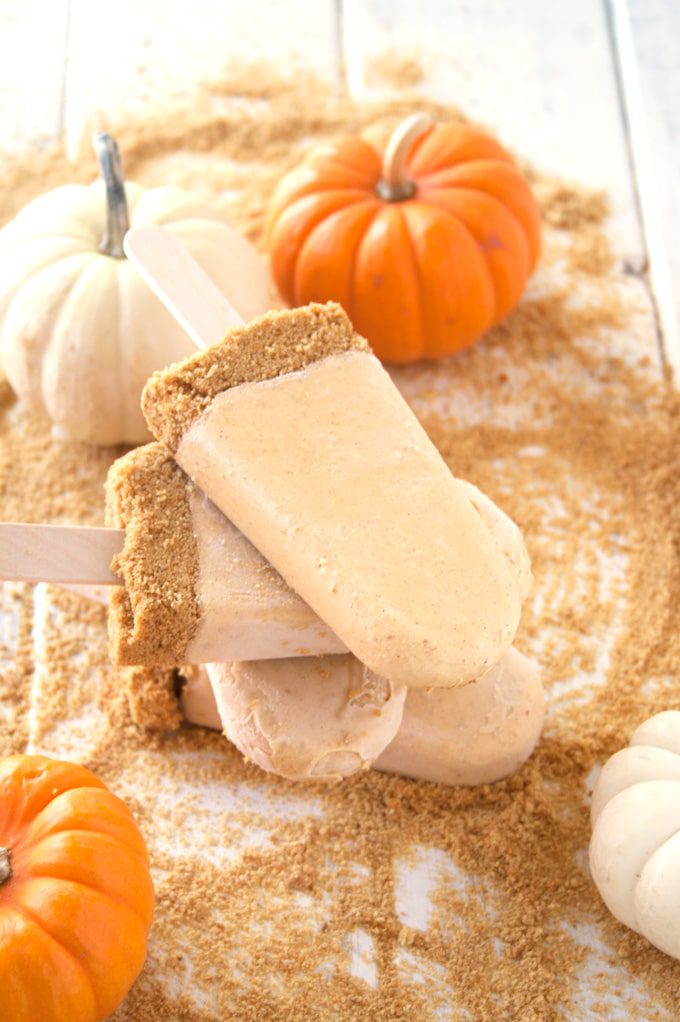 And even if it's not uncomfortably hot where you are, these are still a delicious treat to have around the house.  I'm always craving a cold popsicle or scoop of ice cream after dinner (and sometimes for breakfast).
I've been off work all week so I've been enjoying the beach and eating these pumpkin cheesecake popsicles – I know, shut up, right?
Pumpkin Cheesecake Popsicles with Graham Cracker Crust
ingredients
½ cup sugar
⅓ cup milk
8 ounces cream cheese, softened
¼ cup sour cream
¾ cup pumpkin puree
1 teaspoon pumpkin pie spice
6 standard sized graham crackers
1 tablespoon melted butter
Instructions
In a small saucepan over medium heat, combine milk and sugar and get milk just warm enough to melt sugar. Set aside to cool. (This could also be done in the microwave.)
In a food processor, combine cooled milk mixture, cream cheese, sour cream, pumpkin puree and pumpkin pie spice. Process until smooth and all ingredients are well combine.
Pour mixture into popsicle molds, leaving about 1″ at the top empty for the graham cracker crust.
In a food processor, add the graham crackers and process until crackers form fine crumbs. While the food processor is running add butter. The mixture should resemble wet sand.
Top popsicles with crust, pressing down to make sure the crust is tight and compact.
Insert popsicle sticks and freeze for at least 6 hours or until popsicles have become firm.
Enjoy!