Do you have a recipe that filled with all of your favourite ingredients? How can it go wrong when a pot is simmering every single thing you love together? I have a simple soup recipe that you are going to love. It is so simple and quick unlike a lot of soup recipe that needed to be cooked for longer time. This soup barely takes 15 minutes to make. It doesn't require pre-made stock or broth.  The flavour is freshly developed right at the second you heat the pot.
Fresh coconut milk and cream gives a perfect texture to the soup. It is light and creamy at the same time. Ginger is another important key, it gives a wonderful kick with pungent aroma. I used prawn for this recipe but you can also use other kind of protein preferred. For my vegetarian friends, the combination of pea, broccoli, carrot and mushroom is a wonderful substitute to the meat. Vegetable can even give a lot more fresh and sweet melody to the soup.
I use fresh coconut milk and coconut cream for this recipe. If you don't know how to extract coconut cream, check here. Fresh coconut extraction gives better taste and texture to the soup but if you don't have access to fresh coconut, you can use canned coconut cream. Coconut cream is the first extraction from the coconut which is thicker and richer than coconut milk which is the second extraction. If you use coconut cream from the can, you can make coconut milk by diluting the same proportion of coconut cream with warm water.
Prawn in Coconut Soup

Ingredients (4 servings)

300 gm pawn- peeled and deveined

3 cloves garlic- minced

1 onion- finely- chopped

1/2 tsp turmeric powder

2 inches long ginger- peeled and finely sliced

A few chives- sliced (for garnishing)

2 cup coconut milk (second extraction of coconut)

2 cup coconut cream(First extraction of coconut)

1 lime- juiced and zest of half lime

1/2 tsp ground white pepper

1 tsp salt or to taste

2 tsp vegetable oil

Preparation

Heat oil in the medium sauce pan over a medium heat and sauté onion until transparent.
Add turmeric powder, garlic, ginger and lime zest. Stir until aromatic.
Add coconut milk and bring to boil gently.
Add prawn and salt. Cook further until the prawn curl and turn pink.
Add coconut cream and ground white pepper. Stir and cook further for a few minutes but do not let the soup come to full boiling. Remove the soup from the heat and add lime juice. Stir gently trying not to make the soup curdle. Check the seasoning and add some chives just before serving.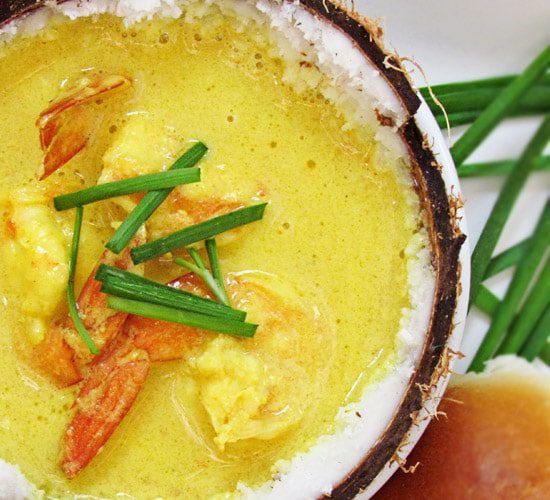 The soup was very mild, light and fresh. Ginger and turmeric powder gave a wonderful flavour to it. It was mellow sweet and balance in flavour. Very creamy and delightful. It was so delicious we wiped the pot clean with local buns at the end.
Love,