I know you probably already have a ton of blueberry muffin recipes, but whatever.  You need to add this one to the list, because it was really, really good.  This was actually my first blueberry muffin I've baked this year.  I couldn't resist adding some chopped peaches to the batter as well.  It's prime peach pickin' season, people.
I've still been able to find good blueberries, too.  I'm not sure how much longer we have, though!  I need to stock up and freeze a bunch.  I've been out of town a lot, so it's been difficult buying produce and using it up.
The beautiful crumb topping on the muffins was made from butter, flour, brown sugar, cinnamon and almonds.  Crisp, crumbly, delicious.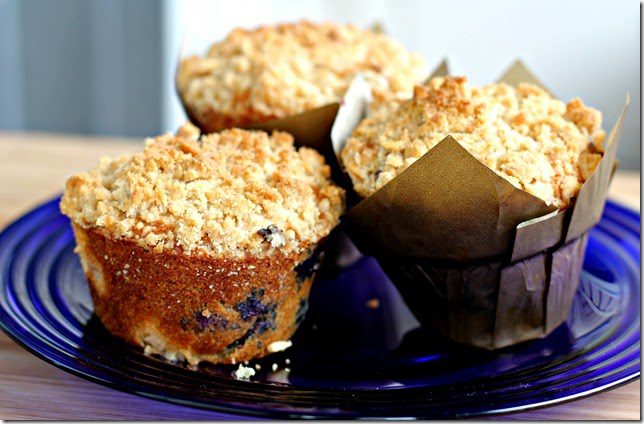 It just occurred to me I should have taken a picture of the interior of the muffin so you could see how light and fluffy these were.  They were very moist, too… I think because I used oil instead of butter for the fat.
Also, it was kind of late at night when I made the batter, so instead of baking muffins at midnight, I filled the muffin tin up with batter, topped it with streusel, and covered and chilled the pan overnight.  I think that may have been the reason these were so good!  If you have time, I'd definitely recommend doing the same thing.
I baked these in a jumbo muffin tin, but you could use two twelve cup pans if you wanted to.  I just like those big, bakery-style muffins.  Perfect with a latte!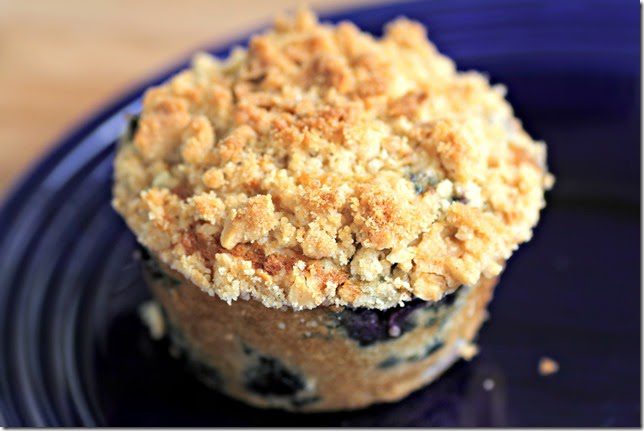 Peach Blueberry Streusel Muffins
Ingredients:
2 cups all purpose flour
2 1/4 teaspoon baking powder
1/2 teaspoon baking soda
1/4 teaspoon salt
1/2 cup oil
1 large egg
1/2 cup granulated sugar
1 teaspoon vanilla extract
1 cup milk
1/2 cup blueberries
1/2 cup diced peaches
Streusel 1/4 cup cold unsalted butter, cubed
2/3 cup all purpose flour
1/2 cup brown sugar
1/4 cup finely chopped toasted almonds
1/4 teaspoon ground cinnamon
Directions:
Grease a 12 cup Texas-sized muffin pan or line with paper liners.
In a medium mixing bowl, sift together flour, baking powder, baking soda and salt.  In a large mixing bowl, whisk together oil, egg, sugar and vanilla.  Whisk in flour mixture, alternating with milk, until just combined.  Stir in blueberries and peaches until combined.  Divide batter into muffin cups.
To make the streusel, in a large bowl, combine butter, flour, brown sugar, almonds and cinnamon.  Beat together, using a mixer on low speed until incorporated and crumbly.  Sprinkle streusel on top of muffin batter.  Chill muffins in refrigerator for 1 hour.
Heat oven to 350 degrees F.  Bake muffins 25-30 minutes or until golden brown and well risen.  Cool 10 minutes before transferring to a wire rack.
Makes 1 dozen large muffins