I love pandan anything, so when Sanjana blogged about these delectable cookies, I immediately fast-tracked them to the Priority Queue on my to-bake list.
The original recipe actually came fromJackie's blog but I went along with Sanjana's because she simplified it. That's always a good thing to me. 🙂 Both versions yield equally good-looking cookies though, so you won't go wrong with either one.
Also, you don't actually have to make "thumprints" if you don't want to. I pressed a chocolate chip morsel into each cookie ball and sent them straight for baking. See, you can always simplify things even further!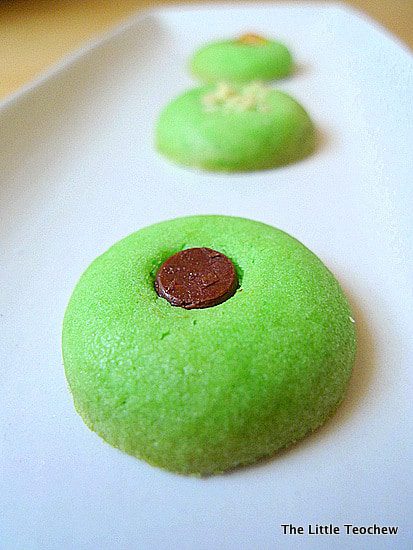 Hershey's Semi-sweet Chocolate Chip morsels.
Not surprisingly, the chocolate chip ones were a hit with my children, with my son polishing off an entire tray on his own. If you don't like a sweet centre, why not try other toppings, like nuts? I experimented with some chopped almonds and pistachios which I bought for Chinese New Year.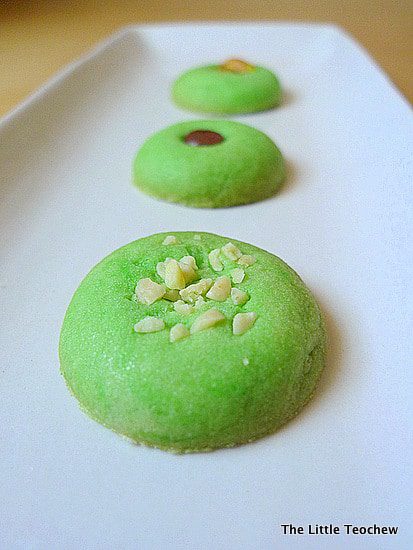 Chopped Almonds.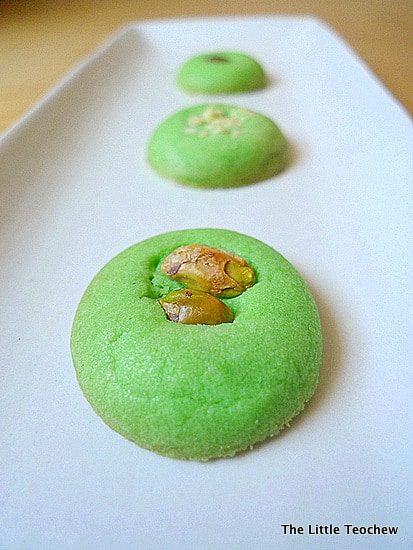 Pistachios.
The salted pistachios were amazing with the sweet pandan flavour. I think salted cashews would be nice too. 🙂
Thanks, sweet Sanjana, for sharing this very pretty and delicious treat. The cookies were so fragrant and buttery. I like!
Recipe
(adapted from KO Rasoi, and originally seen at Pham Fatale)
Makes 24 biscuits
– 140g plain flour, sifted
– 30g icing sugar + 4 extra tbsp icing sugar
– 1/8 tsp baking soda
– Pinch of salt
– 1 tbsp water (only if required)
– 85g butter, softened
– 1 egg yolk
– 1 tsp pandan extract
– Chocolate chips morsels, nuts, whatever toppings you like!
1. Combine the flour, 30g icing sugar, baking soda and salt. Set aside.
2. Cream together the butter, egg yolk, 4 tbsps icing sugar and pandan extract. Add the butter mixture to the flour mixture and combine quickly with fingertips. If you need to add 1 tbsp water to bring the dough together then do so.
3. Wrap the dough in cling film and place in the fridge for 30 minutes.
4. Grease and line baking trays then roll your dough into 1 inch-sized balls and flatten them slightly.
5. Arrange the dough balls on your tray evenly spaced (they will spread as they cook).
6. Bake at 160 degrees C (gas mark 4) for 8-10 minutes then remove from the oven. Make "thumbrints" in the centre of the half-cooked biscuits with a small measuring spoon (not your actual thumb!). Return them to the oven and bake for a further 8 minutes.
7. Remove the biscuits from the oven and push in a little chocolate button or a couple of chocolate chips into the "thumbprint". Allow to cool thoroughly before taking them off the baking sheet.
* Notes from The Little Teochew:
~ I omitted Steps (6) and (7).
~ After arranging the dough balls at Step 5, I simply pressed the desired toppings onto each cookie (dough) ball, and sent them straight to the oven for baking. It worked out fine, although you won't get those adorable, pretty cracks in the cookies.