When I was a kid, though summer was a season we hated, it was the most anticipated season of the year. Why? It's not only a long waited school vacation, but it is also the season where tiny food stalls sprouted in every corners like wild mushroom of first rain.
Like a universal knowledge, kids + summer = a lot of snacks + icy dessert
It's a proven formula, perfect to make our childhood fill with colors and joys.
There are many kinds of traditional desserts in Thailand, and most dishes we don't rely on butter or eggs. So you'll find a lot of delightful vegan treats certified to satisfy your sugar craving. Thai dessert is simply, grounded, and humble. Seasonal fruit are usually featured in the dessert while coconut milk gives the silky smooth texture in every bite.
This season there're no other fruit with the sweet scent so strong it takes over the entire market like jackfruit. Have you ever seen or tasted jackfruit before? Jack fruit is native to South and Southeast Asian regions, and it is the largest fruit in the world. It has a thick green outer skin, inside the beautiful yellow bulbs wrapped around the seeds.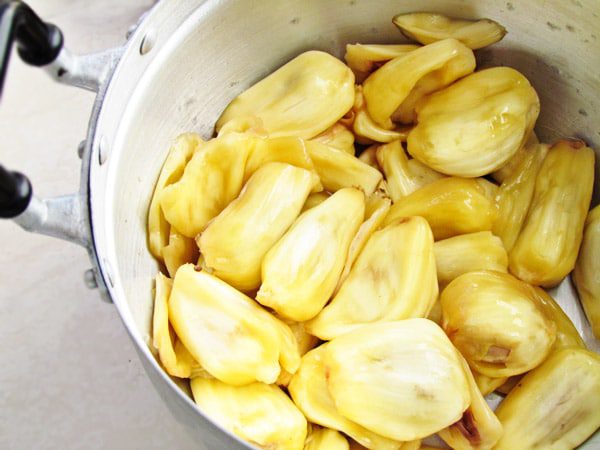 These bulbs have gorgeous aroma, sweet like all summer goodness condensed together. It can be eaten raw, add in dessert or ice-cream, or even cook up into a creamy delight.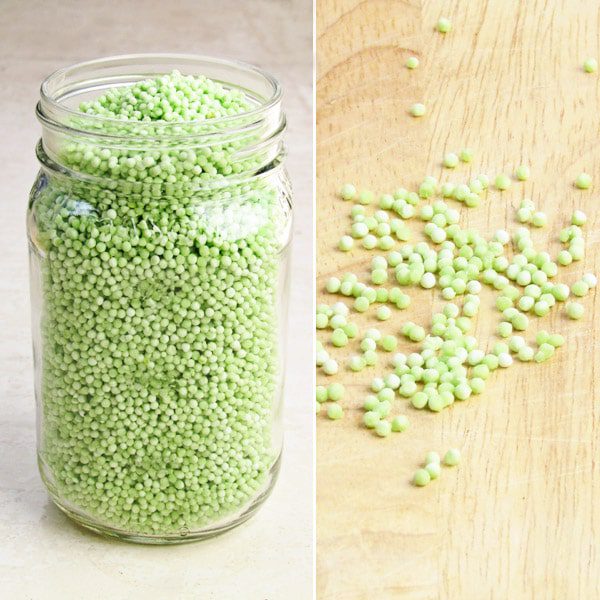 One of my favorite summer dessert recipes is sago balls and jackfruits in coconut syrup. Sago balls come in a package dry. I used the green ones which are made with pandan leaf extraction so they gave a beautiful green and lovely fragrance. They are easily cooked. Just add them in boiling water and simmer for 15 minutes and those opaque pale green will instantly turn into flimsy green sparkles.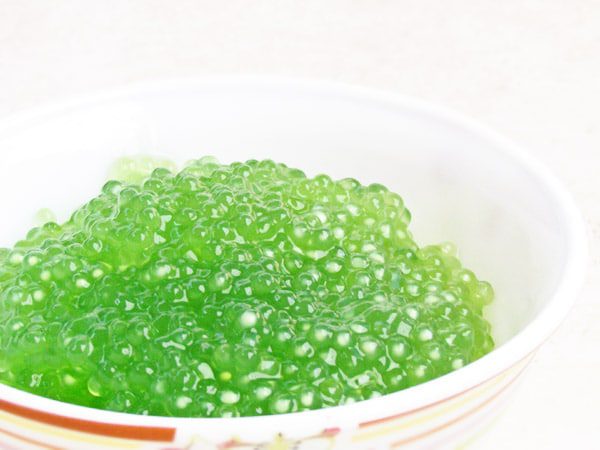 I only wish you are in my kitchen to experience the smell and taste for yourself. Fresh coconut are grated and extract fresh cream and milk to make the most light and silky syrup. The pandan sago balls are like magic, bubbling an exotic fragrance to the entire house. And those jackfruits… oh, those jackfruits, they're so sweet, juicy and fresh.
Pandan Sago with Jackfruit in Coconut Milk Syrup

Ingredients: (4-6 servings)

1 cup Sago balls

3 cups water

1 cup jackfruit- slice into thin stripes

3/4 cup sugar

1/2 tsp salt

2 cup coconut milk (Second extraction of coconut)

1 cup coconut cream (First extraction of coconut)

Crushed ice for garnishing

Preparation

Bring water to boil and add sago balls. Let it boil for 2 minutes and simmer for 15 minutes. Stir occasional so the sago balls won't burn or clump together. When it is cooked, keep aside.
In a small sauce pan, cook coconut milk, sugar and salt over medium heat. Stir until all sugar is dissolved. Make sure the coconut milk is hot but not boil.
Add half of coconut cream and stir well. Remove from the heat. And let the syrup cool down to room temperature.
To assemble the dish, place cooked sago balls in the dessert bowl, add some jackfruit slices and crushed ice, pour coconut milk syrup over, and top with some more coconut cream.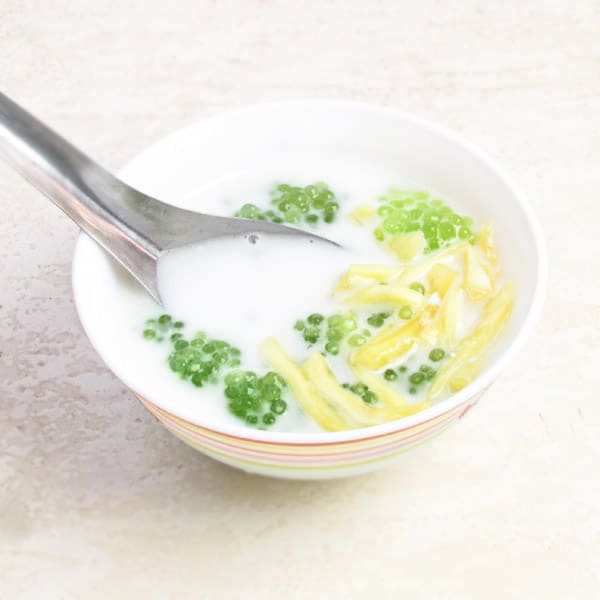 Look! How beautiful it is. It is so sweet, light and fresh. The smell of this bowl is like a smell of Asian fruit market, sweet and alluring. The sago balls were soft and aromatic while jackfruits brought out a crunchy texture with nectar-y sweetness into it.
Tempting? Try it! You can play with this dish. If you don't have jackfruit, try it with sweet corn, cantaloupe or even black bean. I promise you won't regret it
Love,