Thanks to all who dropped me an email after my last post. We have all recovered and are back on track. 🙂 I still don't feel like eating much, though. Maybe it's the fatigue talking. The other day, while grocery shopping, I had a strong sudden urge to take a nap! Ho ho! Well, lucky for the other shoppers, I didn't.
But I did get a packet of fresh button mushrooms, among many, many, many other things. Aside, I once bumped into my former boss and he was astounded by the number of things in my shopping trolley.
"But but but you only have three children, right?" he queried. "Why do you need so much?"
I was in a hurry, so I just laughed and shrugged. But if I had the time, I would have told him there was a fourth mouth to feed – this blog. 🙂
Anyway, this was what I ended making for lunch – Mushroom Bruschetta. Yum yum … it sure was a welcome change from the regular rice/noodle dishes that we normally have. And it hardly required any effort … extra brownie points for that!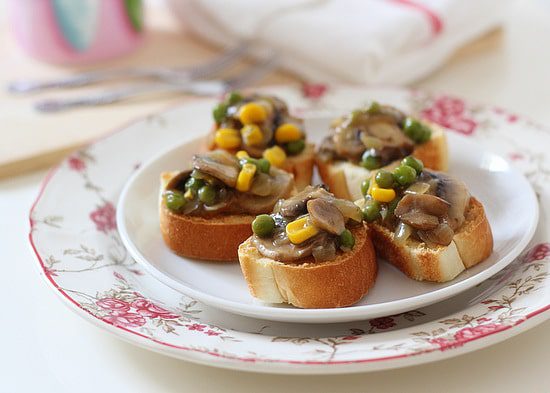 Recipe
– Extra Virgin Olive Oil
– 1 packet fresh mushrooms (I used white button mushrooms), wiped clean
– 2 cloves of garlic, 1 peeled and finely chopped, the other halved
– 1 medium white onion, diced
– Fresh parsley, finely chopped
– Sea salt and freshly ground black pepper
– Some corn and peas (I used frozen ones from Wattie's)
– A small knob of butter
– Slices of bread, toasted (I used a hot dog bun that my son didn't want anymore!)
1. Put a large heavy frying pan, big enough to hold all the mushrooms in one layer, over heat and add a couple of glugs of extra virgin olive oil. Saute the onions tll they soften and turn aromatic. Depending on the size of your mushrooms, leave any small ones whole but tear, break or slice the larger ones up. Add them all to the pan and give it a shake to toss the mushrooms with the onions.
2. Add the chopped garlic and parsley and shake the pan again. Add a pinch of salt and pepper and leave to fry gently for a few minutes. If the mixture becomes dry, pour in a little more oil.
3. Once the mushrooms have got some color going on, after about 3-4 minutes, add the butter and the corn/peas and toss again.
4. To finish this off and make it into a lovely, creamy sauce, spoon 2-3 tablespoons of water into the pan. Simmer for a little longer, until you have a lovely simple sauce that just loosely coats the mushrooms. Now toast your bread.
5. When toasted, rub the bread with the cut side of the remaining clove of garlic. Place each slice on a serving plate, pile the mushrooms and the creamy juices from the pan on top and tuck in. So good!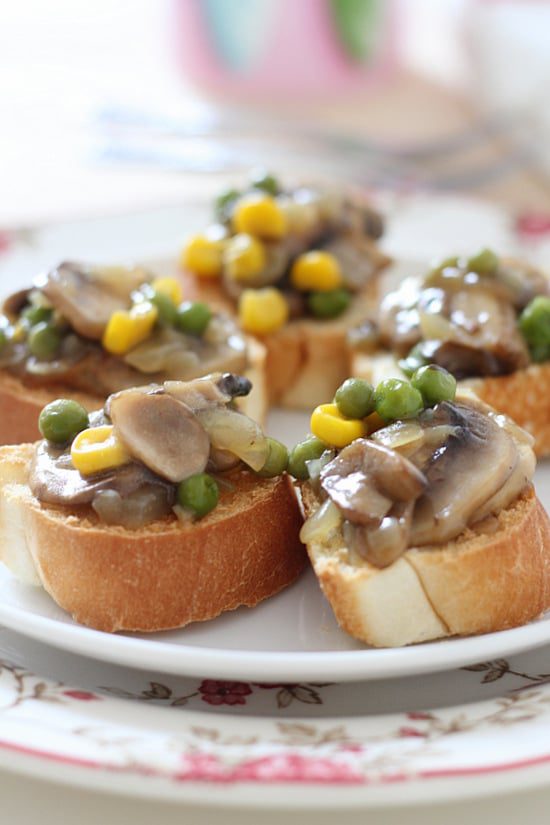 So, now back to square one – the same ol' question – what am I going to cook tomorrow? Argh.