You'd probably have read this a gazillion times in flogs: "I had 3 very ripe bananas left and I didn't want to waste them, so I decided to make banana cake."
Right?
Well, lemme tell ya, I am just the opposite. I buy bananas with the sole intention of making banana cakes. In fact, while I enjoy eating bananas as a fruit, I absolutely go bananas over banana cakes! Sorry, couldn't resist that ;P
I am always in high spirits whenever "banana cake day" arrives – when the once glorious comb of sunny yellow bananas becomes a shrivelled bunch of 3 miserable, speckled fingers. They would be precariously dangling from the stem, threatening to fall off any moment. THAT would be when I swoop in and make them into delicious banana cake.
And yes, today was THE day :)))
I baked the cake using thisrecipe but I halved everything. I like this particular recipe because it yields a moist and fluffy cake (as opposed to moist and dense). The cake turned out so pretty and petite, and just the right size for my family. I made this a "congratulations" cake for my sister who was officially promoted yesterday, amidst pomp and pagentry no less! All her hard work has not gone to waste and she has finally ARRIVED. Power to her! Now I can name drop, wahahahahaha!
As you can tell, I used alphabet pasta to spell out the words. The banner was made from construction paper mounted on toothpicks. Just another of my wacky, crazy ideas. But it kept my boisterous bunch rapt in attention for a good 10mins!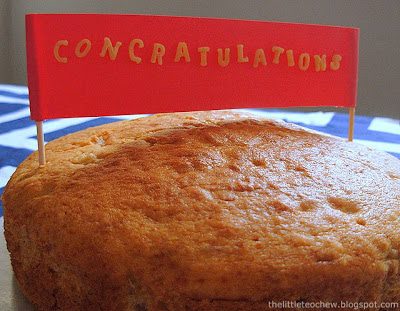 Recipe
(for easy reference)
– 180g unsalted utter
– 180g castor sugar
– 2 extra large eggs, lightly beaten
– 250g cake flour
– 1 tsp baking powder
– 1 tsp baking  Soda
– 220g bananas, mashed
– 50 g dairy whipped cream (I used evaporated milk)
– 1/2 tsp vanilla extract
1. Cream butter and sugar till light and creamy.
2. Pour in eggs gradually and beat till creamy.
3. Add in whip cream, mashed bananas and banana essence and mix well.
4. Add in cake flour, baking powder and baking soda, and beat for a short while, just to make sure everything is incorporated.
5. Pour into an 8-inch round tray.
6. Bake at 175 degree celcius for about 50 to 60 mins, or until cooked.