With summer in full swing, there is nothing better than kicking back and enjoying a sweet cold treat. One of my favorite summer desserts is sorbet. Though my true love will always be ice cream, sometimes you need a lighter and fruitier alternative, and that's where this super lightened up and tasty mint mixed berry sorbet comes in.
This recipe is vegan, just a few wholesome ingredients, and could not be easier to make.
Ingredients:
1 cup mixed frozen berries
1 juice from a wedge of lime
3-5 mint leaves
Sweetener of choice (stevia, agave, honey, coconut sugar, etc.)
Water, as needed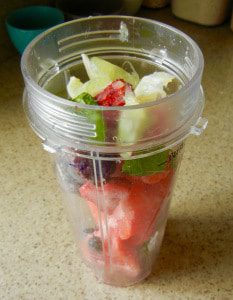 Directions:
Place all ingredients into a blender and begin blending. You do not need to use sweetener but it definitely adds to the flavor. I used a combo of a bit of stevia and some coconut sugar for a nice depth of flavor.
You will definitely need to shake up the blender as you are going as you want to add as little water as possible to achieve a true sorbet consistency. When the mixture will blend no more, add water by the tablespoon, blend, and if needed, add some more.
Scoop and devour!