You ever have those days when you want to bake something but you're not quite sure what it is you're in the mood for? You know, those unfortunate indecisive baking days when you just can't figure it all out. And you want to try to use what ingredients you already have on hand at home because you're too lazy to go to the store (more like you've already been to the store 4 times this week and you dread stepping foot in one again unless you really need a block of cheese or milk or something, something you can't live without). Well, I had one of those days yesterday.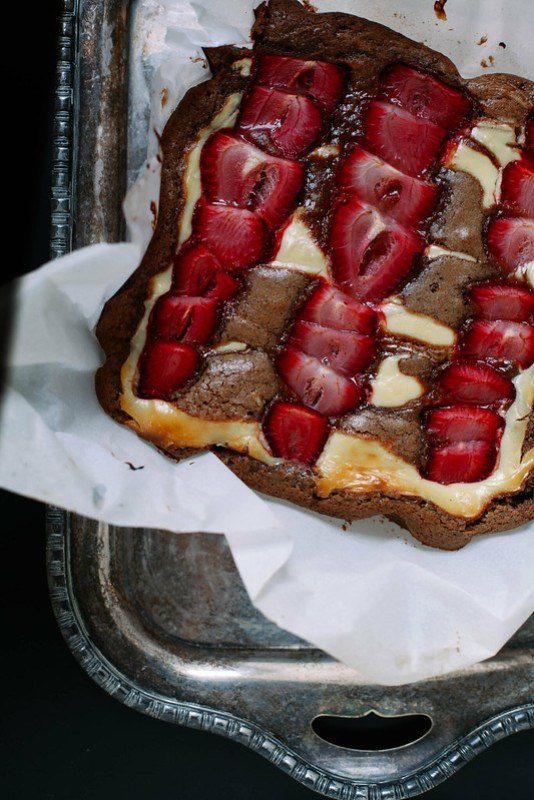 I've been wanting to make brownies for quite awhile, since the last time I made them was here, but with a twist. If I'm going to bake something, unless I'm really craving it, I'd prefer to invent something new rather than reinvent the wheel, so-to-speak. Anyway, I consulted my Facebook followers and asked what I should bake. Always a good strategy when you need some random, thoughtful ideas. Someone suggested strawberries, and I realized I already had a bunch in the fridge. And some cream cheese. And some mint. Because mint and chocolate are always a great combination together, especially in Spring time when the weather starts to warm up. So, there you have it. I decided to combine all of those things together and I now introduce to you these Mint Brownies with Cream Cheese and Strawberries!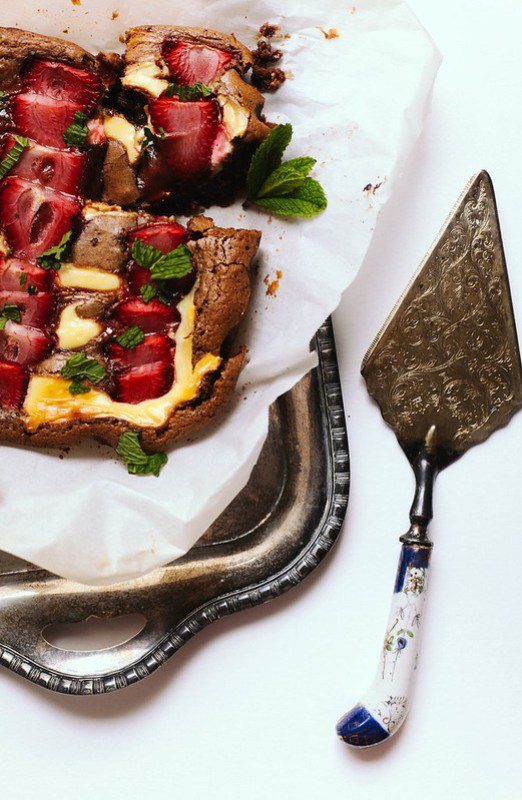 I halved the original "Salted Caramel Brownie", took out the salted caramel part, and didn't make them gluten-free this time. Then I made a little cream cheese whipped frosting, spread a bit of reserved brownie on top, topped it with sliced strawberries, then baked it. The only thing I would do differently next time is not bake the strawberries in the brownie. They turned out a bit watery and made the brownie a little too moist, plus it really changes the strawberry texture. Still good, just not ideal. Additionally,  I would have probably prolonged the baking time 5-10 minutes longer because a few areas came out gooey. They were cooked, and maybe it had something to do with the watery strawberries, but could've gone in longer. I just thought for sure they were done baking because the cream cheese part started to brown. Oh well. The fun lessons you learn in baking! Anyhow, needless to say these turned out rather delicious despite the baked strawberry part. The mint brownie with the cream cheese was awesome, just like a black-bottomed cupcake!
Mint Brownies with Cream Cheese & Strawberries
Serves: 9 brownies
Instructions
Spray an 8×8" baking pan with cooking oil, and line the bottom and sides with parchment paper (it's ok if the paper sticks out and over). Preheat oven to 350 degrees F.
Sift the flour, cocoa powder and salt into a medium bowl.
In a large bowl, beat the butter on low-medium speed with a hand-held or stand mixer until creamy.
Add the sugars, beating until they are well incorporated.
Add the sour cream and peppermint extract, then beat in the eggs one at a time, beating well after each one is added.
Add the sifted dry ingredients, beating until just combined.
Reserve ½ cup of the brownie mixture to swirl on top of cream cheese in a bit.
Pour batter into baking pan lined with parchment paper.
To make the cream cheese swirl, beat the cream cheese until smooth. Beat in the sugar until glossy, then beat in the egg yolk until just blended. Pour cream mixture over brownie batter.
Dollop or pour reserved brownie mixture in a zig-zag pattern and using a knife draw swirls in the batter. Layer the sliced strawberries on the top of the cream cheese (or not and wait until they are done baking) and bake until slightly puffed and gooey inside, about 45-50 minutes.