It's amazing how much you can do with fresh produce, a good supply of grains, lots of spices, and some dairy products here and there. That usually makes up about 95% of what I keep in the house, aside from our stockpile of pasta and baking staples.
I do buy some canned goods now and then (especially when a can of mushrooms is NIS 3 and a carton of fresh is NIS 10), but when I need things like crackers or tomato sauce or ice cream, I take the homemade route.
The first time I made lavash crackers (from Gatherings), it was basically because I thought it was cool. I mean, who makes their own crackers, right? Later on, I found other (read: better) reasons to use the recipe, namely because it's so much healthier.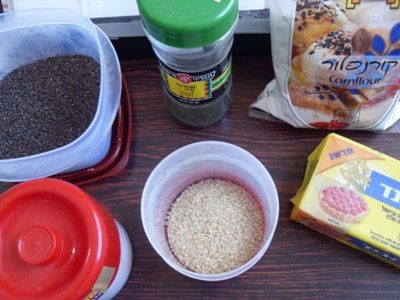 Don't get me wrong, I love those round little Ritz crackers like the rest of you, and I could finish an entire package of Osem crackers without even trying too hard. But because store-bought crackers are generally high-calorie, high-fat, and who knows what else, I feel better about making them myself, even with the time investment. (Let's face it: Any recipe will take longer to do than pulling something off the grocery shelf.)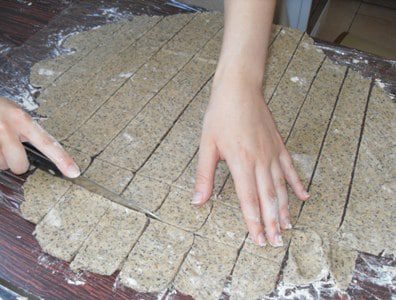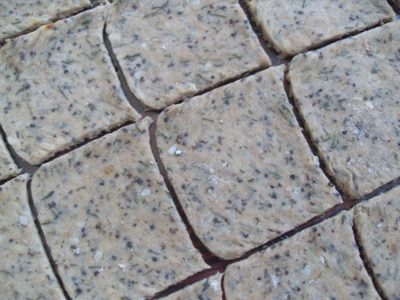 Lavash crackers are great with soups (we've had them with tomato and lentil-barley) or dunked into whatever dip you have around. They've also got enough flavor to snack on plain.
When do you go for homemade versions instead of store-bought? Have you ever tried homemade crackers?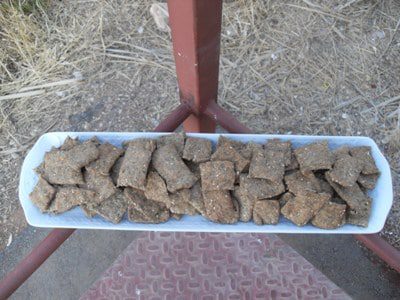 Lavash Crackers from Gatherings
Ingredients
1 3/4 c all-purpose flour*
1/2 c cornmeal*
1/2 c sesame seeds
1/4 c poppy seeds
2 Tbsp dill seeds
1 Tbsp sugar
1 tsp garlic powder
1 tsp onion powder
1/2 tsp salt
1/2 tsp baking soda
1/2 c margarine, softened
1/2 c water
2 Tbsp vinegar
*I almost always replace white with whole wheat flour, and it worked just fine here. I couldn't find cornmeal in the store, so I used cornflour instead. It's a product with a different consistency, but the crackers were still great.
Directions
1. Preheat oven to 350F/180C.
2. In a large mixing bowl, combine flour, cornmeal, sesame seeds, poppy seeds, dill seeds, sugar, garlic and onion powders, salt, and baking soda. Mix well.
3. Add margarine, water, and vinegar. Mix well.
4. On a lightly floured surface, roll dough out really thin and cut into squares. They don't have to be exactly square-shaped (you may like rectangles for dipping).
5. Place the squares onto a greased cookie sheet and bake for 10-15 minutes, or until crisp and golden.**
**Each of the three times I made this recipe, it took 30-40 minutes for them to bake. This could be because they're meant to be rolled out thinner than I roll mine — either way, be aware that yours may also need more oven time.