My neighbour handed me a bag of glutinous rice she had leftover from making bak chang. It was perfect timing because Lor Mai Fun has been on my to-do list for the longest time. I picked out the simplest recipe I could find online – my prerequisite whenever I am making something for the first time 😉
They turned out fine, thank goodness! I think the stars must have been aligned when I made this bowl of Lor Mai Fun (above). I had arranged the chinese sausages in a petal formation, but by some stroke of luck, a sliver of the stewed mushroom decided to peek out, as did a chunk of diced chinese sausage! All in the right places too. So there you go, an entire stalk of flower in a Lor Mai Fun. How's that for beginner's luck? 😉
Taste-wise, I will add some chicken the next time. The recipe did call for it, but I didn't have any in the freezer and I didn't want to drive out just to get some. The Lor Mai Fun was a tad on the bland side, which didn't bother me, because I ate it with chilli sauce anyway! I guess if you're not using chicken, remember to add more chinese sausage or mushrooms to up the flavour.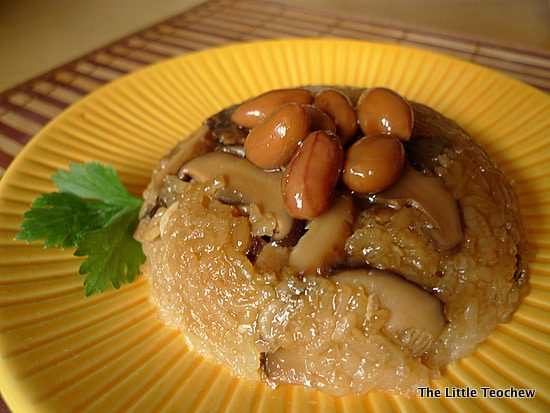 I also made a vegetarian Lor Mai Fun for my husband. I stewed some mushrooms in vegetarian oyster sauce, garlic, ginger juice, sugar and a little dark sauce. Then used the gravy as seasoning for the rice. I also topped it with some canned peanuts. I actually liked the vegetarian version more.
All in all, a great afternoon snack!
Recipe
(adapted from Amy Beh's recipe, here)
– 400g glutinous rice, rinsed and soaked for at least 4–5 hours or preferably overnight
– 200g chicken, chopped into bite-sized pieces
– 1 Chinese sausage, sliced
– 2 Chinese mushrooms, soaked and sliced
– 3/4 tbsp minced garlic
– 1/2 tbsp minced ginger
– 1 tbsp sesame oil
– 1/2 cup water (or chicken stock)
Seasoning
– 2 tbsp oyster sauce
– 1 tbsp light soya sauce
– 1 tsp thick soy sauce
– 1 tsp Shao Hsing Hua Tiau wine
– Salt and pepper to taste
– 3/4 tsp sugar or to taste
1. Drain soaked glutinous rice in a colander. Heat sesame oil and fry ginger and garlic until fragrant. Add chicken, mushrooms and seasoning ingredients.
2. Toss well to combine. Add glutinous rice to mix. Pour in water and stir until water is absorbed into the rice.
3. Arrange a few sliced sausages into each deep bowl. Spoon glutinous rice into the bowl until almost full to the brim.
4. Press slightly. Steam the filled bowls over a medium heat for 30–35 minutes or until rice is done. Turn out the rice and serve immediately.
An Asian version of an upside-down cake, I say!