It's December which means it's time for all sorts of festive activities. We started with celebrating the first Sunday of advent with Saffranslängd. Lots of golden goodness in this saffron bread. Then it was time to join our kids in their annual kindergarten lantern procession in honour of St. Martin. Then it was time for a visit from Saint Nicolas or Sinterklaas as we call him in Belgium. His visit happens at night, just like Father Christmas, and he leaves presents, chocolate, clementines and speculoos (something I want to bake with you later). As children, my brothers and I would also eat Klaaskoeken for breakfast on this day. Its a sweet yeast bun that is traditionally eaten with a good layer of butter in top.
They are not difficult to make but like any yeast dough you need to leave enough time for it to rest and grow. They also freeze really well so you don't have to eat them all at once… Ours were gone within 48 hours.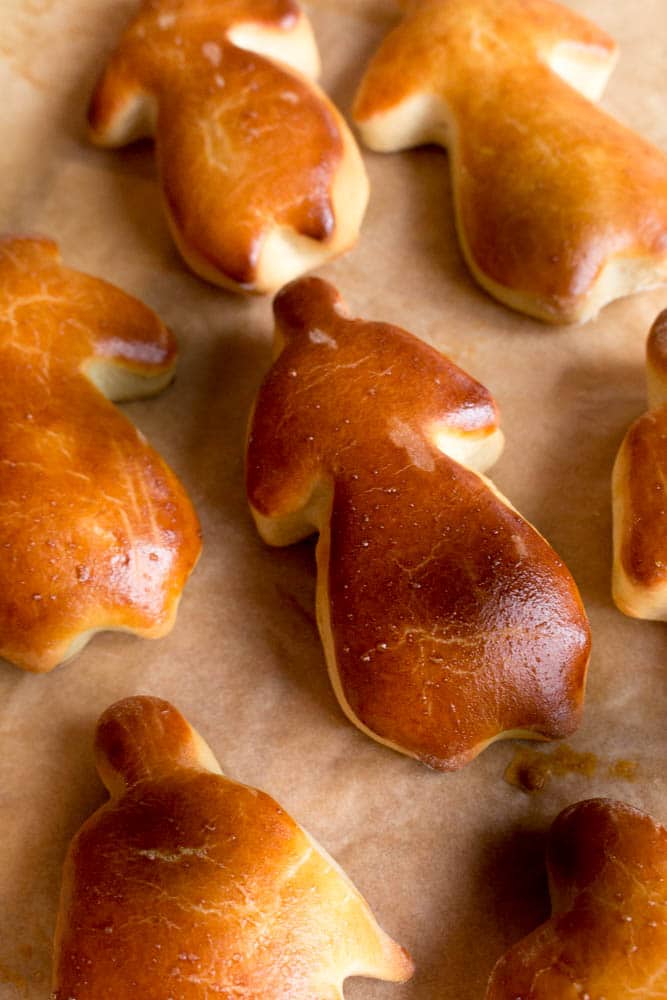 We will be continuing the festivities tonight by celebrating St. Lucia with other Swedish families (as P. is Swedish we honour their traditions for our kids). But for now, have a go at these very Flemish, sweet little bread men.
Ingredients
500g flour
42g fresh yeast
50g butter, softened
50g sugar
1 egg
7g salt
pinch of cardamom or cinnamon
100ml lukewarm water
100ml lukewarm milk
an extra egg for glazing the buns
Method
Crumble the yeast into the water and stir to dissolve. Let it rest for 10 minutes.
If you are using a standmixer, attach the dough hook. In the bowl, add the flower, salt, egg, sugar, milk cardamon or cinnamon, butter and the yeast in water mixture. Let the machine knead the dough for 10 minutes.
If you are using your hands, put the flour in a bowl and make a hole in the middle (so it kind of looks like a volcano with a huge crater). Sprinkle the salt on the rim of your flour hole and in the centre of the hole, add the yeast in water mixture. Now add the egg, sugar, milk, cardamom or cinnamon, and butter. Knead for about 20 minutes.
Put the dough in a bowl and cover with plastic or a clean, damp tea towel. Let it rise for about 45 minutes or until it has doubled in size.
Knead the dough again but only for a minute. Cover again and let it rise again for 45 minutes or until it has doubled in size.
Dust your work surface with some flour. Roll out the dough until about 1 cm thick. Use a large cookie cutter to cut out little men or shape them into balls. Put them on a line baking tray about 5-10 cm apart. Cover and let them rise for another 15 minutes.
In the meantime, preheat your oven to 220 degrees C.
Lightly beat the egg for glazing and brush the tops of the buns.
Bake golden brown in 15 minutes.
Cool on a rack and eat with a good layer of butter.
The amount of buns you get really depends on the size of your cutter. I got 25 and baked them in 2 batches.