Into everyone's life, a little joy must fall… 
Ok, so it's not a saying or anything. But I might be convinced to make it one after coming up with this spectacular little sweet treat.
What is it?
Can you guess?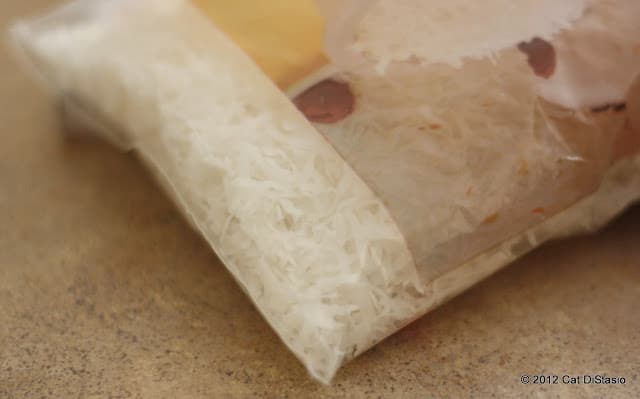 Could it be?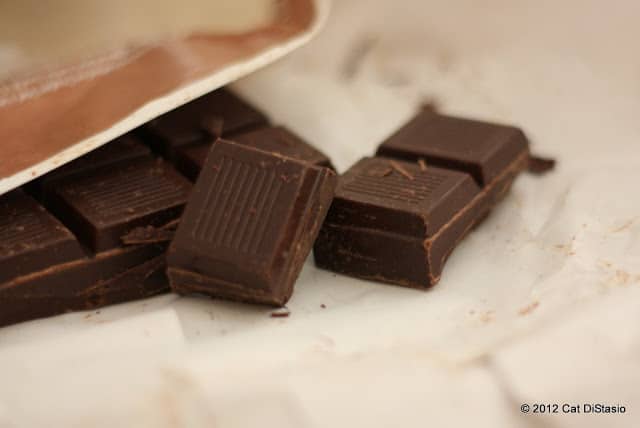 Yes, that's right. I made the cutest mini coconut-almond-chocolate bites you ever did see. What's more, they require no food processor or other fancy equipment AND there is no baking required. And yep, just like all my recipes, they're totally vegan.
The flavor combination is reminiscent of that famous candy bar that I crush on from time to time. Similar to myJoyful Almond Superfood Squares, this is a decadent dessert snack that is ridiculously easy to make, completely delicious, and not as bad for you as you might think.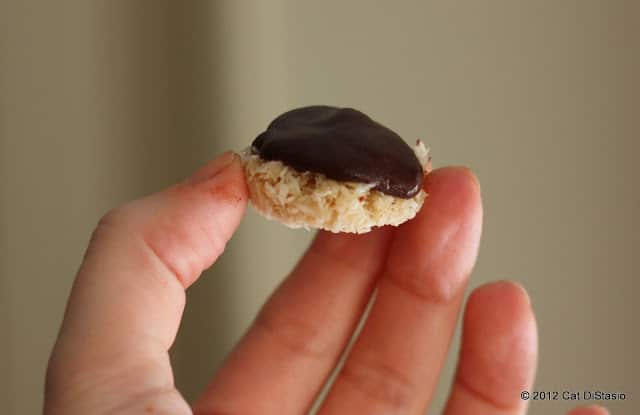 And since they are only this big, you can have a few without feeling guilty. Go ahead. I won't tell.
Joyful Almondy Bites 
Yield: 24 mini bites
For the filling: 
1 cup shredded unsweetened coconut
2 Tbsp coconut oil
1/4 cup oat flour (could use almond also)
2 1/2 Tbsp agave nectar
1/4 tsp Himalayan pink salt
1/2 tsp vanilla extract
1-2 tsp water
24 whole raw almonds
For the coating: 
2.5 oz dark chocolate, chopped
3-4 Tbsp almond milk
1/4 tsp almond extract
In a medium-sized bowl, stir together the coconut, coconut oil, flour, agave, salt and vanilla until well combined.
Stir in 1 tsp water, then check the consistency of your mixture. It should keep its shape pretty well when mashed into a spoon. If it seems too thick, add another teaspoon of water.
Using a 1 tsp measuring spoon, scoop up the coconut mixture and pack it firmly into the spoon, then transfer to a mini muffin tin.
Once you've evenly distributed all the coconut mixture, place one whole almond in each cup, pressing down slightly to pack the coconut.
Place muffin tin in the freezer while you work on the chocolate coating.
In a double-boiler, melt chocolate while stirring to distribute heat.
Stir in almond milk until well combined.
Once the chocolate mixture is smooth, remove from heat and stir in almond extract.
Remove muffin tin from freezer and spoon approximately 1 tsp of chocolate sauce onto each coconut-almond cluster, wiggling your spoon a bit to make sure the sauce covers it.
Return to the freezer until the chocolate is set, about 2 hours.
Enjoy immediately, or store in an airtight container in the freezer for up to 1 week.