When I am home alone, I find it unreasonable to cook the whole meal just for myself. I always seek comfort in a quick snack dishes. Frankly, I am more satisfied indulging in spicy snack recipe rather the complicated one. I would just eat snacks whole day and not worried about the whole meal.

I love hot dogs and they always have their spaces in our freezer. They make a quick bite on the buns but what I actually love the most is deep frying them and serves with Thai sweet chili sauce. That's what we usually got in meatballs carts on the street after school.
Hot dogs emerged from hot oil which is still sizzled on their crispy skins, then dunked in spicy and sweet chili sauce, serve immediately in our mouths. Our tongues burned, but it was worth the risk. It was so hot and delicious. If I were to eat only this for my entire life, I would live and be very happy.
I love the taste and smell of ginger. The earthy heat and pungent fragrant are wonderful add to many Asian sweet and savoury dishes. Spicy and sweet ginger glaze is wonderfully sticky, aromatic and flavourful. The way it coasted steamy hot dogs and glossed them up with the zesty delightfulness made every bite so incredibly scrumptious.
Hot Dogs with Spicy and Sweet Ginner Glaze

Ingredients: (2 servings)

4-6 hot dogs- skewed in the skewers if desired

Oil for greasing

1 cup brown sugar

1/2 cup vinegar

2 tbsp grated ginger

1 tbsp chopped red chili

1/2 tsp salt

Preparation

Heat the skillet over the medium heat and grease it with a little oil. Grill the hot dogs on the hot skillet until slightly brown on the outside and cooked thoroughly.
Combine brown sugar, salt, vinegar, ginger and chili in the medium sauce pan and bring to boil. Simmer and continuously stir until the glaze becomes thick and sticky.
Dip and coat the cooked hot dogs with the glaze and serve hot with fresh cabbages or cucumber slices.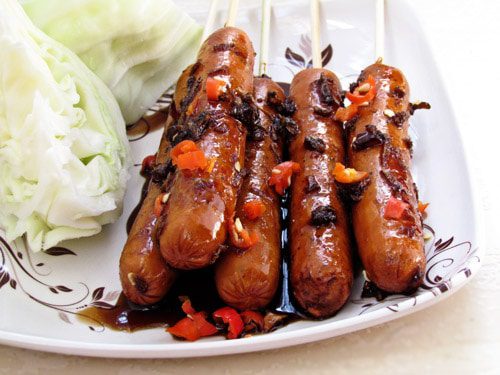 The spicy and sweet ginger glaze turns the hot dogs into the steamy, sassy bites. The earthy sweetness of brown sugar made the heat of the chili felt pampering. It was so perfect, aromatic and flavourful. I loved how the sauce was so stick and sweet while the flavour of ginger made the hot dogs tasted exotic and exciting.
When Yaseen came back from the nursery he followed the smell of the glaze to the kitchen. There were a little of it stuck at the bottom of the pan, he swopped some garlic bread that were left to cool on the rack in and devoured. It's funny that he knew that it was some kind of sauce that meant to be dipped. I deep fried one hot dog for him to try with the remaining glaze and he loved it.
Love,