I am staying true to my word, so here's the first "light and healthy" post.
seems to be in season, judging by their strong presence at the market. Naturally, I bought my share. I have always been an advocate of eating seasonal. Eating seasonal = eating smart. You eat fresh, abundant and cheap produce. 🙂
I've always been intrigued with Kai Lan. It's one of the more beautiful leafy greens, in my opinion. Perhaps it's their exquisite emerald green stems. Or their thick, glossy leaves. They are always a sight to behold and a delight to eat, if cooked properly. One of my pet peeves is to eat overcooked mushy greens, or greens which have been smothered to death in gravy. Urgh.
One of the best ways to enjoy Kai Lan is to cook it Hong Kong Style. The veggies are either blanched or steamed first, then topped with a little oyster sauce. The beauty of this dish is in its simplicity – you truly get to taste the sweetness of the Kai Lan.
I found this Hong Kong Style Kai Lan recipehere. Note that it called for a pinch of baking soda to be added to the boiling water. This serves to preserve the vibrant green of the veggies. On the downside, it destroys some of the precious Vitamin C. I didn't add the baking soda, in case you're wondering.
I'd like to try this recipe with broccoli and asparagus. I think it will work too. What do you think? 😉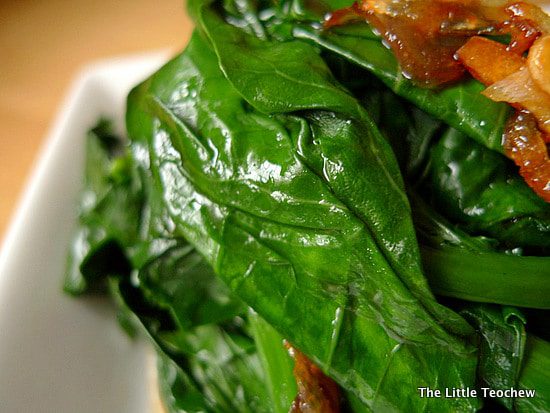 Recipe adapted fromhere
(by Amy Beh)
– 150g Kai Lan
– 5 or 6 small dried mushrooms, soaked till soft (I omitted them because I didn't have time)
– 1 tbsp chopped garlic
– 3 tbsp oil
– 1 tsp Shao Hsing Hua Tiao cooking wine
– 1/2 tsp sesame oil
For the sauce, combine:
– 1/2 tbsp oyster sauce*
– 1 tsp light soy sauce
– 1/4 tsp chicken stock granules
– 1 1/2 tsp sugar, or to taste
– Dash of pepper
– 1 tbsp water
– 1/8 tsp corn flour
* Note that I made this a vegetarian dish by omitting the chicken stock granules and oyster sauce. Instead, I used vegetarian mushroom sauce with a pinch of salt.
1. Boil half a pot of water. Add 1/4 tsp sugar, 1/2 tsp cooking oil and pinch of bicarbonate of soda. Blanch Kai Lan for 30 seconds, drain and place on a serving plate.
* As I mentioned earlier, I omitted the bicarbonate of soda.
2. Heat oil in a wok and saute garlic till fragrant and golden brown. Dish up garlic and remove half the oil. Add sesame oil and cooking wine. Stir in combined sauce ingredients and mushrooms. Bring to a quick boil.
3. Pour sauce over vegetables, arrange mushrooms and sprinkle with garlic crisps.
* I added shallot crisps as well.
On a completely unrelated note, school starts on 4 January 2010. I would like to wish all students (and parents!) in Singapore a fruitful academic year. Gambatte!!!