When it comes to snacks, I really love to cook fun recipes that everybody can involve. Cooking is one of my favourite family activities, especially with my son and my sister.
Today we have the feeling like playing with the flour, dust and dough so we decided to make Gyoza or pan fried dumpling.
Dough
2 cups of Flour
1 egg- beaten
1/4 tsp salt
Water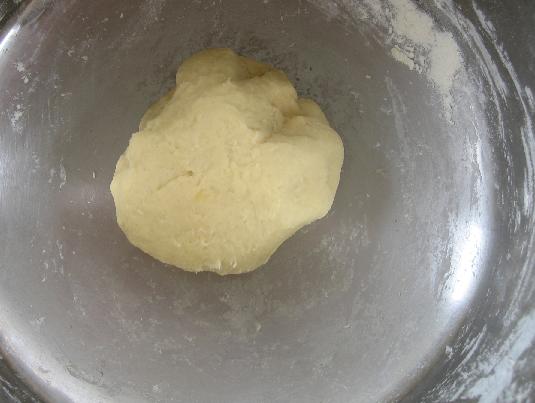 Mix the flour, egg, salt and enough water make firm dough. Knead for 5 minutes and rest the dough for 30 minutes covered with a damp towel.
Filling
300 of ground chicken
1/2 cup finely chopped cabbage
5 cloves garlic- minced
2 tbsp soy sauce
1 tsp of Sugar
1/2 tsp ground white pepper
Few coriander- chopped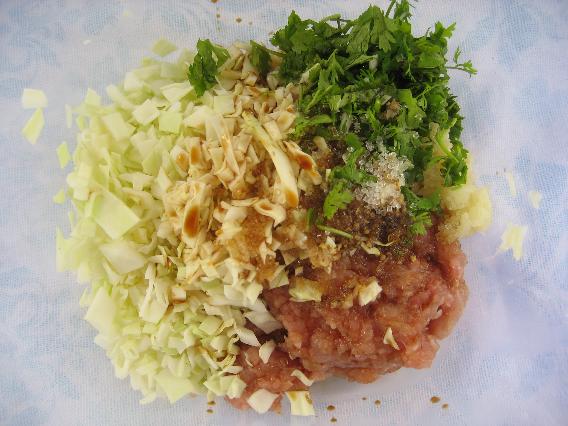 Combine all ingredients together.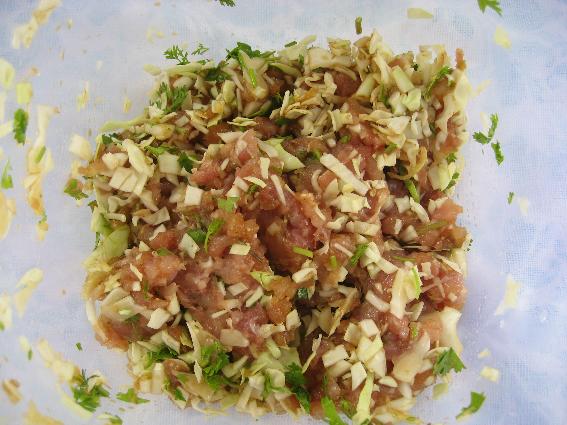 Mix well and keep aside.
Dipping Sauce
3 tbsp soy sauce
3 tbsp rice vinegar
2 tbsp sugar
3 clove garlic- finely chopped
2 inches ginger- finely chopped
1 green chili- chopped
1 tsp salt
Add soy sauce, rice vinegar, sugar, garlic and salt for in a medium sauce pan and bring to boil.
Simmer for 3 minutes and add ginger. Simmer further for one minute.
Add chopped green chili and remove from the heat.
How to fold Gyoza
Once your dough is ready, divide the dough into an inch diameter size balls.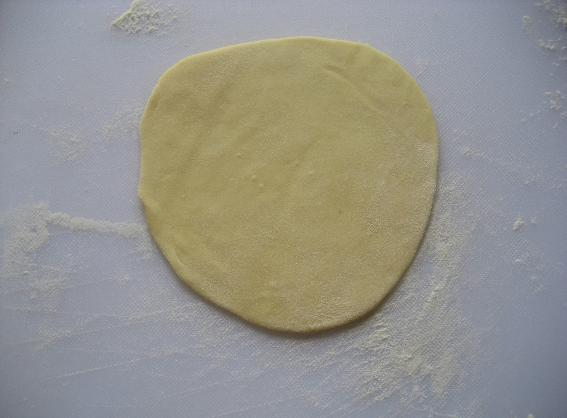 Roll each ball out into a thin circle sheet about 3 inches wide.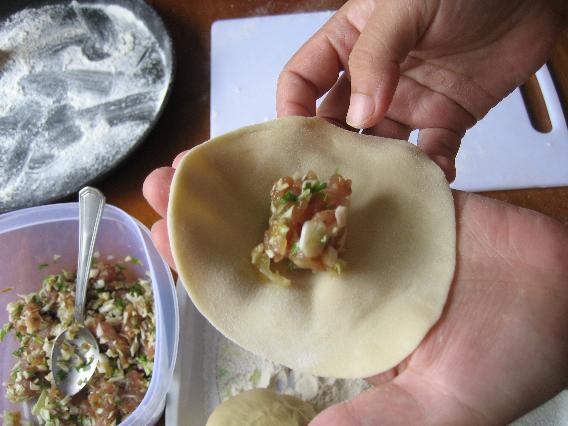 Add about 1 tbsp the filling on it.
Wet  half of the outer rim.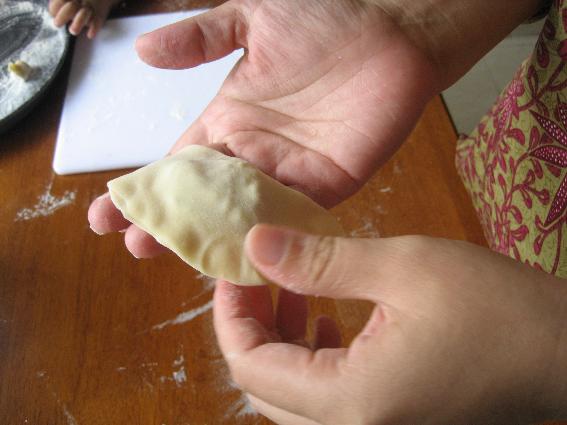 Fold the dumpling and press the end firmly to seal them.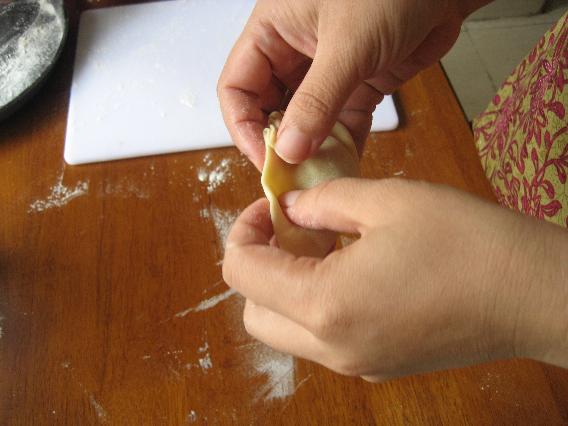 Then pleat the edges for 4-5 times for beautiful presentation.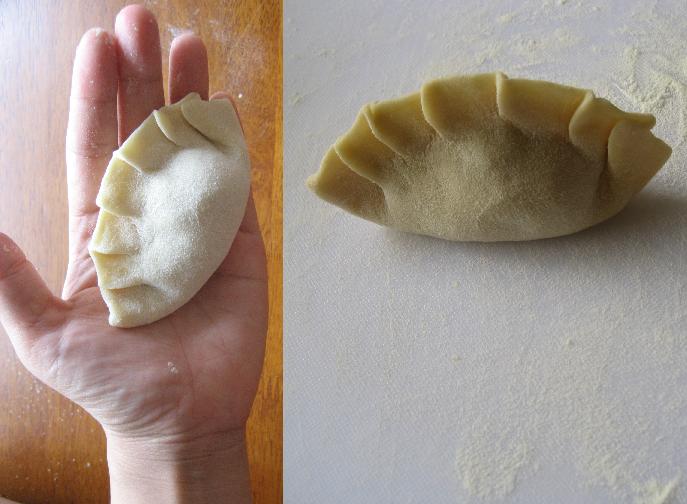 Repeat the process with the remaining dough and filling.
To cook Gyoza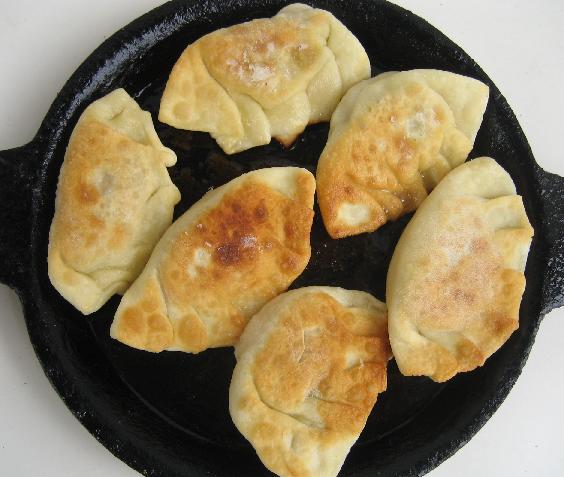 Heat about 2 tbsp oil up in a pan, and place the gyoza in the pan with the side down. Brown one side for a few minutes, and turn to brown the other side for few minutes.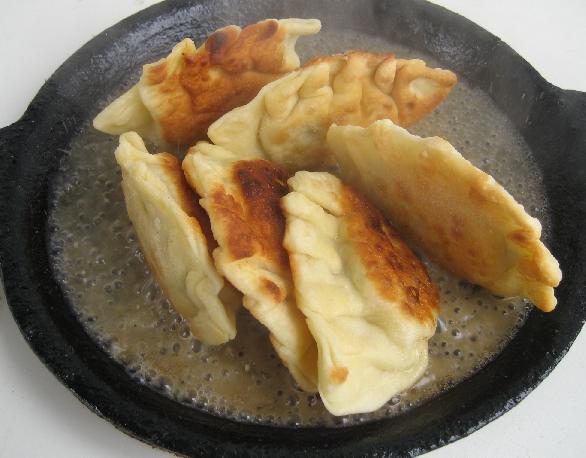 Now brown the bottom for few minutes.
Then add 1/2 cup of water or chicken stock. Cover with the lid to steam them for 2 minutes.
Remove the lid and cook for further for 1 minute.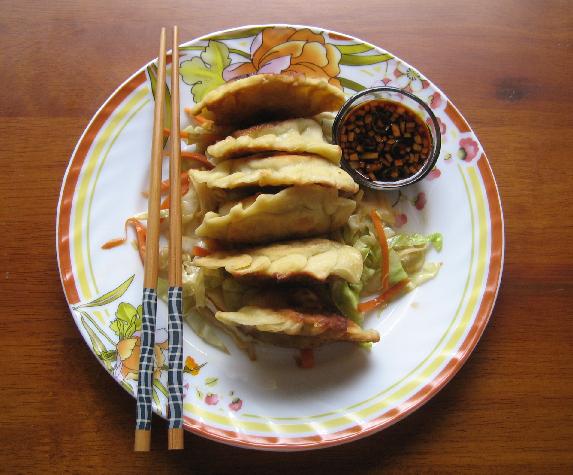 Serve hot on top of stir fried veggies and sweet and sour dipping sauce.
If you don't eat meat try filling the gyoza with stir fried veggies.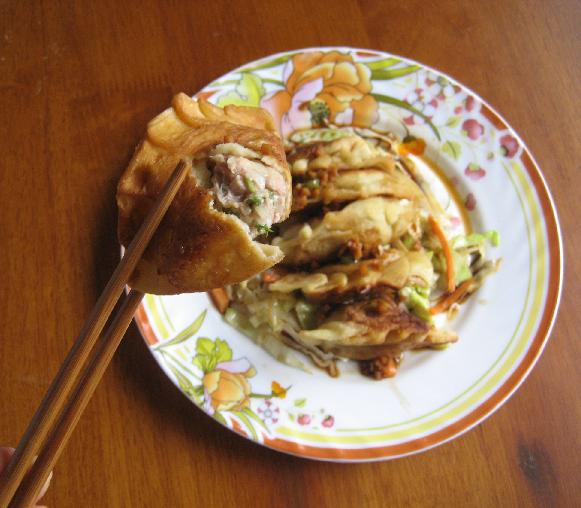 Do you like dumpling? Have you ever tried cooking them at home?
Love,