The other day my trainer was asking me about my eating habits (am I eating well and how many times do I eat in a day?). In my head I was like, well there has been a few chips here and there. So he said I need to eat five times a day. Seriously if you are on a weight loss journey or you watch what you eat, you know how hard it is especially if your up and down all day. Then I remembered this amazing granola bars I used to make a while ago and hadn't made them in a while. The best thing with granola bars is they are so delicious yet healthy and packed with so much goodness. I also love that you can add your favorite seeds or what you have on hand, add as much or less. You can also make them into cereal and are perfect especially when having fruit salad and yogurt, just sprinkle some granola on top.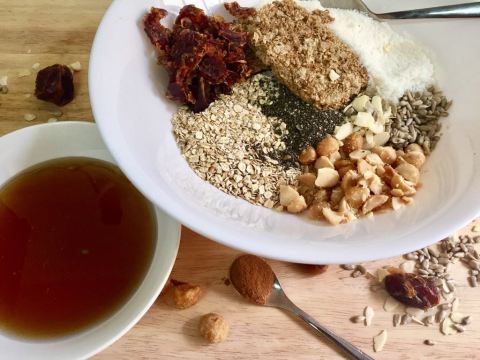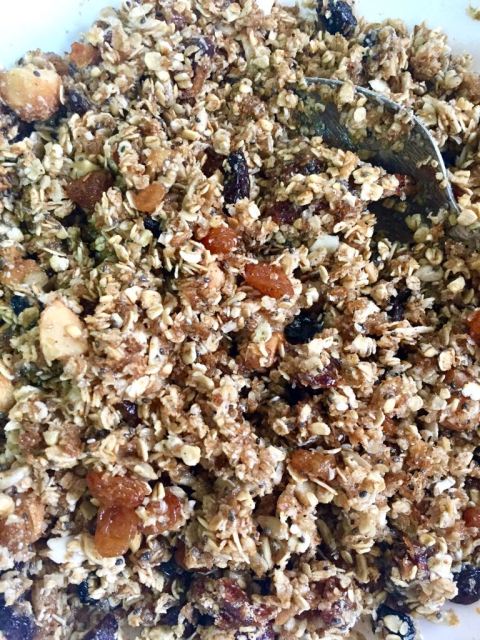 Ingredients
2 cups oats
1 cup desiccated coconut
1 1/2 Weetabix
Handful of macadamia (or more)
2-3 tablespoon sliced almonds
1 tablespoon sunflower seeds
1 1/2 tablespoon chia seeds
100g dates, pit removed
100g sultanas
1/2 teaspoon cinnamon
pinch of salt
1 cup honey
2 tablespoon sunflower oil
Method
Preheat oven to 180º and line a baking tray with foil/baking paper. Line an 8 by 12-inch baking pan with foil/baking paper.
In a large bowl combine the first seven ingredients and mix. Put the oats mixture on the baking tray and bake for 10 minutes. Once done remove and pour the oats mixture in the bowl. Add the dates, sultanas, cinnamon, and salt and mix well.
In a pan cook the honey and sunflower oil until it comes to a boil. Pour the honey into the oats mixture and combine until all the oats have been coated with the honey.
Place the mixture into the prepared pan and bake for 10-12 minutes. Once done, leave to cool slightly then cut into the desired size. It is easier to cut when still warm.