Well, I made it through exam week, thank goodness.  Surprisingly, the last exam was the easiest – I ended up finishing early on Friday afternoon.  So it's smooth sailing from here!  This week we're just preparing pastries for the "Grand Buffet" at graduation on Friday.  Our class has breakfast pastries and breads.  My partner and I are currently whipping up a batch of chocolate croissants.  Mmm!  My favorite.
I have tostage (last one!) early in the morning, so I have a quick, simple recipe for you – just a variation on a really good chocolate chip cookie.  No, this isn't my grandma's recipe.  It seemed like a cookie that a grandma would make, though!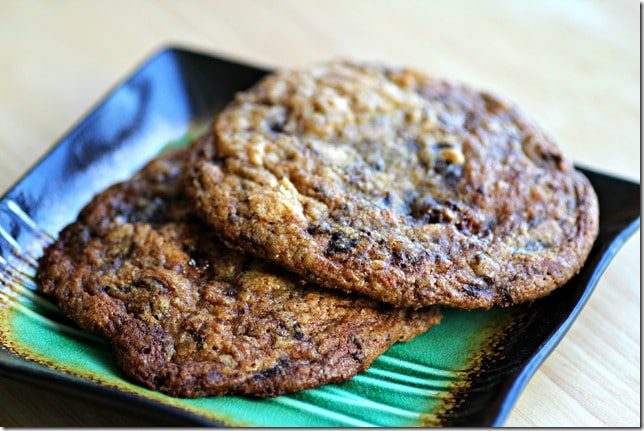 This is a cookie with browned butter, chopped chocolate, and chopped brownies.  Oh yes, chopped brownies.  I usually always have some brownies in the freezer.  Whenever I'm sick of eating the batch of brownies I've made, I will freeze the leftovers.
What else… oh I used a touch of corn syrup for chewiness.
Enjoy!  Maybe make these for your g-ma?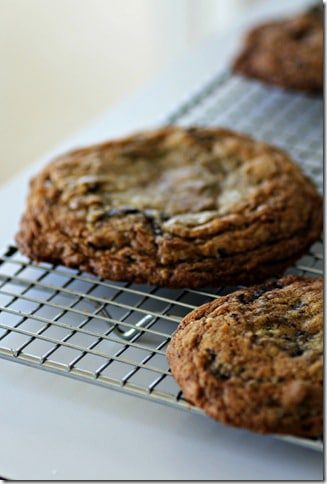 Grandma's Chocolate Chunk Brownie Cookies
2 cups bread flour
1 teaspoon baking soda
1/2 teaspoon baking powder
1/2 teaspoon salt
3/4 cup unsalted butter
1/2 cup granulated sugar
1/2 cup brown sugar
1 tablespoon corn syrup
2 large eggs
1 teaspoon vanilla extract
1 1/2 cups coarsely chopped chocolate
1 1/2 cups coarsely chopped brownies
Heat oven to 350 degrees F.
In a medium mixing bowl, sift together flour, baking soda, baking powder, and salt.  In a small saucepan, over medium heat, melt butter; cook and whisk until butter foams and starts to turn golden brown.
Place browned butter in a large mixing bowl; add sugar, brown sugar, and corn syrup.  Mix, using a mixer on medium speed, until incorporated.  Beat in egg, one at a time, until incorporated.  Mix in vanilla.  Reduce mixer speed to low and beat in flour mixture until just combined.  Stir in chocolate chunks and brownie chunks until combined.  Refrigerate 1 hour, or overnight.  Dough must be really cold and firm.
Drop rounded tablespoons full of dough onto cookie sheets, spacing an 1 1/2 inches apart.  Bake 13-15 minutes or until golden brown.  Cool 2 minutes before transferring to wire racks to cool.
Makes about 1 dozen large cookies