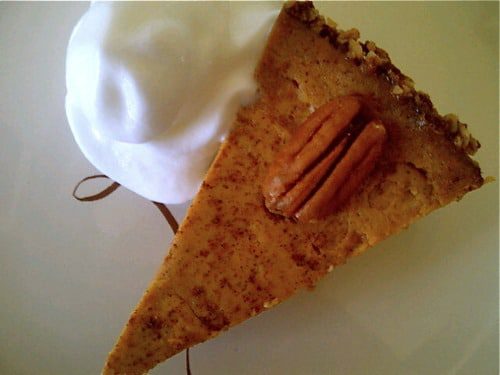 i've been avoiding gluten lately due to a probable intolerance. the only thing that makes this pie gluten free is the crust, so you could easily mix up the pumpkin filling and put it in any kind of crust – even a store bought kind. the recipe for the pie is foolproof – it's actually from the back of the can of condensed milk. how easy is that?  i guess pumpkin pie is technically out of season now, so make it next year? or right now, because it's delicious.
the gluten free crust can be used with any kind of pie filling, such as apple, or maybe pecan. i was really pleased with how it turned out. unlike your typical somewhat bland butter/flour crust this had a really nice flavor and texture, almost like an oatmeal cookie. try it, even if you're not gluten intolerant! you can use any kind of gingersnaps, or nilla wafers possibly? play around with it. generally cookie crusts are pretty foolproof. anyway, here you go: gluten free pumpkin pie. enjoy!
gluten free crust:
about 40 ginger snaps, crushed (i used an entire bag of these gluten free gingersnaps. you could use any kind of cookie, gluten free or not)
1 cup quick oats
1 stick unsalted butter, melted
pie filling (based entirely on this recipe):
1 (14 ounce) can sweetened condensed milk
1 (15 ounce) can pumpkin puree
2 eggs
1 teaspoon ground cinnamon
½ teaspoon ground ginger
¼ tsp fresh ground nutmeg
½ teaspoon salt
a few pecan halves, to garnish
directions:
mix cookie crumbs, oatmeal, and butter in a bowl until crumbly
pat the cookie mixture into a pie dish, covering the bottom and sides. you'll want to press down nice and firmly, and make sure the crust is evenly distributed
bake the pie crust for about 15 minutes at 325 degrees, just so it crisps up a bit. remove from oven and allow to cool to room temperature
now mix condensed milk, pumpkin puree, eggs, spices, and salt in a bowl.
pour pumpkin mixture into cooled pie crust
bake at 350 degrees for about 30 minutes, or until pie is firm in the center. check the pie after 15 minutes. if the crust looks like it's about to burn, cover the pie in foil, and continue cooking.
top baked pie with a few pecan halves to garnish, and a sprinkle of cinnamon. serve with a bit of whipped cream or vanilla ice cream, and enjoy!