And here I am, giving you a cookie recipe, of all things.
It's just…I can't help it! Why? Well, this is why.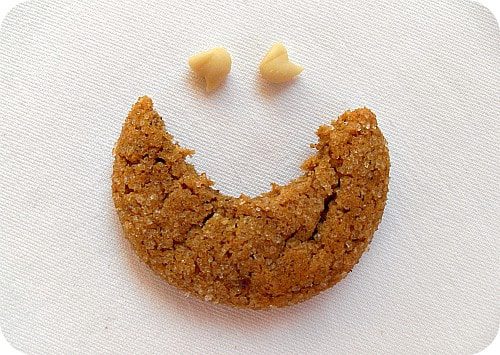 So I had to share the recipe with you. Because if you only bake one more batch of cookies before Pesach, this should be the one.
I think I've gotten more compliments on these cookies than on any other cookie — and maybe even on any other dessert — that I've made.
First, I sent a package stuffed with gingersnaps to my sister in college in New York. You might remember her from this ol' thing. She emailed right away to tell me that the cookies were the best thing she'd eaten all year.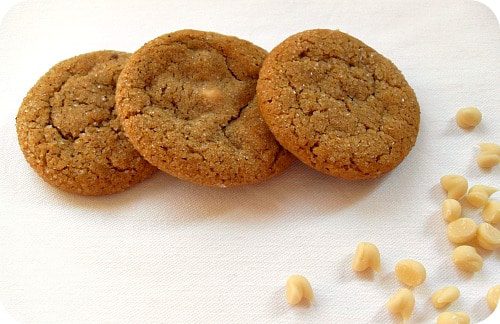 Next, I baked up a huge platter for a bar mitzvah kiddush on the yishuv. I slept late that Shabbos morning, but when I finally showed up to the kiddush, I was practically bombarded with cookie compliments. The mother of the bar miztvah boy came over to tell me she loved them. So did the father of the bar mitzvah boy. And his aunt, and a cousin, and several other family members who had come to the simcha from out of town.
Encouraged, I decided to try selling them the following Friday. Since the weather predictions were pretty dire, I knew I couldn't set up a cookie stand outside, so I took orders from people in advance…and sold 100 cookies. Not bad, right?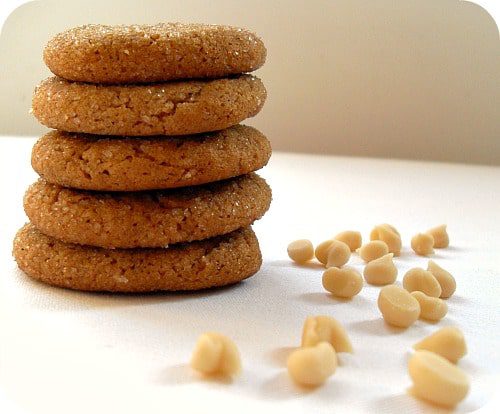 But here's my favorite part: A woman who lives on the yishuv — a woman whose name I had never even heard before — called me up one fine day. She said she'd been at that kiddush, tried the cookies, and made a few calls to figure out who had made them.
And then she ordered 80 to include in her mishloach manot.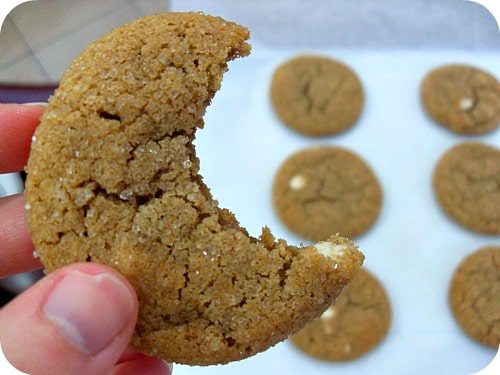 Soft gingersnaps with white chocolate chips
Yield: 70-85 cookies
Ingredients
10 Tbsp unsalted butter (or margarine), at room temperature
1 cup granulated sugar
½ cup honey
6 Tbsp canola oil
1 tsp vanilla extract
2¼ tsp baking soda
½ tsp salt
1¼ tsp cinnamon
¼ tsp ground cloves
1 tsp ground ginger
2 eggs
2½ cups whole wheat flour
1 cup all-purpose flour
1¼ cups white chocolate chips
additional granulated sugar, for rolling (do not substitute)
Directions
1. Preheat oven to 350 F/180 C. Line baking sheets with parchment paper and set aside.
2. In a large mixing bowl, cream together butter and sugar until smooth. Beat in the honey, canola oil, vanilla, baking soda, salt, and spices. Mix until well combined.
3. Add the eggs, one at a time, and beat until smooth. Add in the flour, about a half-cup at a time, beating well after each addition. Fold in the white chocolate chips. The dough will be very soft. This is a good thing!
4. Scoop the dough into balls (I used a tablespoon to measure) and roll lightly in sugar. Place on lined baking sheets about two inches apart and bake for 10 minutes.
5. Let cool 2 minutes before moving them off the baking sheets. Store in an airtight container.