It's amazing how simple ingredients and a simple recipe can definitely make your life simple! Sorry, just got carried away with how easy with this recipe and hence the previous statement. Get all the ingredients and blend them together coarsely and voila, you have your spread ready. How much simpler can it get. But the name of this spread is quite complex to pronounce and that's the only trouble you might face. This spread is a Greek spread called Skordalia and don't ask me how to pronounce but the name is very captivating, right?
The almonds give a unique crunch to this otherwise soft potato spread. Also the lemon juice gives the required tartness to this spread making your taste buds tickle with fresh flavors. I happen to stumble upon the recipe for this spread from a book called "Artisan Pizza and Flatbread in Five Minutes a Day" by Jeff Hertzberg and Zoe Francois and I'm so glad I did. I scaled the recipe to make just one cup but they can easily be multiplied to cater to larger gatherings. The spread can be served with pita bread or other flatbread. Enjoy!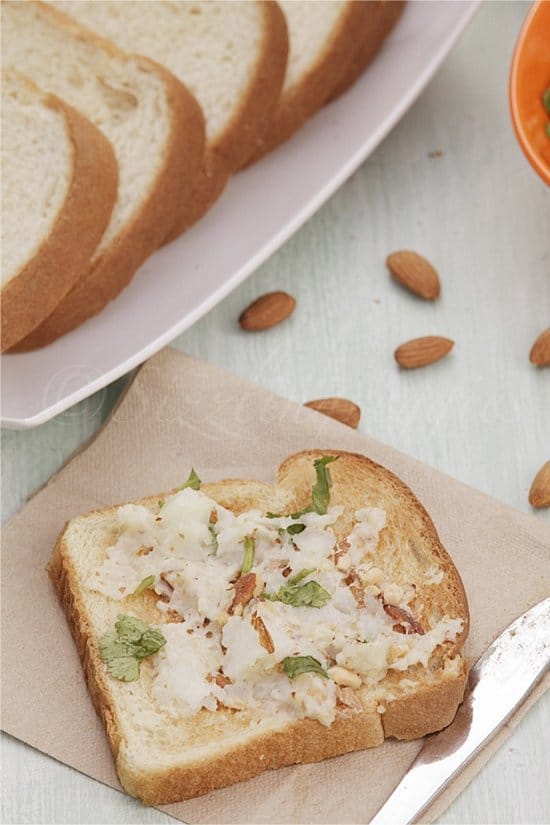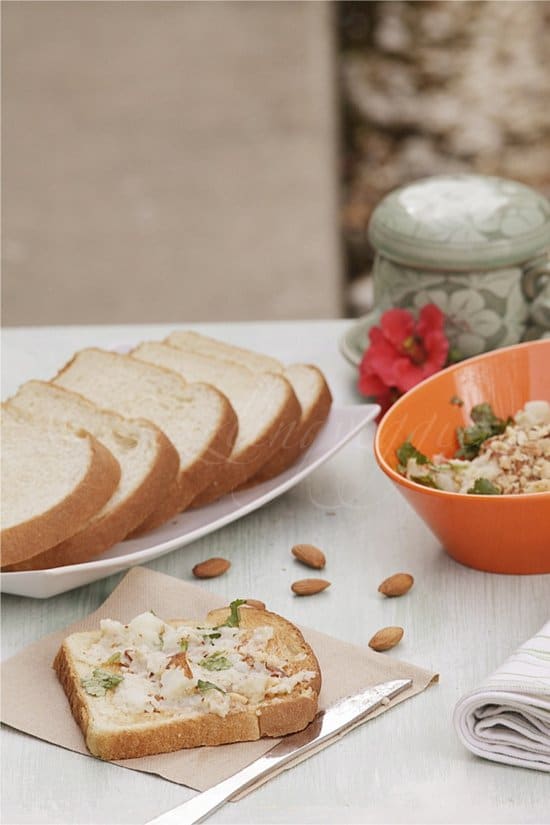 Garlic Almond Potato Spread
Ingredients
Potatoes — 2 small to medium sized
Garlic Cloves (peeled) — 2 (coarsely chopped, adjust the amount of garlic to your preference)
Salt — 1/4 tsp
Olive Oil — 1/4 cup
Fresh Lemon Juice — 1/8 cup
Water — 1 Tbsp
Almonds — 1/8 cup (I used with skin, they can be peeled or blanched if preferred)
Cilantro leaves — 1 Tbsp (finely chopped)
Instructions
In a large pot, cover the potatoes with cold water and bring it to boil. Cook until tender and the skin can be peeled easily. Alternatively the potatoes can be cooked in a pressure cooker until tender and soft.
In a food processor, process all the ingredients until smooth. I liked to have some chunks of almonds and potatoes in every bite so I processed them to coarse. Mix cilantro leaves in the end along with all the ingredients.
The spread can be served with pita or other flat bread. I served with a regular loaf and they can be refrigerated up to a week. Enjoy!