Fresh Peaches. My mouth is drooling. I love fresh peaches. I used to think I hated peaches because I always ate canned peaches. But I have changed my opinion (thank goodness).  I would now place peaches at the tippy top of my favorite fruits to eat. They are so juicy and sweet. Every year when peaches come in season I buy a half bushel almost every Saturday. And the fact that it is also my husbands favorite fruit…well that keeps me peeling peaches for days.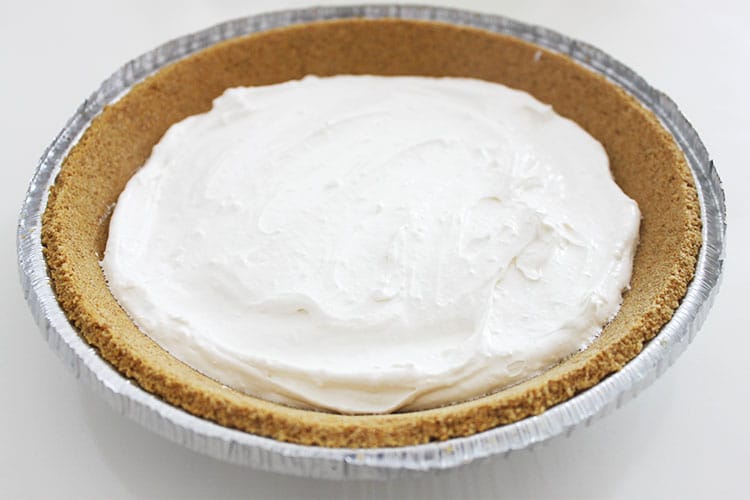 This Fresh Peach Pie recipe is the BEST. I was introduced to this peach pie by my sister in law Heather. Her birthday is in September and every year her mother Carol,  makes this Fresh Peach Pie to celebrate. It is so good. I had to know how to make this pie. Heather kindly shared it with me and I have been making this pie for at least the past 8 years.
Now you could make a homemade graham cracker crust but I am always short on time so I went with a pre-made crust. It works just as well. Then you place you cream cheese filling on the bottom and spread it around evenly.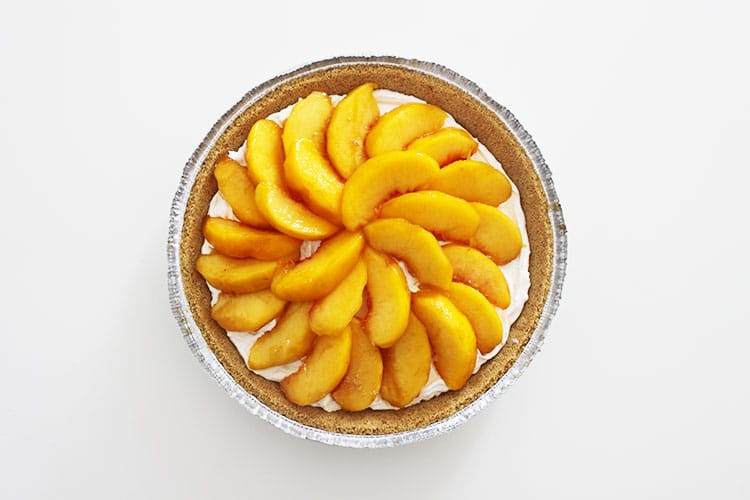 Next you slice your peaches and place them on top. My husband likes more of the cream cheese filling than the peaches but I like more peaches than filling. So you can adjust your filling and fruit topping as you would prefer. Then pour the glaze over the peaches.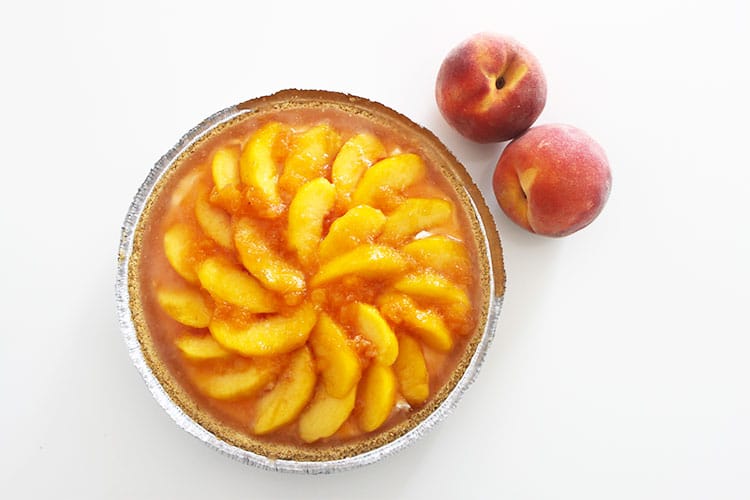 We ate this peach pie for dessert tonight and it is now gone. gone. gone. I think I had three slices, but I am not worried about it at all. Fresh peaches get me every time and I can't help myself. At your next gathering where dessert is involved, bring this. It is a crowd pleaser and has even won some pie awards.
Fresh Peach Pie
Prep Time: 20 minutes
Cook Time: 2 hours
Total Time: 2 hours, 20 minutes
Yield: 3 pies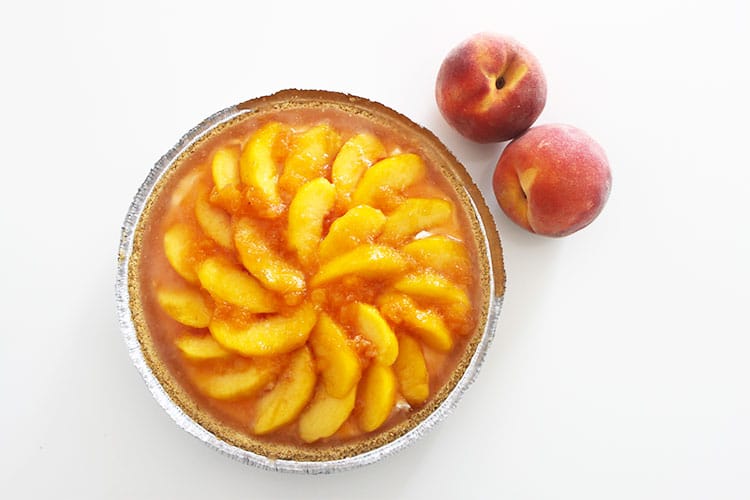 Ingredients
3 graham cracker crusts
6 cups peeled peaches
1 cup sugar
1 teaspoon cornstarch
Peach jello, 3 oz box
1 tablespoon butter
1 teaspoon lemon juice
Filling
8 oz cream cheese, room temperature
1 cup powdered sugar
12 oz cool whip
1 teaspoon vanilla
Directions
Slice 1 cup of peaches and place in a large liquid measuring cup.
Mash the peaches and then add enough water to make 2 cups (water and peaches combined).
Pour water mixture into a small saucepan and heat until bubbly, then cook 2 minutes more and remove from heat.
Next stir in jell-o, butter, sugar, cornstarch, and lemon juice. Stir until the sugar is dissolved then pour it back into the measuring cup and chill until it is partially set. (About an hour).
While the jell-o glaze is cooling, peel and slice the remaining 5 cups of peaches.
In a separate small bowl, use an electric hand mixer and mix together the cream cheese, powdered sugar, cool whip, and vanilla.
Divide the cream cheese filling evenly between the three pies. Then evenly distribute the peaches on top of each pie.
Pour the jell-o glaze on top of the peaches on each of the three pies. You may have some glaze left over.
Chill for one hour before cutting and serving. Serve cold.
Notes
You can adjust the amount of filling and peaches you put into each pie depending on if you like more cream cheese filling or more of the juicy peaches. If you like more peaches (like me), than peel one to two extra peaches.