Ok, so I'll admit my alliteration leaves something to be desired but this dish doesn't. This baked frittata stars potatoes and tofu and is the perfect showing-off-at-brunch entree or breakfast-for-dinner-again meal. Plus, this recipe comes together in a snap and spends most of its prep time in the oven, which frees you up to do, well, whatever you want!
Fancy Fritater Frittata 
Yield: 4-6 servings
1 tsp canola oil
1lb Idaho gold potatoes
2 cloves garlic, minced
1 lb firm or extra-firm tofu
1 Tbsp soy sauce
1/4 tsp turmeric
1/4 tsp ground cumin
1/2 tsp chopped rosemary
1 tsp dried thyme
1/4 cup nutritional yeast
1/4 tsp salt
freshly ground black pepper, to taste
Preheat oven to 400°F. Lightly grease an 8-inch pie plate and set aside.
Grate potatoes (with skins) and press with a towel until mostly dry. Sautee with garlic in oil over medium heat for 5 minutes, stirring frequently. Remove from heat.
Drain and crumble tofu. Toss with remaining ingredients. Add potatoes and stir to combine.
Press mixture into pie plate and bake for 20 minutes, until the frittata is firm and lightly browned. 
Cool 3-4 minutes, then invert onto a serving plate, slice into wedges, and serve.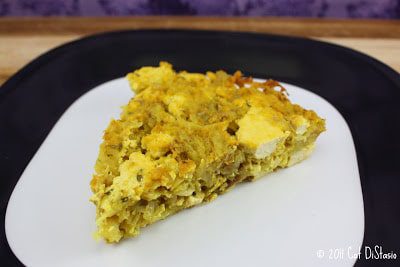 Serving tip: For an extra impressive punch of flavor and eye appeal, top each wedge with a dollop of vegan sour cream or even a garlic cream sauce and garnish with fresh dill.