Two days ago, I was preparing to share a cake with you all. It was a rustic apple torte. The picture with the recipe looked great, and I thought mine came out pretty good looking too. I didn't think about it until after the cake was already in the oven, but there was no fat in the cake. No oil, no butter, nothing! As expected, the cake was dry, and a few hours later, a brick. I don't think I've ever messed up a cake! Needless to say, I was very disappointed. Thankfully, the biggest cake I can make in the "easy bake" is only 6-inches, so not too many ingredients were wasted. The next day, since my cake was two seconds away from going in the garbage, I still had a sweet tooth. That's when I remembered I had a recipe in an e-mail I sent myself months ago for oatmeal raisin cookies, and all of a sudden I had to have them immediately. I titled the e-mail Delish Oatmeal Raisin Cookies, hence the title of this post. My mom gave me the recipe over the phone, claiming they were the best oatmeal cookies she's ever had. She collected the recipe from a fellow teacher at her school, who brought them in one day.
I honestly can't tell you the last time I had an oatmeal raisin cookie. They're one of those cookies that seem like they could easily be forgotten. Poor cookies. After my first bite, I literally "mmmmm"-ed out loud. They bring you back to childhood, or visits with your grandmother, or snuggling under a warm blanking on a rainy day. They bring you home.
These cookies were wonderfully delicious. The first bite I took, I was reminded of a macaroon: lightly crisp on the outside and gooey chewy on the inside. Of course, this was 3 minutes out of the oven. In true oatmeal cookie fashion, once cooled completely, it wasn't quite the same. It was a little more crunchy on the edges and slightly chewy on the inside. Still scrumptious, but in a different way.
The original recipe says the baking time is 10-11 minutes. As I learned during myquest for the perfect chocolate chip cookie, under baking is key to a softer cookie. Therefore, I took mine out after 9 minutes, and one batch I took out after 8. The 8 minute batch looked way underdone, so I put it back in for another minute. Looking back, I actually think it would've been fine, and next time I think I'll just trust that they're finished and see what happens. I hope you enjoy this little piece of home!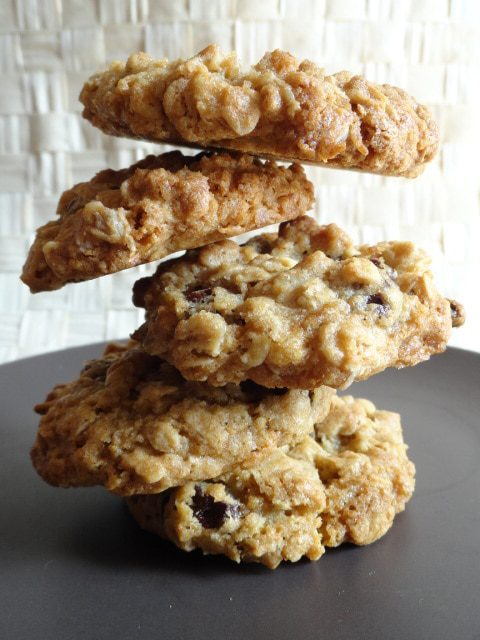 Delish Oatmeal Raisin Cookies
Ingredients
3/4 cup all-purpose flour
3/4 teaspoon salt
1/2 teaspoon baking soda
1/2 teaspoon cinnamon
3/4 cup unsalted butter, softened
3/4 cup granulated sugar
3/4 cup packed light brown sugar
1 egg
1 tablespoon water
2 teaspoons vanilla
3 cups uncooked old fashioned oats
1 cup raisins
Directions
Preheat oven to 375F. Grease cookie sheets, or line with parchment paper. In a medium bowl, combine flour, salt, baking soda and cinnamon. In a separate, larger bowl, beat butter, granulated sugar, and brown sugar until light and fluffy. Add egg, water, and vanilla; beat well. Add flour mixture and mix until just blended. Stir in oats, then raisins.
Drop dough 1 tablespoon at a time, onto prepare baking sheets. Cookies should be about 2 inches apart. Bake for 8-10 minutes (depending on your oven), or until golden brown. Let stand on cookies sheets for 2-3 minutes, then transfer to a wire rack.
Just an FYI: I halved the recipe, and it yielded about 22 cookies. This was yesterday, and we now have about 7 cookies left. Maybe I should've made the full batch? 🙂