The first time I came across this recipe I felt a bit overwhelmed but, decided to give it a go anyway. Thank God I did, because when I tasted my first bun it was amazing!
And the best thing was, I really felt proud of myself that I didn't give up after reading all the steps that were required to make the buns. I just rolled up my sleeves and baked.  The buns were delicious and  it  was so rewarding.
My advice: do it on a relaxing day that you really feel like baking. While the dough is rising just go for a walk, have a cup of coffee and read a good book!
Preparation: 15 min
Dough rising: 1 hr + 30 min
Cooking: 15 min
Serves: 12 buns
Hot Cross Buns easy recipe
What you'll need:
625g strong white flour
45g chilled butter
45g caster sugar + 2 extra tbsp
1 tsp salt
1 tsp cinnamon
1/4 tsp ground all spice or garam massala
1/4 tsp ground nutmeg
1+1/2 tsp fast-action dried yeast
1 egg
275 ml of milk + 4 extra tbsp
100g raisins
How to make it:
Sift 500g of the flour into a large bowl. Cut up the butter and mix with the flour using your fingertips until it resembles breadcrumbs. Stir in 45g of caster sugar, the salt, cinnamon, all spice or garam massala, nutmeg and the yeast. Beat the egg in another bowl, and mix it into the dry ingredients with 275ml of milk, until you have a soft, pliable dough.
Tip the dough into a lightly floured surface and knead for 5 minutes until smooth and elastic. Gradually work in the raisins. Return the dough to the bowl cover with oiled clingfilm and leave it in a warm place for 1 hour, until doubled in size.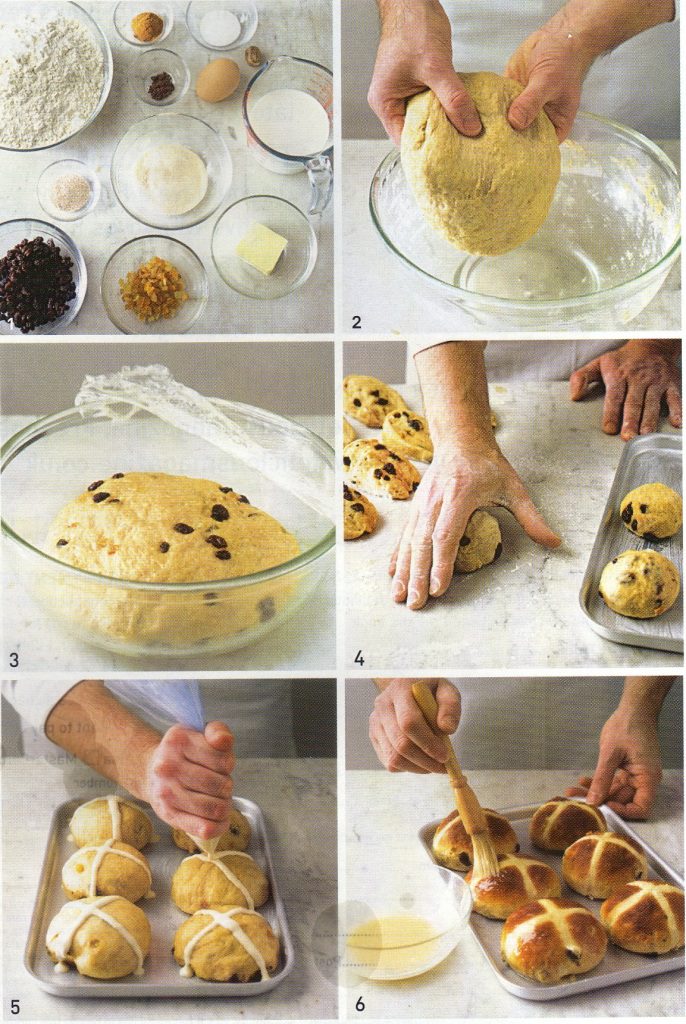 (this is the step-by-step pictures that I followed to make this recipe)
Tip the dough onto a floured surface and knead well to knock out all the air, then cut into 12 pieces. Lightly flour your hands, take one piece and working in a circular motion create a neat ball. Repeat with the rest of the dough. Put on two greased baking trays. Cover with clingfilm and leave in a warm place for 30 minutes.
Preheat the oven to 200ºC. Sift the remaining flour into a bowl and stir 125ml of water to make a smooth wet paste. Spoon into a freezer bag snip off the corner and pipe a cross over each bun. Bake for 15 minutes until golden.
While the buns are baking, put the extra milk and sugar in a pan, heat gently to dissolve the sugar, then boil for 3 minutes until syrupy. Brush the glaze over the warm buns. Leave to cool a bit.
Make some tea or coffee, butter and jam, and indulge! Absolutely delicious and fluffy buns!