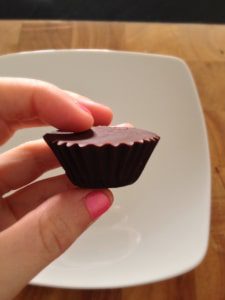 I love all things peanut butter and chocolate, and Reese's peanut butter cups have always been one of my favorite treats.   I've tried to re-create them quite a few times, but this one is by far the best.  It has a crunchy, dark chocolate outside and a soft, peanut-buttery center.  You can enjoy these without worrying about all the processed junk that goes into the "real" candy version!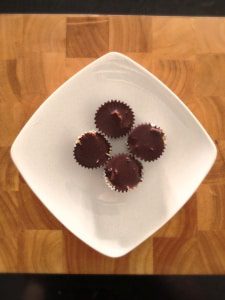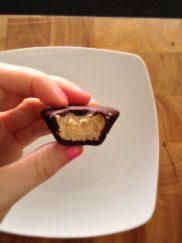 Ingredients:
85% dark chocolate, one standard bar or about 100g
Filling:
2 Tbsp almond milk
3 Tbsp peanut butter
1 Tbsp honey
¾ cup chickpeas (this is about ½ of a standard 15 oz can)
Method:
Melt the chocolate by placing ½ the bar in a bowl and placing it over a small pot of boiling water on the stove top.  Stir until completely melted.  Add small spoonfuls to mini muffin paper cups or a mini muffin tin for the bottom layer.  Place in freezer.
Mix all filling ingredients in a food processor until creamy and smooth.  I'd recommend tasting it here.  Add more peanut butter or honey if you want a stronger flavor.  Make it how you'll like it!
Take cups out of the freezer and add a large spoonful of the filling to each cup.  Fill almost to the top, but not touching the edges if you want a peanut butter cup that is totally coated in chocolate on the outside.  Place back in the freezer.
Melt the remaining chocolate and then pour small spoonfuls into each cup, filling to the top and covering the peanut butter layer.  Place in the fridge until they set. Devour!  I keep these in the fridge so they last longer, but you can store them in a container on the kitchen bench as well.
This will make 10-12 mini cups, but this can vary depending on how much chocolate and filling you use for each one.  If you need more chocolate, melt a bit more on the stove.  I had a bit of filling leftover so I simply put it in the fridge it by itself (this won't go to waste!).
Note: I love dark chocolate, as it contains less sugar, but I understand it's a bit of an acquired taste.  Can't stand it? Don't use it!  Try 70% dark chocolate or milk chocolate instead.