Crazy is a relative term but normal is boring to me. This cake defies any normal chocolate cake recipe only in its method. The recipe does not need any fancy equipment or fill your sink with dirty bowls of various size. All you need is the round cake pan, spatula,and measuring spoons-now how's that for simplicity? I've made recipes with steps spanning days like my croissant recipe and I assure you they are well worth the effort however I equivalently love simple recipes without compromising its taste. This recipe definitely is a keeper.
The best part of this recipe apart from utilizing the minimum utensils as possible, is that they also contain no eggs, no butter, no dairy of any kind. My friends who are lactose intolerant and vegan, this cake is for you. The cake is soft, moist and absolutely delicious. I used some leftover ganache from my triple chocolate banana bread (recipe here). Enjoy!!!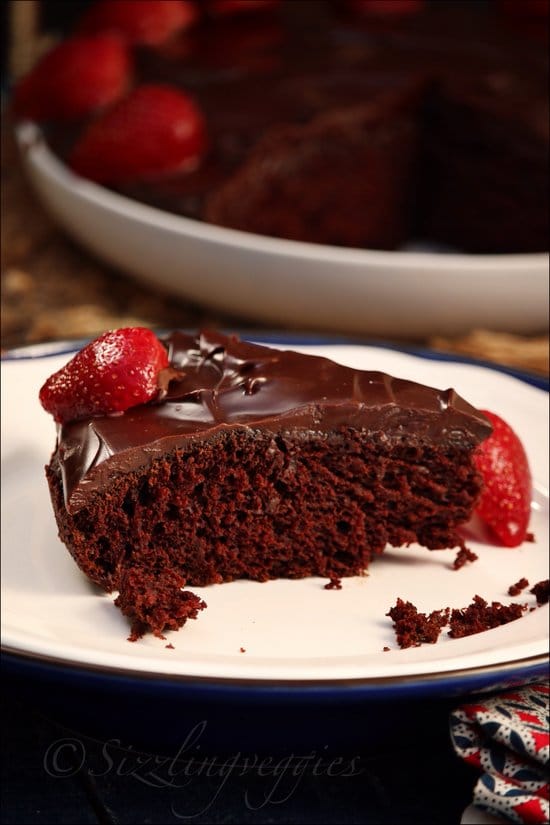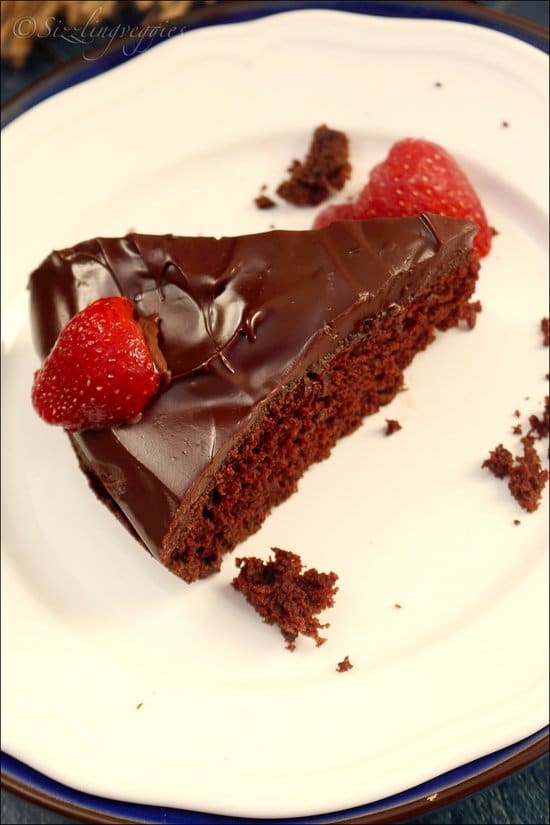 Recipe Source: Tiphero
Crazy Chocolate Cake
Ingredients
All Purpose Flour — 1 1/2 cups
Cocoa Powder — 3 Tbsp
Granulated Sugar — 1 cup
Baking soda — 1 tsp
Salt — 1/2 tsp
White Vinegar — 1 tsp
Vanilla Extract — 1 tsp
Vegetable Oil–5 Tbsp
Water — 1 cup
Instructions
Preheat oven to 350 F. Prepare by greasing a 8 inch square or 9 inch round pan.
In the baking pan directly add all purpose flour, cocoa powder, sugar, baking soda, and salt. Using a spatula or spoon mix all the ingredients well.
Make 3 depressions or wells in the pan of mixed dry ingredients, one large and 2 small ones. Pour vinegar on one of the small wells/depressions, vanilla extract in other small well/depression and vegetable oil in the large one. Pour water on top of all over the ingredients. Using a fork mix all the ingredients until smooth.
Bake in middle rack for about 35 minutes or tooth pick inserted comes out clean. Cool on wire rack. Carefully remove the cake by overturning them on a plate. Add your favorite frosting. Enjoy!!!