"Tomorrow's Pancake Friday, despite the fact that it's Monday." –Jarod Kintz
That's a true fact in our house. Pancakes are most welcome on any day and in any form or shape. Our weekends usually start out with lazy pillow fights and family tickles so when my kids rush me to the kitchen with demands on making continental breakfast within a short period of time I tend to make it semi-homemade to assuage their demand without fretting myself too much. I always have ready-made pancake mix in my pantry and when I saw this recipe during one of my late-night browsing I bookmarked it immediately. However, I wanted to make it as muffins instead of pancakes.
Even though I used a ready-made pancake mix they can be easily made from scratch too. I have a fluffy eggless pancake recipe that can be easily substituted for the ready-made version. The best part of this recipe is the glaze, my kids were raving about the glaze and I can't agree more. Enjoy!!!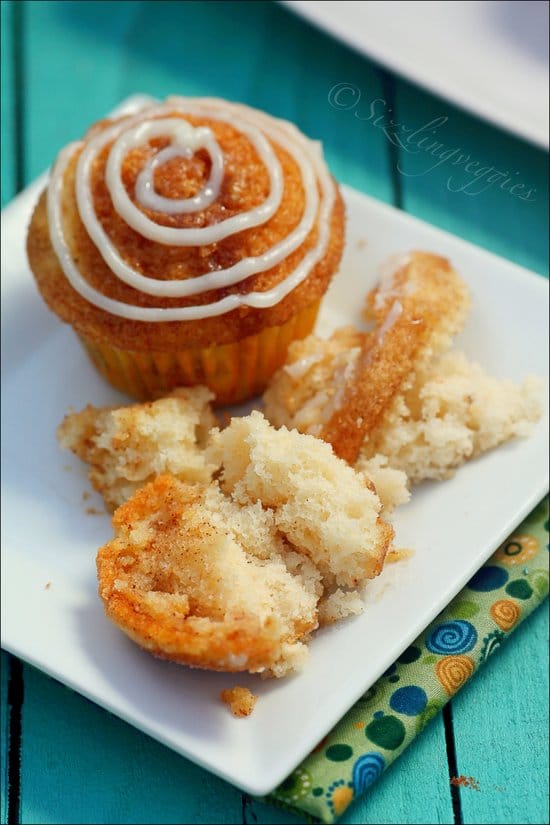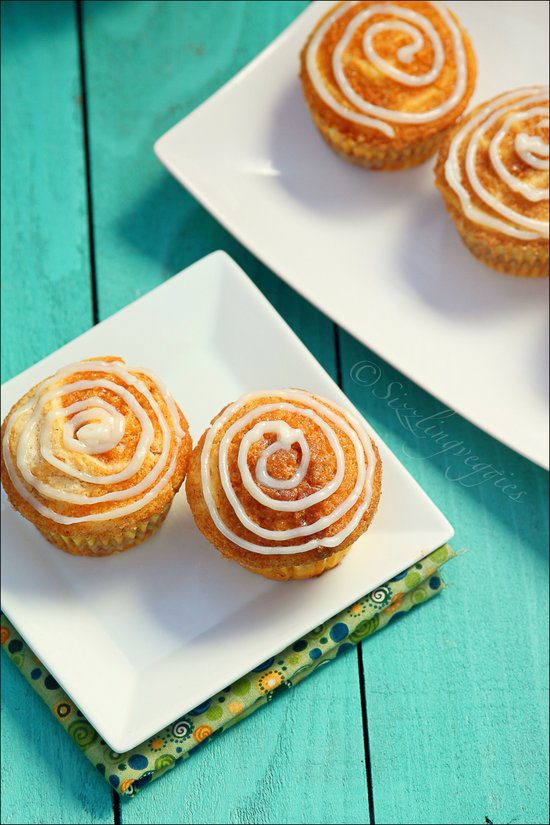 Cinnamon Swirl Pancake Muffins
Ingredients
For Cinnamon Topping
Unsalted Butter — 4 Tbsp, melted
Light Brown Sugar –1/4 cup + 2 Tbsp
Ground Cinnamon — 1/2 Tbsp
For Cream Cheese Glaze:
Unsalted Butter — 4 Tbsp
Cream Cheese — 2 ounces at room temperature
Powdered Sugar or Icing Sugar — 3/4 cup
Vanilla Extract — 1/2 tsp
For Pancakes — boxed or below
All Purpose Flour — 1 cup
Baking Powder — 2 tsp
Salt — 1/2 tsp
Milk — 1 cup
Egg — 1 large, lightly beaten
Vegetable Oil — 1 Tbsp
Instructions
To make the cinnamon filling
In a bowl mix brown sugar, melted butter, and ground cinnamon. Transfer the cinnamon filling into pastry bag or Ziploc bag (cut the corner when ready to use)and set aside.
To make the glaze
In a small pan melt butter over low heat, whisk together cream cheese, vanilla extract, and icing sugar. Remove from heat. Let it cool and transfer them into another bag and set aside.
To make the pancake Batter
In a bowl mix flour, baking powder, and salt. In another bowl whish together oil, milk, and egg. Add the milk mixture to the flour mixture and fold gently.
Preheat oven to 350 F and prepare muffin tins with muffin paper cups. Add about a tablespoon of batter. Squeeze some cinnamon filling on top of the batter in a swirl. Repeat the batter and cinnamon filling on all the muffins. Bake for about 20 minutes or until the top turns golden brown. Remove from oven. Let it cool on cooling rack.
Before serving the muffins swirl the glaze on top of the muffins and bite away. Enjoy!!!
Notes
The pancake mix or the batter is not sweet, if you prefer your muffin without the glaze then add sugar to your batter to make it sweet. I felt the sweetness from the glaze was enough to eat with the muffins but if you prefer more sweetness then by all means add some sugar to the batter.