I love coleslaw. Mmmmm, coleslaw and fried chicken, it's one of my favorite food combo. But since we have pledged to eat clean, I make my coleslaw a little healthier. Chickpeas are so delicious and healthy. They are high in fiber, it's a good source of protein and minerals for vegetarians, and they are excellent for weight loss diet.
I also add white cabbage, purple cabbage and carrot into this dish to create beautiful colors and texture into it. It's light and fresh, a wholesome dish, and you can have it with anything.
Chickpeas Coleslaw

Ingredients: (2 servings)

1/4 cup chickpeas- soaked overnight

1 cup shredded white cabbage

1 cup shredded purple cabbage

1 onion- diced

1 carrot- shredded

4 tbsp low fat mayonnaise

Salt and pepper to taste

Preparation:

1.   Cook chickpeas until they're cooked and tender. Drain the liquid out and let it cool.

2.   In a mixing bowl, combine white cabbage, purple cabbage, carrot, onion and chickpea, add mayonnaise and stir well.

3.  Season with pepper and salt. Refrigerate for 15 minutes before serve.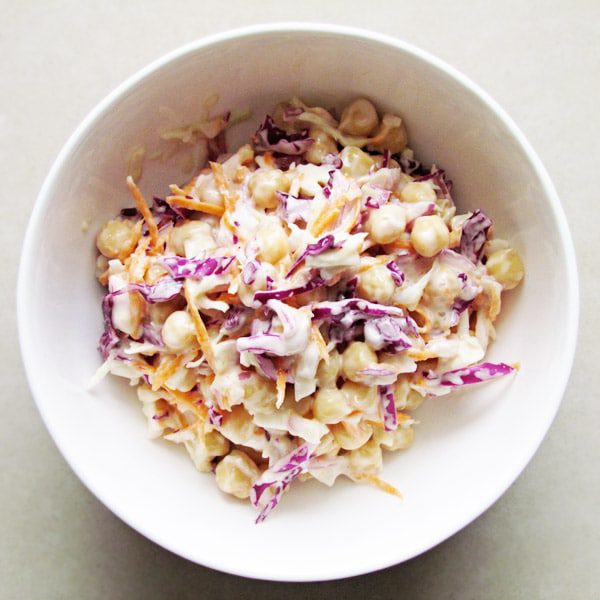 I love the nutty, buttery texture of chickpeas against the freshness of crunchy vegetables. I had this as a whole meal for lunch. You can serve it as side dish as well. It's so easy to make, very healthy and delicious.
Have a nice day,