It's amazing how just when you need inspiration something on Pinterest just pops up or one of the many food blogs I follow posts something that re-inspires me to cultivate this little space of the Internet. This post came just two weeks ago from Stephanie over at Girl Versus Dough on how she got into food blogging (her recipes are amazing by the way).
That post made me re-examine what I wanted to do with IMYC. I bought this domain name a year and some weeks ago last spring as part senioritis/homework procrastination and part knowing I wanted to lock in the domain as mine. But my posts in the last year have been spaced out, sporadic or on the back burner (no pun intended) as I wrote down/dreamt about recipes but never got around to taking the photos or being too caught up in the madness of moving twice across country and starting a new job. But after a very helpful email exchange with Stephanie I'm more excited than ever to give a jumpstart with IMYC. This jumpstart means three posts a week: one recipe on Monday, one recipe on Wednesday and a good sized list of things on Friday that I love from around the web to be called 'Five Gold Cardigan Posts'; inspired by Heidi from Foodie Crush's 'Friday Faves' and a play on the whole "five-star (insert hotel and restaurant)" categories. Very excited about this; now just to follow through!
A great way to kick-off this new wave of food blogging enthusiasm includes these cheddar jalapeño cornbread scones.
A little background: I only just recently discovered the wonders of bread flour and in a dream realized the potential of a cross between cornbread and scones. Most people complain scones are really dry or hard. These scones are a nice blend of chewiness with smoothness from the sharp cheddar and Greek yogurt (recently discovered the wonders of this too) and a nice kick from the jalapeños.
I wasn't sure how the dough would turn out when I first started but it came out looking very pretty, just like this: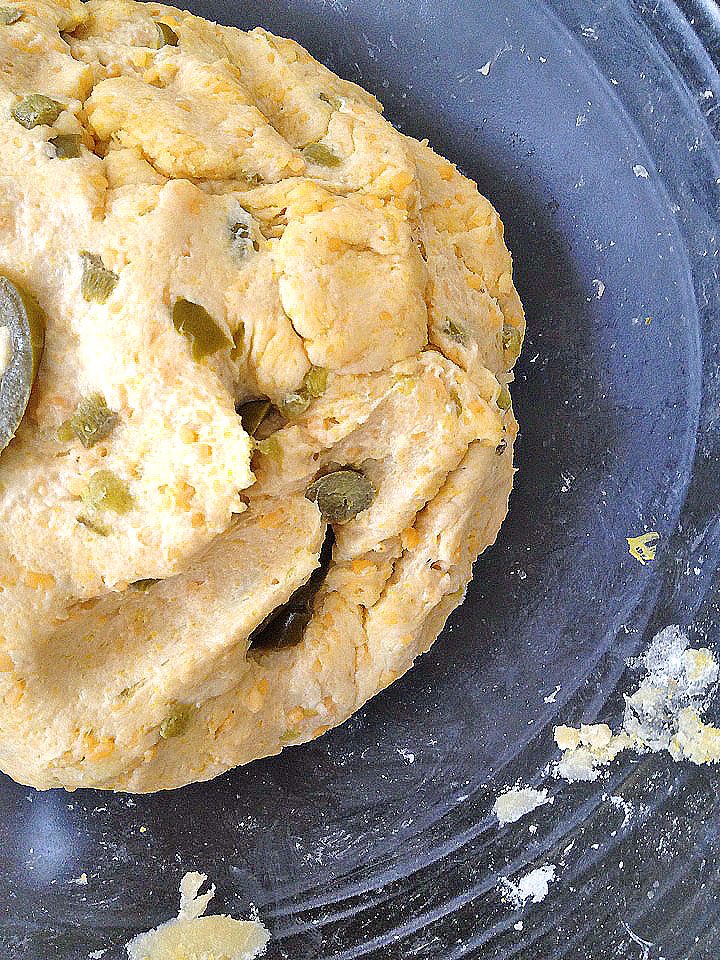 A little shaping with my hands and a spoon and soon I had the scone shapes I wanted. Very easy to make and will be a brunch staple for friends coming over.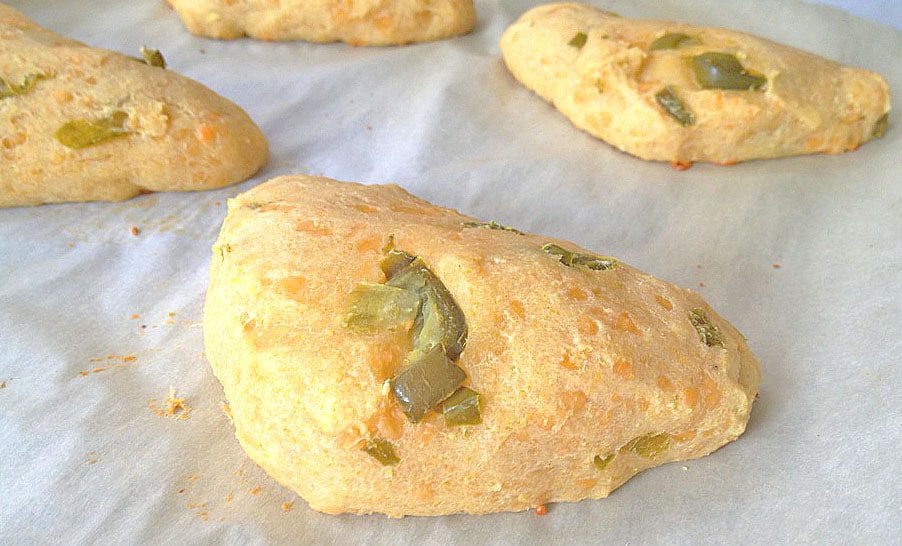 Cheddar Jalapeño Cornbread Scones
Yields: 12 scones
2 1/4 c bread flour
1 c cornmeal
2 c shredded sharp cheddar cheese
1 c jalapeños (can add more pending how much heat you prefer)
1 stick butter
1 c plain Greek yogurt
3 eggs
1 teaspoon salt
1 teaspoon baking powder
DIRECTIONS:
1. Preheat oven to 400 degrees.
2. Soften butter stick in microwave (or stovetop) for 30 seconds.
3. Mix flour, cornmeal, baking powder and salt in bowl. Add eggs to mixture.
4. Add Greek yogurt then  jalapenos and cheese. Jalapeno amount can be adjusted to your own heat preference.
5. Dough should be light yellow color and fluffy. Continue stirring or kneading until dough doesn't stick to insides of the bowl.
6. Line baking pan with parchment paper.
7. Tear off dough balls and shape into half triangle shapes. Place onto parchment paper.
8.  Put in oven for 15-16 minutes. Take out of oven and let cool.