I've been completely, utterly, caught flat-footed by the fact that it is now December and Christmas (gasp) is 14 days away.  Wasn't it just Thanksgiving?  Compound this shortened calendar with a bunch of busy other stuff, and bam, here I sit, wondering how it's all going to get done.
Despite this crazy schedule I've got, I simply cannot give up my Christmas cookie making plans. A girl has her priorities right? And given that this recipe for Spritz cookies is a long time family favorite and it makes a ton of cookies in a very short amount of time well, I had to share.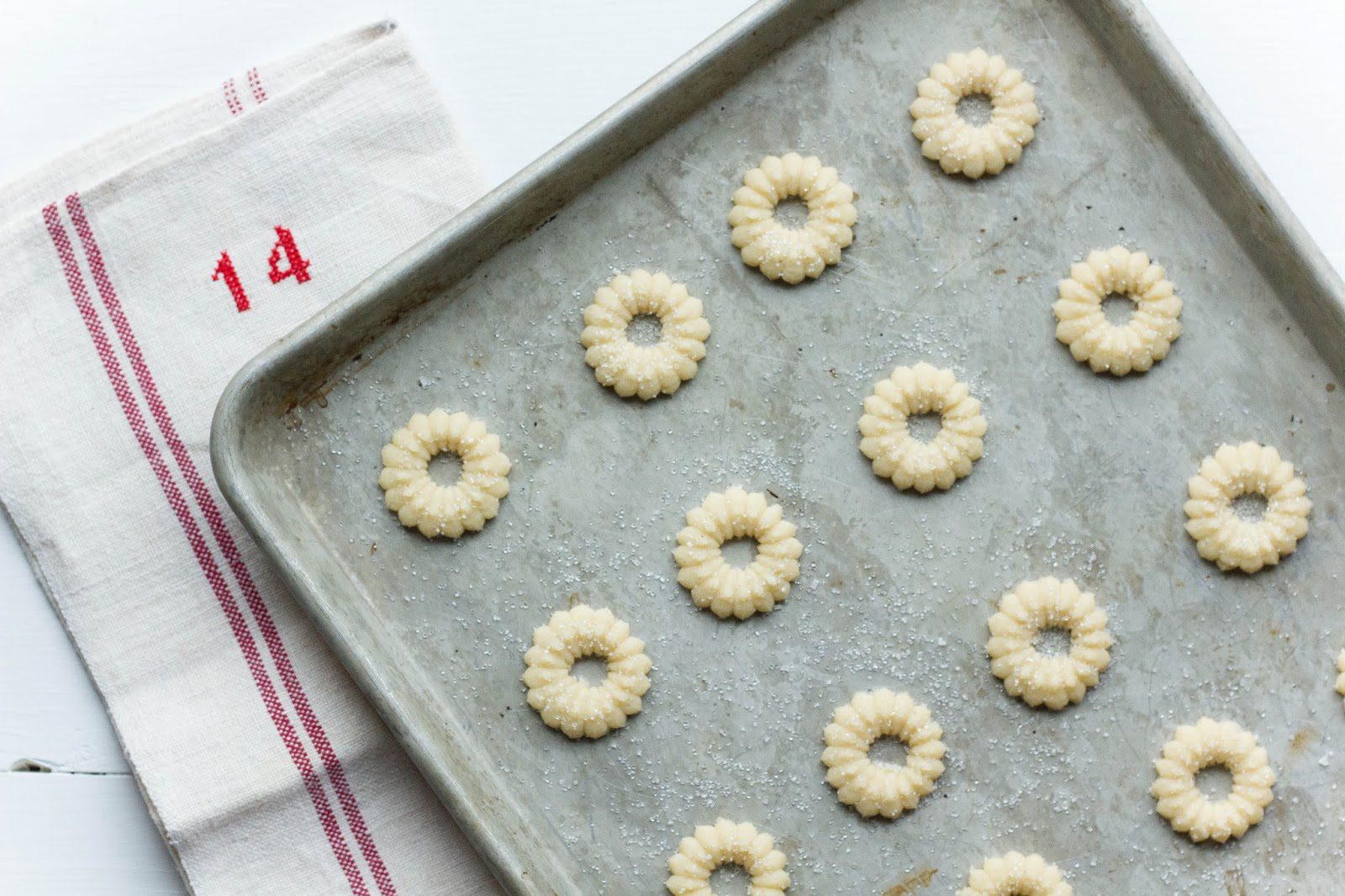 I cannot even begin to tell you how many times these cookies were on our family Christmas table. They are ubiquitous with Christmas in the Scandinavian community and let's just say it ain't a party if the Spritz don't show up.
Slightly different than what you might be used to, this recipe uses almond instead of vanilla extract and includes my most favorite spice on the entire planet, cardamom. You can of course choose to leave this out if you are not a fan of cardamom, but um, trust me on this one, you should leave it in.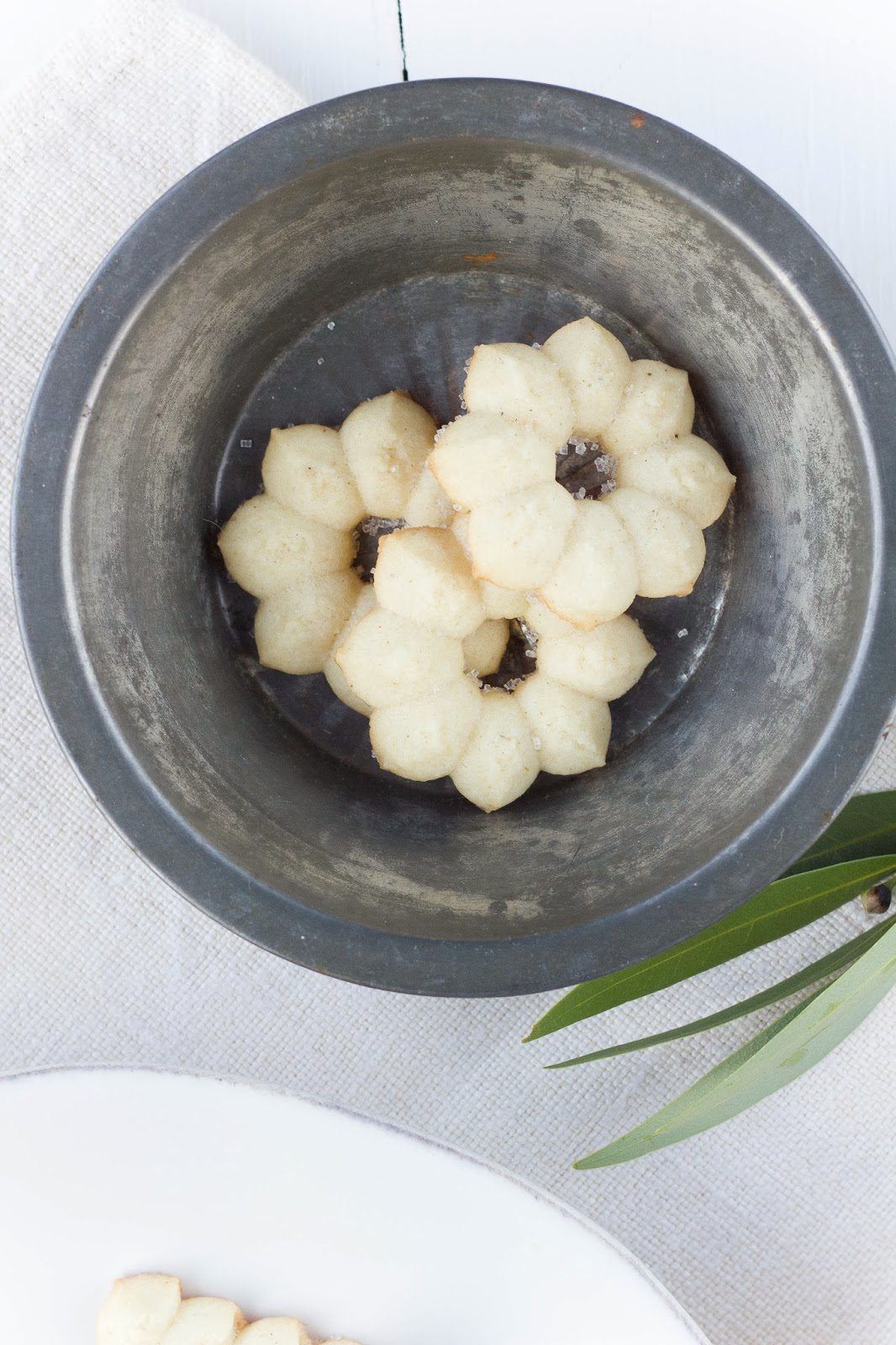 Even though simple,  this recipe requires a few tricks to get your dough to behave. If you've ever tried to make these using a non-stick baking sheet you'll know what I mean. Frustration in the extreme.
Here to help you make your next attempt a successful one, are some very essential and important tips.
1. Use only regular aluminum baking pans, no non-stick or parchment/silicone lined pans.
2. Wash pans with cold water and a little soap between each batch.  Any leftover butter will prevent the cookies from sticking to the pans, so it goes without saying do not butter or spray them. Chill pans in the freezer for 1-2 minutes prior to using if you are having trouble getting the cookies to stick after washing.
3. Do not refrigerate your dough prior to pressing.
4. If using a trigger type cookie press, avoid depressing the handle more than one click at a time. Wait 5 seconds ( up to 10 if needed) before lifting press from the pan to give the dough time to adhere.
5. Fill the tube of the press completely with dough and press with the back of a spoon to avoid air pockets.
6. Sprinkle with sanding sugar prior to baking, not afterward.
7. (Addendum) I feel I must say that it may take one or two clicks before the dough begins to flow at an appropriate rate.  Expect the first couple of cookies to be do-overs.  It's ok if the dough slowly oozes out of the press in between clicks, but for that reason it's best to fill your sheet all in one go, without stopping every few cookies.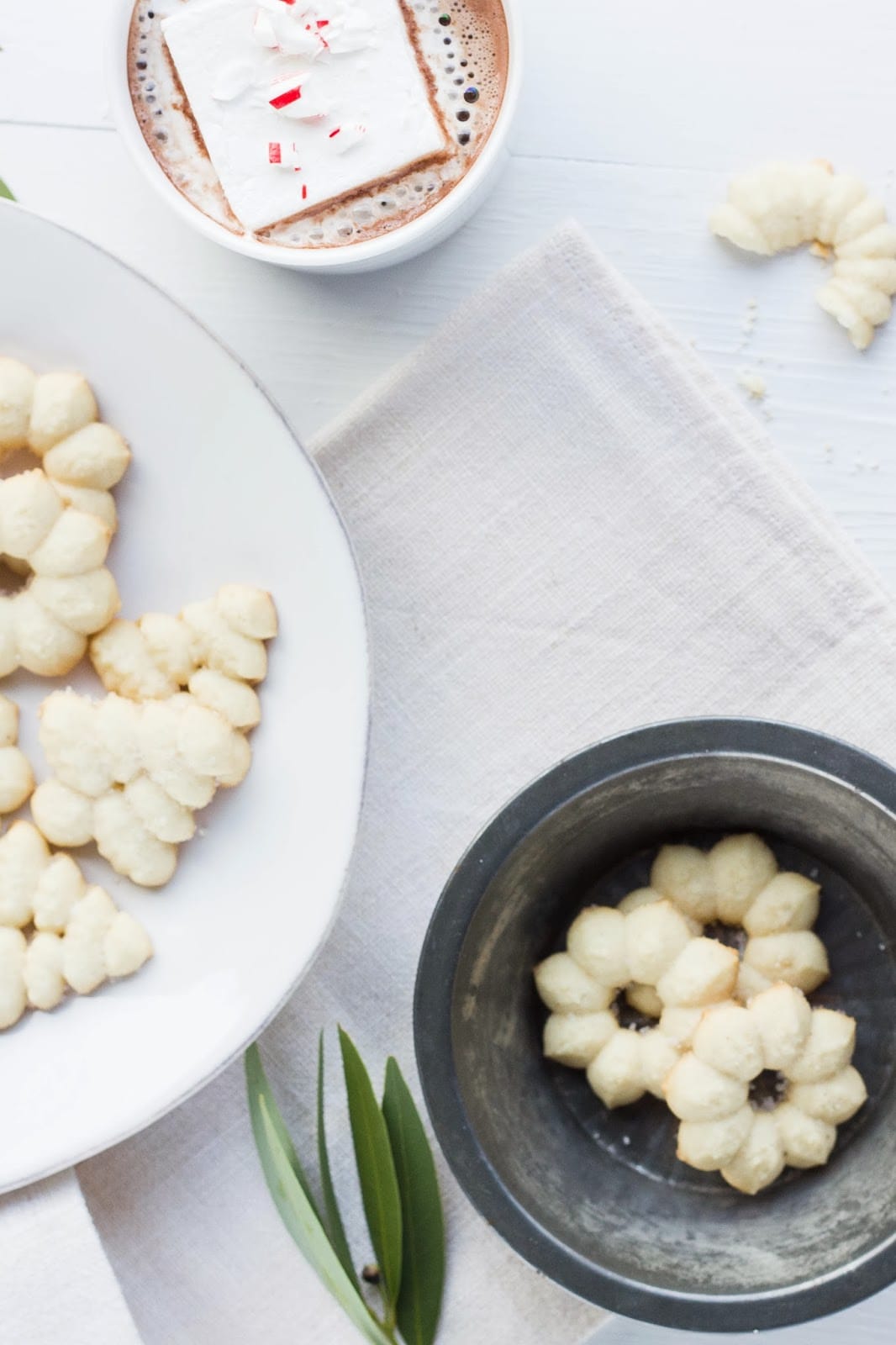 Cardamom Spritz Cookies
Makes 4 dozen
1 C. unsalted butter at room temp.
1 C. granulated sugar
1 egg
2 1/2 tsp. almond extract
3/4 tsp. finely ground cardamom
1/2 tsp. salt
2 1/2 C. all purpose flour
Preheat oven to 375 degrees F.
In the bowl of a mixer combine the butter and sugar on medium until light and fluffy.  Add the egg, the extract, cardamom and salt. Combine and scrape down the sides of the bowl.
Gradually add the flour, and stir until just combined.   Grab a handful of dough and roll it between your hands, the appropriate diameter to fit into your cookie press.  Depress the handle just enough to meet resistance, then place the press flat against your cool cookie sheet, click once or (if using an old turning model, turn once).
Let press rest against the pan for 5 seconds, then gently lift off.  Fill the pan with cookies, spaced 1″ apart.  Sprinkle with coarse sanding sugar. Bake for 6-8 minutes until the cookies just begin to brown ever so slightly around the edges.
Remove from the oven and let sit for 5 minutes before removing from the pan to a cooling rack.  Wash pan and cool in the freezer for 2 minutes.  Begin the process again.