For Thai dessert, coconut always plays an important role in creating a lovely creamy texture and beautiful flavour. Sugar and coconut can do the magic with simple technique.

Coconut meat is high in fiber and healthy essential oil that is really good for health. It is a nutritious alternative snack and treats.
Candied Coconut Chip is very simple and easy to make. Fresh aged coconut that coconut meat has become white and hard is used for this recipe. After removing the white meat from its shell, you can slice it finely with knife or use a hand grater to make about 2-3 inches long thin stripes.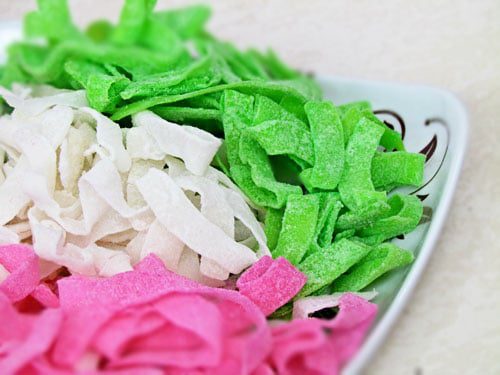 These floral fragranced coconut chips are called "Ma Praw Kaew" in Thai. It may be translated as "coconut dessert glass", to me they are beautiful ribbons of joy. Coconut allows beautiful fresh colors and scents freshly extracted from natural ingredients to absorb into its crunchy texture.
The delightful sweet coconut chip can be stored in an air tight container for few weeks, but believe me, there will be nothing to pack at the end of the day because they are so delicious and addictive.
Candied Coconut Chip

Ingredients

6 cup long strip, finely sliced coconut

2 cup sugar

2 cup flower infused water

Natural food color- see natural food color post (use pandan leaves and dragon fruit skin)

Preparation

Mix sugar and coconut together in the large mixing bowl. Divide into 3 equal parts in 3 separate bowls.
Add natural food color of your choice in each bowl.
Equally add flower infused water in each bowl.
Cook the first batch of coconut in the medium pan over the medium heat. Continuous stir to prevent sugar from burning. When the mixture becomes thick and most of liquid evaporate away, remove from the heat and transfer to the large tray. Let it cool and dry in the sun for several hours.
Repeat the process for other bathes.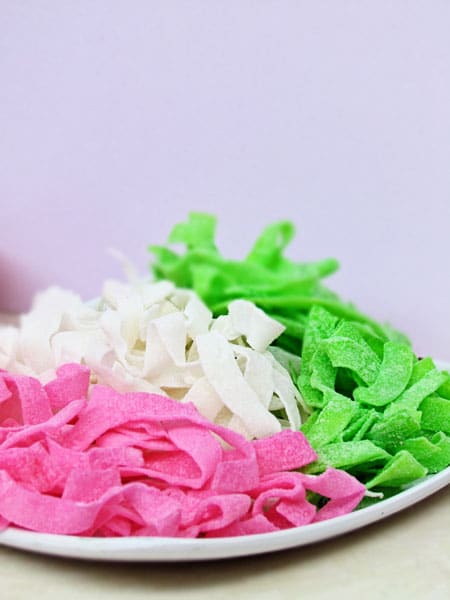 The results give dried chewy flaky coconut chips, slightly stringy and crunchy with white sugar dust coated everywhere. The green is beautifully scent with the pleasing sweet scent of pandan leaves, and the pink was gloriously fresh with pleasing floral fragrance. The entire process of making these delicious treat also gifts my home with beautiful scents of coconut and lovely flower fragrances.
It was a lovely comforting treat. Yaseen definitely enjoys this more than colorful gummy bears.
Take care,