We're starting the baby on solids, and boy have things changed. Bottles suddenly seem so simple. And so clean…
He's loving pureed peas, but those licks of red pepper and celery sticks? Not so much. That little face is so expressive (no, I haven't caught the "YUCK-what-is-that-thing" looks on camera).
Yesterday we tried butternut squash puree, and he seems to have a love/hate relationship with it. Love, in that he took manymany tiny spoonfuls. Hate, in that he made a BLECH face with each one. It can be confusing to be a baby!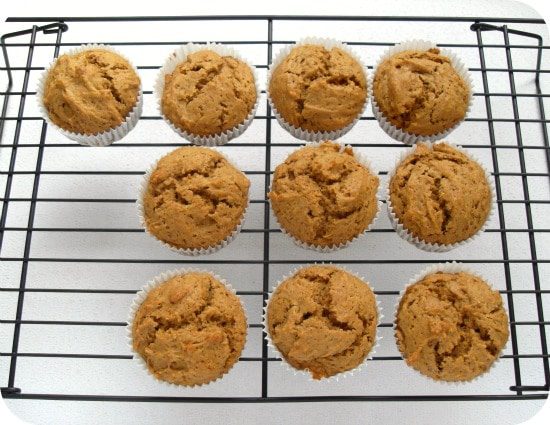 Since the amount of butternut squash puree that I made would last the baby a year, I squandered most of it for us. And I made muffins. And they're good. They actually remind me a lot of that pumpkin cake I made recently.
Okay, hold on. I just looked at that recipe, and it's really, really similar (main differences: the muffins use oil instead of butter or margarine, and they're lower in sugar). But…weird. That cake must have been lurking in my subconscious or something.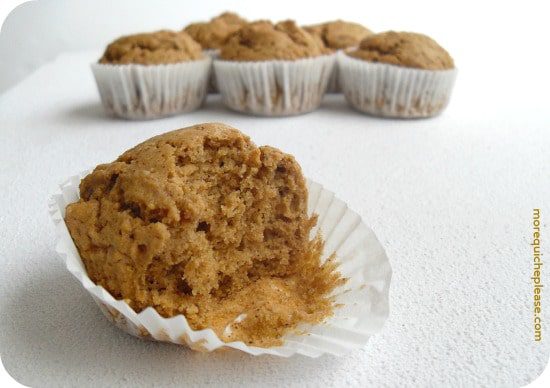 Anyway, these are best fresh from the oven — light and fluffy and all aromatic. But they're still really good the next day (she says with two empty muffin liners in front of her). Either way, there's a vegetable in my muffin and it tastes great. Let me know what your kids think.
One year ago: flourless fudge cake
Butternut squash muffins
Yield: 15 muffins
Ingredients
1 cup all-purpose flour
1 cup whole wheat flour
2 tsp baking powder
½ tsp baking soda
2 tsp cinnamon
½ tsp nutmeg
2 tsp lemon zest
¼ tsp salt
1 cup butternut squash puree (a medium squash yields about 3 cups puree, see directions below)
¾ cup brown sugar
2 eggs
½ cup canola oil
1 tsp vanilla extract
Directions
1. To make butternut squash puree: Slice the ends off a butternut squash. Halve it, scoop out the seeds, and peel it. Chop into cubes and steam until tender, about 25 minutes. Puree in a food processor until…well, until pureed. (I freeze the puree in half-cup portions, same as I do with pumpkin.) Set aside 1 cup of puree for this recipe.
2. Preheat the oven to 350 F/180 C. Line two muffin trays with paper liners.
3. In a medium bowl, mix together flours, baking powder, baking soda, cinnamon, nutmeg, lemon zest, and salt.
4. In the bowl of a stand mixer, beat together the squash puree, sugar, eggs, oil, and vanilla extract. Add dry ingredients and beat until just combined. (You can also do this with a large bowl and an electric hand mixer.)
5. Fill prepared muffin cups almost to the top and bake for 23 minutes. Store in a sealed container in the fridge.