If you converted to veganism after growing up on meat and eggs, tofu scramble might have been one of the first dishes you learned to make as a new vegan. Tofu is tricky, as we all well know, but scrambles are a great way to introduce new people to the art of cooking tofu and making it taste like something other than a sponge.
Tofu scrambles are a dime a dozen, but I'm giving this one away for free because I think it's the one everyone should start with. It's my adaptation of the tofu scramble recipe from Vegan Brunch, the new book from goddess Isa Chandra Moskowitz that I blogged about back in November. I received my very own copy recently from a certain Meatless Monday carnivore, so I was thrilled to be able to test out many more recipes from the book!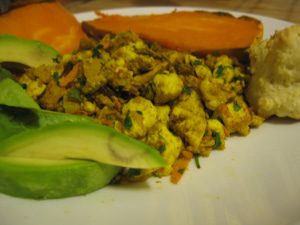 Tofu Scramble
(Adapted from Vegan Brunch
)
Yield: 1 serving with possible leftovers
1/2 tsp cumin
1/8 tsp (or one fat pinch) dried thyme, crushed with your fingers
1 regular pinch ground turmeric
1/4 tsp salt
1 Tbsp water
1/2 Tbsp olive oil
2 cloves garlic, minced
1/4 cup or so of finely diced bell pepper (your favorite color)
4-6oz firm or extra firm tofu, drained
4-5 mushrooms, sliced thinly
2 Tbsp nutritional yeast
1/2 carrot, grated
2 Tbsp finely chopped parsley
In a teeny prep bowl or measuring cup, combine herbs, salt and water. Stir and set aside.
In a medium-sized heavy-bottomed pan, heat olive oil. Add garlic and bell peppers. Stir with a wooden spatula and cook for about 3-4 minutes or until bell peppers begin to soften.
Add mushrooms and tofu. When I add my tofu, I just use my fingers to tear it into big chunks before tossing it into the pan. Use your wooden spatula to break up the tofu further into approximately bite sized pieces. Cook for 10 minutes, stirring occasionally. Make sure you really get under the tofu, scraping up any browned or burned bits from the bottom of the pan. These are what will give your tofu scramble a more complex taste and texture, so you don't want to miss out! Plus, if you don't scrape the pan, those bits will just continue to burn and, well, ewww.
Add the reserved spice blend and stir to combine. Then, add the nutritional yeast and grated carrots. Stir and cook for about 3-4 minutes. Then add parsley (or fresh basil… or heck, any fresh herb you want!) and stir in. Cook another 1-2 minutes or until you just can't take it anymore. Serve warm!
—
If this were brunch, the tofu scramble and perhaps an orange would be all I'd need to start the day. But I'm HUNGRY at the end of a long work-day, so dinner requires a few side dishes to make this a complete meal for me. I knew exactly what I wanted for this meal:
1 sweet potato, roasted 400°F for 30-40 minutes then topped with a drizzle of agave nectar and a dash of sweet paprika

1 biscuit – See my recipe here!

1/2 avocado, sliced (Yes, it was a little bruised but that doesn't deter me!)
This made for a truly satisfying dinner and I cleaned the plate. And, after this, we're talking about doing breakfast for dinner on a weekly basis!