Bone broth can be an incredible source of nutrition and helps promote healing of the gut lining. It is high in minerals and amino acids whilst stimulating digestion and being easily absorbed. Learn more about the benefits of bone broth from Cognitune Smarter Health.

When I first started making broth I had a lot of questions:
Can broth be made from leftover cooked bones from a roast? YES!
Can vegetable scraps eg. carrot skins, celery ends, onion peel be used in my broth? YES!
Can I use any vegetables in my bone broth? YES – keep in mind that leafy green vegetables and the green tops of leeks can lead to a bitter taste
Are bone broth and stock the same thing? YES – but homemade broth or stock is different to store bought stock which can contain preservatives, monosodium glutamate (MSG), and added flavours
When First Making Broth
I suggest making a chicken broth at first as it has a delicious flavour and is not as rich as a beef broth. If you don't like a bitter flavour leave out the green tops of leek and celery and stick mainly to the stems. Once you become accustomed to drinking broth, experiment with what bones, vegetables and herbs you like. Another thing to be aware of is that when the broth sets in the fridge it may remain watery (especially chicken broths) or it may become quite gelatinous such as the beef broth in the image. The layer of fat on top can be scooped off and used for frying and sautéing otherwise just use the fat wherever you use the broth.
Access to Daily Broth
Our family aims to ingest broth on a daily basis to improve our gut health. Having a pot of broth on the stove or in the slow cooker every couple of days means we can just scoop out a mugful and drink as needed. Alternate days remaining broth is kept in the fridge to reheat or add to cauliflower mash, fried kale, or scrambled eggs. As a back up it is handy to freeze portions of the broth in a silicon muffin tray, pop out into a jar and keep in the freezer. These broth portions are great to cook vegetables or meat in for additional flavour and nutrients.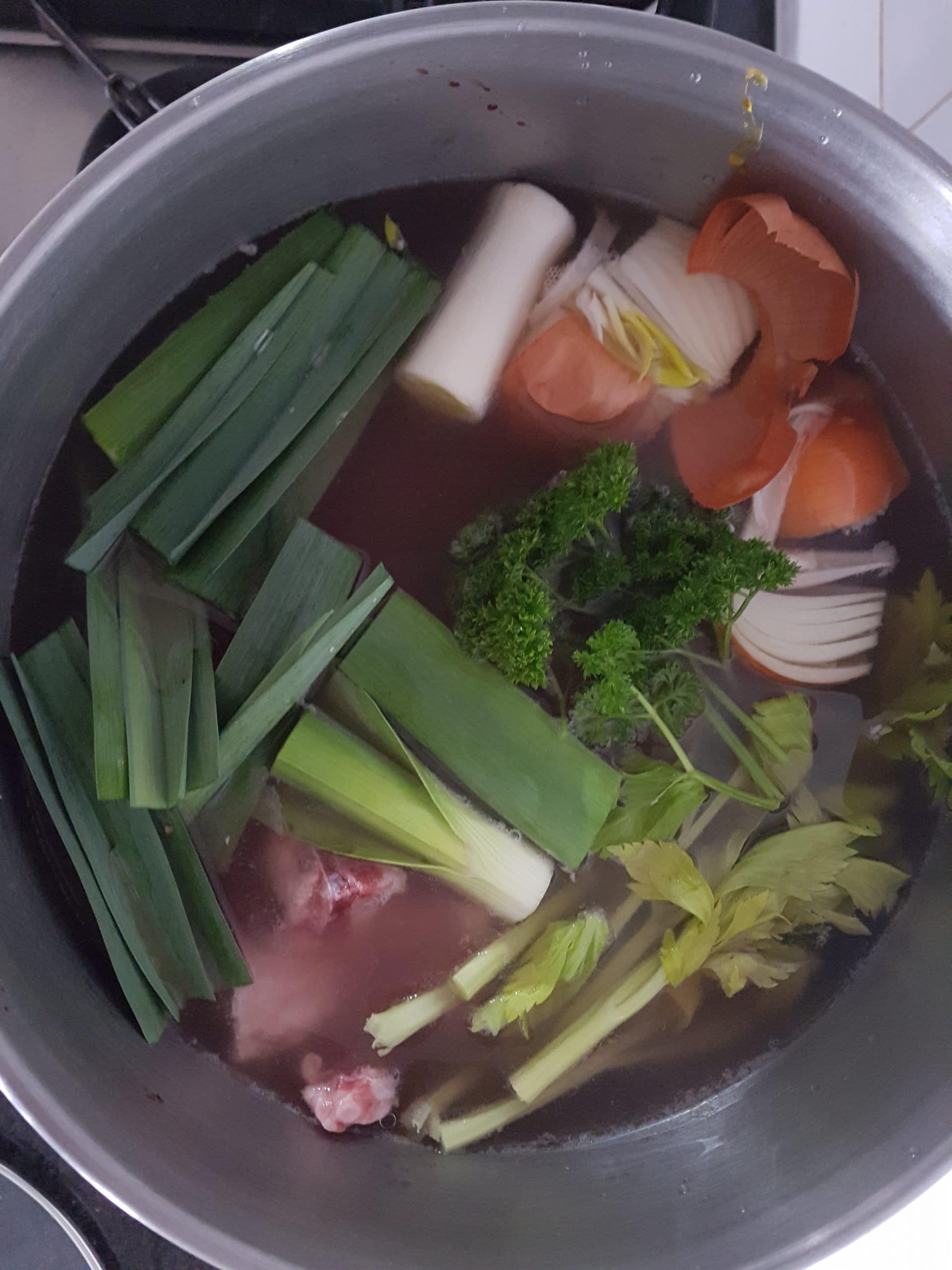 Bone Broth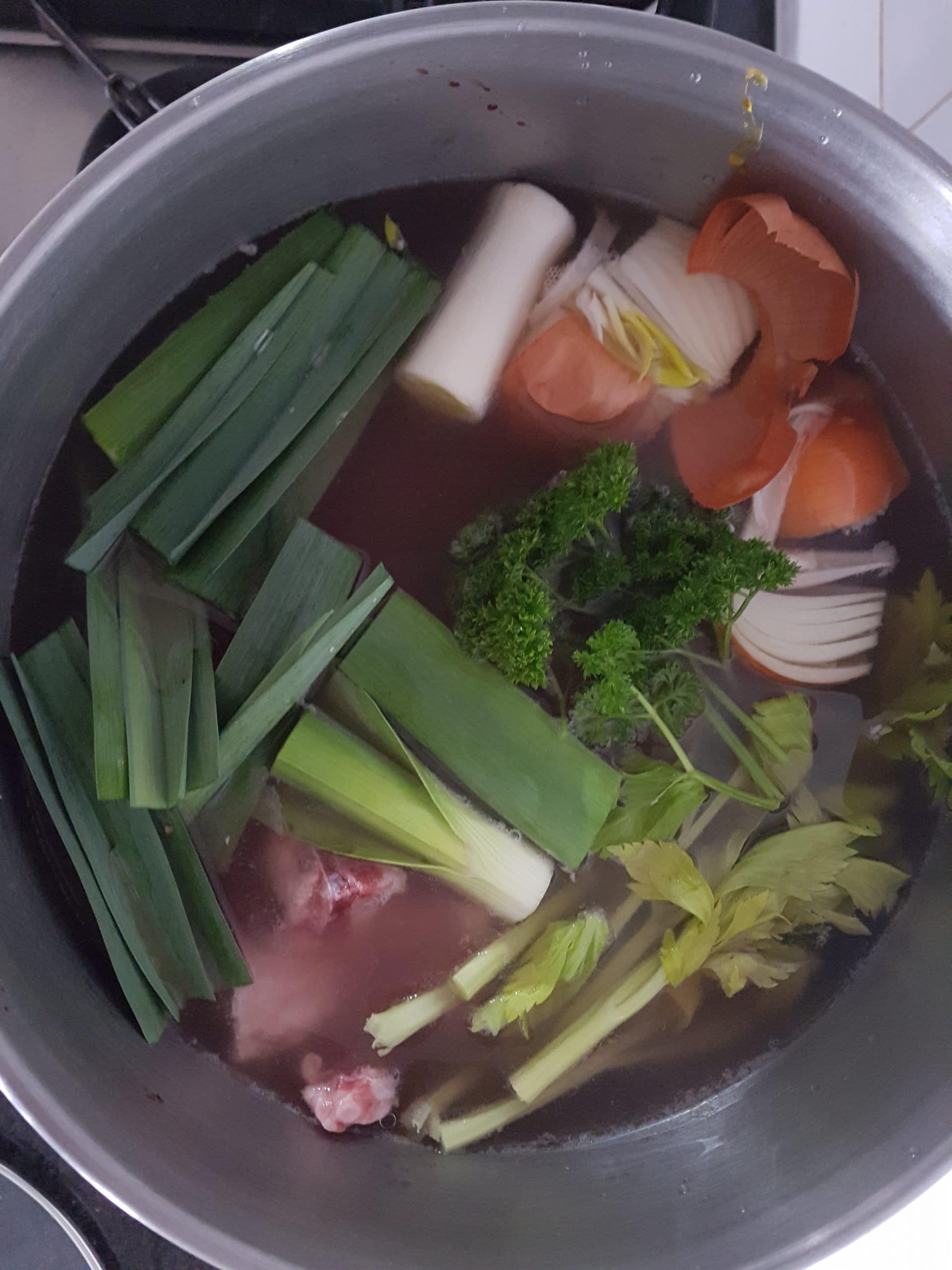 Prep time
5 mins
Cook time
12 hours
Total time
12 hours 5 mins
Serves: Approx 4 litres
Ingredients
2kg bones (beef, lamb, chicken, or fish)
1 leek
1 onion
2 celery sticks
2 garlic cloves
Handful parsley
¼ cup of apple cider vinegar
Water to cover
Salt, pepper and spices to taste
Instructions
Add bones, vegetables, herbs and apple cider vinegar to a large stock pot or slow cooker. Cover entirely with water about 5 cm (2 inches) over the top of ingredients.
Place on medium heat and bring to boil. Skim off any scum that forms on the surface.
Reduce heat to low and simmer for 6 to 12 hours. The longer the broth cooks the more concentrated it will be and the more flavour it develops.
Turn off and allow to cool slightly. Strain through a fine sieve. Place liquid in jars or a covered ceramic bowl in the fridge or an airtight container in the freezer.
Discard bones and vegetables once drained as the nutrients are mostly in the broth.
Add salt, pepper and spices prior to drinking or when used in cooking.
Notes
– If drinking straight away, flavour with salt and preferred spices eg. turmeric, ginger, dulse flakes
– Boost the nutrients in your broth by adding in chicken necks, chicken feet, or knuckle bones
– If you find the broth too bitter, leave out the green part of the leek and leaves of the celery
– The onion skin and garlic skin can be added in also.
– The amount made varies depending on how much the broth has reduced and concentrated during cooking.
– The layer of fat that forms on top of the broth when cooled can be used as a fat for frying and sautéing
Flavouring your 'Brothy'
When having a cup of broth or a 'brothy' it is great to add some salt and spices to enhance the taste and also increase the nutritional benefits. Himalayan Pink Salt is my favourite as it contains additional electrolytes and minerals that are not found in table salt. Many spices are well known for their anti-inflammatory and anti-bacterial properties. These are some combinations I love.
Tumeric, ginger and Himalayan salt
Dulse flakes and Himalayan salt
Ghee or butter and Himalayan salt
Cumin, ground coriander and Himalayan salt
What is your favourite seasoning for your 'brothy'?